On January 16th, Russia's central banker Alexei Ulyukayev issued a stern warning that was expected to set the stage for a nasty confrontation between the Emerging bloc of Brazil, China, Korea and Russia, and the world's largest debtor nations, Japan and the United States. "The world is on the brink of a fresh "currency war." We're on a threshold of very serious and confrontational actions," Ulyukayev warned. "Japan is weakening the yen and other countries may follow. If Japan continues to pursue a very protectionist monetary policy through a sharp depreciation of the yen, reciprocal devaluations would hurt the global economy. Other colleagues from respected central banks and governments already pursue this policy. This is not a path towards global coordination but rather a separation," Ulyukayev said.
Guido Mantega, Brazil's finance minister, quickly chimed in, warning that the Federal Reserve's "protectionist" gambit to roll out more quantitative easing (QE) would reignite "currency wars" with drastic consequences for the rest of the world. "It has to be understood that there are consequences. The Fed's QE-program ($85-billion per month of money printing) will "only have a marginal benefit in the US as there is already no lack of liquidity. And that liquidity is not going into production. Furthermore, Japan's decision to expand its own QE, coming on the heels of the Fed's decision (to expand QE to $85-billion per month), is evidence of growing global tensions. That's a currency war," he declared.
Yi Gang, a deputy governor of the People's Bank of China (PBoC), and chief of the State Administration of Foreign Exchange, said he's worried about the fallout from QE and the Zero Interest Rate Policy (ZIRP) in the G-7 economies."QE for developed economies is generating volatility in financial markets in terms of capital flows. Competitive currency devaluation is one aspect of it. If everyone is doing super QE, which currency will depreciate?" he asked.
As the Japanese and the US-governments sink deeper into a morass of debt, the ruling politicians are pressuring their central bankers to print more money, in order to finance their budget deficits. So far, five central banks - the Federal Reserve, the European Central Bank, Bank of England, the Bank of Japan and the Swiss National Bank - have effectively created more than $6 trillion of new currency over the past four years, and have flooded the world money markets with excess liquidity. The size of their balance sheets has now reached a combined $10 trillion, compared with $3.5 trillion six years ago.
In turn, the tsunami of ultra-cheap cash is inflating bubbles in the world's bond and stock markets. On Feb 13th, hedge fund trader Jim Rogers commented, "The US-stock market is near its all-time highs because the Federal Reserve is printing staggering amounts of money. This is very artificial,'' Rogers warns. And the willingness of the political puppets at the Fed and other central banks to keep buying hundreds of billions of dollars' worth of government bonds makes it easier for the ruling political elite to sustain the massive deficit spending that's running up a record-breaking national debt. Rogers adds, "It's a vicious cycle and it's all insanity. No sound person in his sound mind would say this is the way to run things. Of course, it's going to lead to more inflation. But the government says we don't have inflation. If you shop, you know that there's inflation.''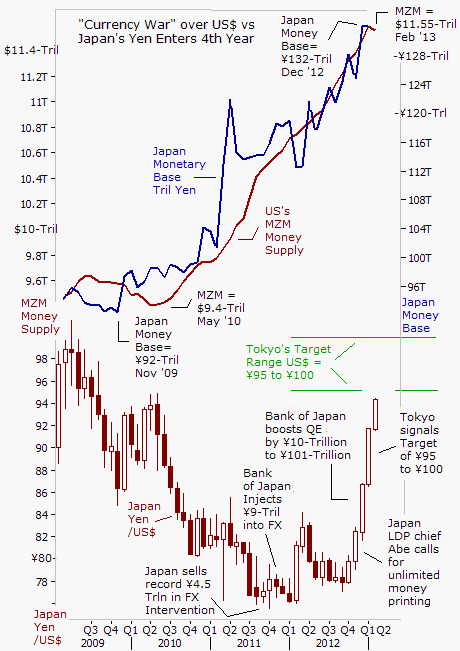 However, as the chart above shows, - talk of a "currency war" is nothing new, - the Bank of Japan (BoJ) and the Fed have been actively engaged in a "coordinated currency devaluation" over the past 3-½-years. Both central banks have increased their local money supply, and used the freshly printed monies to purchase vast quantities of bonds. For its part, the BoJ has increased the size of the monetary base in circulation to a record ¥132-trillion, - that's up nearly +44% from ¥92-trillion three years earlier. Likewise, the Fed's money printing spree has increased the size of the high octane MZM money supply by $2.15-trillion, or +23% since May of 2010, in a race to the Foggy Bottom with a good old fashioned "currency war." Global investors appear to be convinced that several more trillions worth of printed currencies will be flowing through the global pipeline in the years ahead.
"It's outrageous what they're doing," Jim Rogers told CNBC television on Feb 8th. "The Federal Reserve is printing money as fast as they can, and the Bank of Japan says they're going to print unlimited money. You know what the Federal Reserve said? 'We'll match you and we'll print more money, too! "This is insane!" Regarding Fed chief Ben Bernanke, Rogers said, "He doesn't understand economics, he doesn't understand finance, he doesn't understand currencies. All he understands is printing money," Rogers said.
Until recently, Japan was losing the tug-of-war over the yen's exchange rate versus the US dollar. The sheer size of the Fed's massive QE onslaught overpowered the BoJ's counterattack. The US-greenback tumbled to a 15-year low of ¥76 in the second half of 2011. The BoJ was forced to step-up its intervention efforts on two occasions, when it injected ¥13.5 trillion of liquidity ($175 billion) in July and October of 2011 into the Tokyo currency market, its biggest intervention effort since 2004. Still, the BoJ's herculean efforts couldn't lift US-dollar above ¥82 for most of 2012. However, the US dollar's downward drift began to reverse in November '12, when it became apparent that LDP chief Shinzo Abe would become the next prime minister. Tokyo's financial warlords have shaken things up, by unleashing their most powerful weapon to weaken the yen - unlimited money printing - dubbed "Big-Bang QE."
(click to enlarge)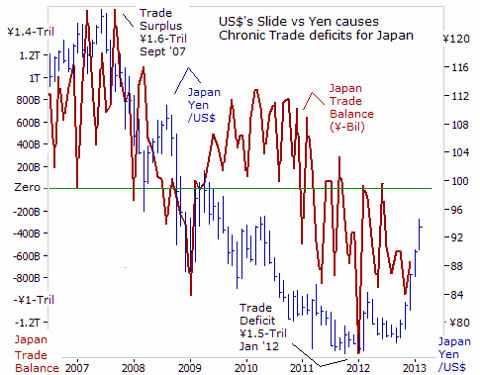 Surprisingly, despite the heated rhetoric from Brazil, China and Russia prior to the G-20 meeting, Japan's government emerged triumphant, gaining the tactic approval of the G-20 clique to continue with its efforts to weaken the yen. Largely as a result of the chronically weak US$/yen exchange rate, Japan's exports fell -5.8% last year, and the country logged a record annual trade deficit of ¥7-trillion ($78-billion) in 2012. It was the second consecutive annual trade deficit recorded by Japan that for decades had racked up hefty surpluses. Japan posted a ¥2.56 trillion yen shortfall in 2011. Last year, Japan's exports to China tumbled -10.8% leaving a trade deficit of ¥3.52-trillion ($40 billion) with its top trading partner. Exports to the struggling European Union also fell by -15-percent.
For years, Japan built its wealth on its vast trading surpluses that also enabled it to finance its enormous debt without having to turn to foreign investors. However, Japan is enduring its fifth recession over the past 15-years, hobbled by the unrelenting strength of the Japanese yen, which undercuts its exports and corporate earnings that are repatriated from overseas. Companies listed on the Nikkei-225 index said their net income had plunged -31% on average, in the July-to-September quarter compared with a year earlier.
Former Prime Minister Noda acknowledged that the situation was "severe" and said the government would meet it with a "sense of crisis." But his words only served to underscore the failure of successive governments to revive the Japanese economy since the collapse of the real estate and financial bubble at the beginning of the 1990 s. Noda announced he would dissolve the lower house of parliament on Nov 16th, triggering an election on December 16th that in turn swept his Democratic Party of Japan from power.
Japan's Liberal Democratic Party, (LDP) under the leadership of Shinzo Abe, reclaimed control of the government, and immediately began to exert maximum pressure on the BoJ to buy an "unlimited amount" of long-term government bonds (JGB's). "We need to overcome the crisis that Japan is undergoing. We have promised to pull Japan out of deflation and correct a strong yen. The situation is severe. We need to do this. Quantitative Easing (QE) by the BoJ will help to correct a too strong yen and it will push-up stock prices. That will help boost investment and lead to rises in wages, jobs and household revenues. We'd like to shorten the time needed for this to happen," Abe said on Dec 16th. The LDP will also draft an extra budget for 2012/13 worth up to 10-trillion yen and issue debt to pay for it.
A few days later, on Dec 20th, the BoJ agreed to expand its JGB-buying and lending program, by ¥10-trillion to ¥101-trillion ($1.1-trillion) by a unanimous vote, increasing its QE pipeline for the third time in the past four months. And even before the BoJ officially begins its Big-Bang QE counterattack sometime in April, Japan's LDP chief has already managed to engineer a significant strengthening of the US dollar to as high as ¥94 this week, simply with "Jawboning." Koichi Hamada, a chief advisor to PM Shinzo Abe, helped to push the US dollar above the psychological barrier of ¥90 on Jan 20th, saying "If the dollar goes above ¥110 there may be reason for worry, but at ¥100 yen or ¥95 yen, it's OK," he said.
(click to enlarge)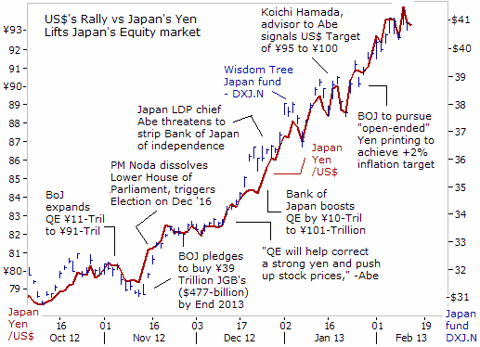 As a result of a weaker yen across the board, against the US-dollar, China's yuan, the Korean won, and the Euro, Japan's Nikkei-225 index turned in its strongest performance in seven years, surging more than +30% higher since Mr Noda's government fell on Nov 16th. Likewise, Wisdom-Tree's Japan Hedged Equity Fund (DXJ) with its tilt towards Japanese exporters, soared by $10 per share to as high as $41 this week."The proof is in the pudding. Evidence is stronger than any talk," LDP advisor Hamada remarked, citing the significant rally in the Nikkei-225 index as a result of a weaker yen.
Wisdom Tree's fund DXJ is useful for US-investors - it hedges its currency exposure to the Japanese yen by shorting yen futures and forward-contracts. It doesn't necessarily carry a net short-yen exposure. Rather, "the Index and the Fund seek to track the performance of equity securities in Japan that is attributable solely to stock prices without the effect of currency fluctuations." On Nov 30th, DXJ started a new "revenue filter," and removed companies that derive more than 80% of their revenues from Japan from the portfolio.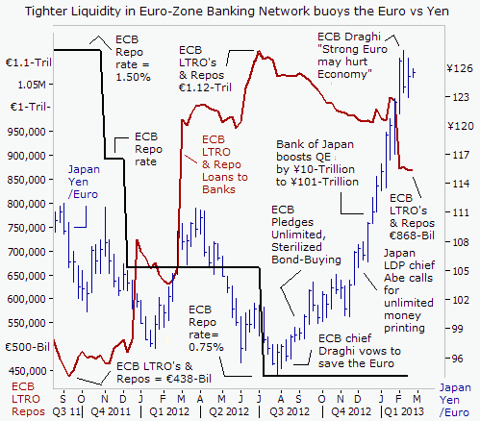 The Euro's rise against the yen has been more dramatic and more profitable than against the US$. Since July 25th, when ECB chief Mario Draghi vowed to "do whatever it takes to preserve the Euro," the 17-nation currency has risen from as low as ¥96, to as high as ¥127 this month. The Euro's impressive gains have been accompanied by a shrinkage of the ECB's balance sheet and the fact that so far the ECB is not engaging in QE à la the Fed, the Bank of England, or the Bank of Japan. The ECB is not yet trying to enforce a ceiling for the Euro, through direct intervention in the currency market, like the Swiss National Bank, or the Hong Kong Monetary Authority, which defends a fixed peg vs the US$.
The ECB injected more than €1-trillion in liquidity into the Euro-zone banking network, with 3-year repos (LTRO's) in the two offerings in December 2011 and February 2012. So far, the Eurozone banks have paid back €146-billion to the ECB, and are expected to pay back another €123-billion of these loans after Feb 27th. Most of the repayments have come from Germany, France and Belgium, but banks in Italy and Spain continue to rely heavily on a combined €620-billion of LTRO's from the central bank. Still, the sizable decline in the amount off repos outstanding on the ECB's balance sheet points to a significant drainage of liquidity in the Eurozone banking system, that in turn, is lending added support to the Euro.
Since a tightening of Euro liquidity could send the Euro currency sharply higher, ECB chief Mario Draghi sought to take some of the steam out of the Euro's rally, by hinting at further reductions in the ECB's repo lending rate, currently pegged at 0.75-percent. "The Euro's exchange rate is important for growth but it could threaten to pull down inflation too far. We will have to assess in the coming projections whether the exchange rate has had an impact on our inflationary profile, because it's always through price stability that we address issues like that," he told European lawmakers in Brussels on Feb 19th.
(click to enlarge)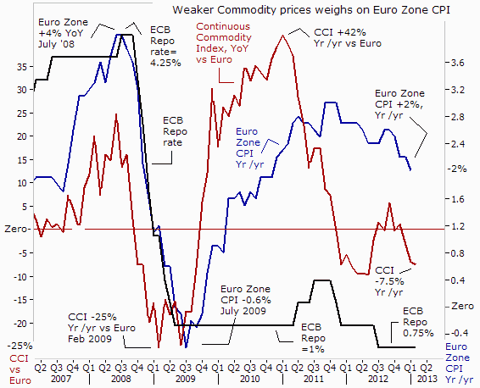 The rate of consumer price inflation in the Eurozone fell to +2% in January compared to a year ago, while the jobless rate remained at a Euro-era high of 11.7% in December. Draghi's comments seem to suggest that a stronger Euro could exert further downward pressure on the inflation rate, and in turn, open the door for a further reduction in the repo rate to 0.50-percent. The Continuous Commodity Index, a basket of 17 equally weighted commodities, is trading -7.5% lower than a year ago, (in Euro terms), and if sustained, would help to pave the way for a lower CPI - submerging it below the ECB's +2% target.
As the BoJ and the Fed continue to engage in the large-scale purchases of bonds issued by their governments, thereby injecting huge sums of yen and US-dollars into the financial system, the Euro could continue to climb higher towards US$1.400 and ¥130. Japan's finance minister Taro Aso says the G-20 gave Tokyo the green light to use QE as a weapon to weaken the yen's exchange rate as long as MoF officials don't publicly announce their target level for the yen. The Group-of-20 in Moscow pledged not "to target our exchange rates for competitive purposes," but Japan wasn't criticized for using QE to the weaken yen.
"I'm not in a position to comment on an appropriate currency level. Basically, our policies are not aimed at weakening the yen," Japan's PM Abe told parliament. "Various factors are behind exchange-rate moves. Among them, monetary policy plays a major one. The BoJ's policy steps could indirectly result in a weaker yen and boost share prices, helping to lift corporate earnings," Abe explained. Former Fed chief Alan Greenspan agrees that pushing the stock market higher is the ultimate goal of QE. "The data show that stock prices are not only a leading indicator of economic activity, they are a major cause of it. The wealth effect of the stock market, which has risen to five-year highs, explains why the consumer has been able to overcome various headwinds, such as the payroll tax increase," Greenspan says.
"There was no censure of the Japanese attitude about QE, which was considered a policy to develop its economy and not to intentionally devalue," lamented Brazilian Finance Minister Guido Mantega before reporters after the meeting. However, ECB chief Draghi defended the use of QE to rig exchange rates. "Most of the exchange rate movements that we have seen were not explicitly targeted - they were the result of domestic macro economic policies (ie QE) meant to boost the economy."Thus, the G-20 clique is engaging in a shell game of deceit and deception, by trying to argue that QE is not a form of currency devaluation, when in fact, it's a central banks' most powerful weapon. It's unlikely to fool many traders.
There is simply no end in sight to the "Currency Wars," as long as the world's biggest debtors - the BoJ and the Fed - continue monetizing debt. The betting is that Tokyo's Big-Bang QE would contain sufficient firepower to push the US-dollar towards ¥100 and lift the Euro to ¥130. Central banks in China and Hong Kong could respond by printing more money, and other central banks in Brazil and Korea might resort to capital controls, such as increasing taxes on foreign investment in their local bond and stock markets. The Bank of Australia and the ECB could respond by lowering their overnight loan rates.
When will the G-20 central banks finally agree to a cease fire? Most likely, the End Game for the global "Currency War" will only arrive when the Bond Vigilantes are resurrected from the dead. It would require the arrival of sharply higher bond yields, caused by the outbreak of rapidly escalating inflation, before central bankers recognize the folly of this reckless game. In turn, sharply higher bond yields could be a catalyst for a synchronized global economic downturn, and the onset of a Bear market for equities. The Day of Reckoning is unknown, but it's helpful to be on the lookout for the early warning signs.
Disclaimer: SirChartsAlot.com's analysis and insights are based upon data gathered by it from various sources believed to be reliable, complete and accurate. However, no guarantee is made by SirChartsAlot.com as to the reliability, completeness and accuracy of the data so analyzed. SirChartsAlot.com is in the business of gathering information, analyzing it and disseminating the analysis for informational and educational purposes only. SirChartsAlot.com attempts to analyze trends, not make recommendations. All statements and expressions are the opinion of SirChartsAlot.com and are not meant to be investment advice or solicitation or recommendation to establish market positions. Our opinions are subject to change without notice. SirChartsAlot.com strongly advises readers to conduct thorough research relevant to decisions and verify facts from various independent sources. Copyright 2005-2013 SirChartsAlot, Inc. All rights reserved
Disclosure: I have no positions in any stocks mentioned, and no plans to initiate any positions within the next 72 hours. I wrote this article myself, and it expresses my own opinions. I am not receiving compensation for it. I have no business relationship with any company whose stock is mentioned in this article.