First Solar (NASDAQ:FSLR)
Over the years, I have made it a point to just avoid solar stocks. In my opinion, the overall low quality of price performance, unpredictability in demand, and overall slow growth in this sector has never given me a reason to take the risk on either side of the market. However, in more recent quarters, I must admit that First Solar has caught my attention. Several factors have put the stock back on my radar and after much consideration and homework, I am taking a bullish position in First Solar.
In the past three months, there has been quite a bit of data to support a buy despite what some analysts would say. The stock has also met some key points that I look for when initiating any long position in a stock.
Looking into First Solar two years ago at this same time, the stock was at an all-time high above $175. Shortly after we saw the "top out" due to slow growth, lower earnings, and lower demand and the stock began to tumble over the course of 2011 and into 2012 hitting its 52-week low under $12 in early June of 2012. Since the low, the stock has nearly tripled over the last eight-nine months. This is the point at which I like to look at entering a long position. Of course, you want to cut your risk as much as possible and I don't believe in bottom feeding. So what the move up tells me is that internal/external changes and consensus has shifted enough to support the current up-trend further.
Let's take a look at management. I believe the recent run up can largely be attributed to the moves made by management over the last 18 months. While it may not have done the best job preventing a fall from $175, it certainly appears it took the decline seriously and looked at new and creative ways to adapt the business so it may continue to prosper. Management has focused heavily on reducing manufacturing costs, which was a major concern over the years. It has done an amazing job securing new, profitable contracts in key geographical regions including many emerging international markets. First Solar announced yesterday that it appointed Ahmed Nada as VP of Business Development for the Middle East signaling a further focus on international expansion. Last but not least, it has put a lot more effort into expanding the downstream business, which seems to be the most profitable way to go with solar. Recent earnings announcements in the last half of 2012 are showing the fruits of this labor.
Snapshot of First Solar earnings trends. See the chart below:

The above table shows a history of earnings estimates, results, and predictions, compiled from the 28 analysts that cover the stock. As you can see, the stock had a historical pattern of beating expectations until it reached its 2011 peak into the beginning of 2012. However, it seems to be picking up traction again with two consecutive earnings surprises in the last two reported quarters. First Solar is expected to announce Q4 2012 results on Tuesday, February 26, 2013.
A third consecutive earnings surprise could continue to push the stock higher putting pressure on the profits of the bears as the stock still retains almost a 30% short interest, although that number is declining. Now, as I said, I do not believe in bottom feeding, but I love a highly shorted stock with good beta trading off its 52-week low with improving trends. Short squeezes can be major catalysts to price increases and that's what I would look for here. The generally high long-term short interest is a key factor in my bullish outlook on the stock as all good things will come to an end no matter which side of the market you're on.
The last piece I want to cover is the technicals. Technically, First Solar is a gem. The shear amount of uptrend indicators over the last three months is enough to support the argument, but I always like to wait for major signals as confirmation before making a trade. Below is a brief synopsis and technical outlook:
November 27, 2012 - Bottom Triangle pattern confirmed signaling reversal to the upside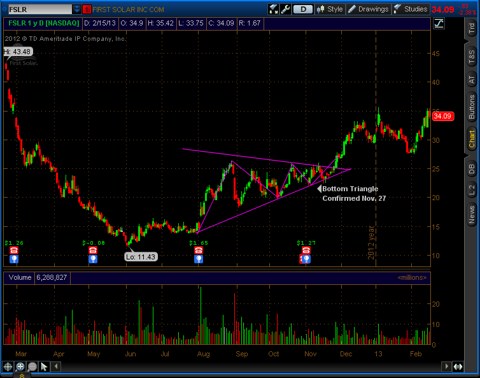 December 31, 2012 Long-Term KST crosses to upside signaling long-term bullish trend.

February 6, Bullish Continuation Wedge Confirmed Gap to fill $37-$39.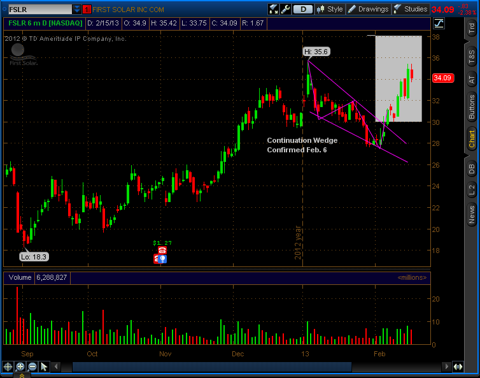 These three major technical signals support the bullish case for First Solar and signal a move higher.
In conclusion, I recommend a buy on FSLR under $35.00 with a post-earnings target price of $39-$41 and a stop price at $32. Pay close attention to earnings. An earnings surprise could strap a squeeze on the shorts, pushing the stock higher. In addition, any significant positive surprise in 2013 guidance could push the stock beyond its target price closer to its 52-week highs.
With improving earnings trends, positive changes in management, growth in international markets, and overall improved consensus in the sector as a whole, I believe First Solar is well positioned to lead the space and is a buy with limited downside risk in the near future.
Disclosure: I have no positions in any stocks mentioned, but may initiate a long position in FSLR over the next 72 hours. I wrote this article myself, and it expresses my own opinions. I am not receiving compensation for it (other than from Seeking Alpha). I have no business relationship with any company whose stock is mentioned in this article.