Market timing is a hot topic. We've seen how easily even a multi-year, or multi-decade, record of strong investment performance can be more than wiped out with a single big "miss." On the other hand, the difficulty of this task, coupled with the reputation it may have garnered due to overly outlandish claims made by some, has caused many to dismiss timing as something that can't really be done. In previous articles, I discussed the Portfolio123 timing model, explained how I use it in a regime-switching protocol, and explored what might happen if the model was erroneously bullish while stocks fell. Today, I consider the consequences of being bearish at a time when stocks are rising.
A realistic approach to timing error
Perhaps the most sensible thing to do in the area of market timing is to go in with a full understanding that you're going to be wrong, not just from time to time but very often. Obviously, too many errors would suggest that the approach used needs to be revised. But even with the best of models, there will be many missed calls, just as we see for stock-selection models in general. And as with stock selection, our approach to error isn't to throw up our hands and forget the whole thing, but to implement the activity in a way that manages the risks.
I do this by not placing heavy bets on the outcomes of timing decisions. I'm not currently using a long-short model, nor am I even using the approach to allocate between stocks and cash. Instead, I'm going into stocks whether the model is bullish or bearish. The main question is what kind of stocks I'd own.
In a bullish market environment, I'd be willing to own any stock that is favorably ranked under a raking system designed for bullish conditions. In a bear market, I'm much more restrictive. I'd select stocks according to a bear-market ranking system from a specially-designated bear-market universe.
The last article studied the potential consequences of owning bull-oriented stocks at times when the market is falling. Today, I'm looking at the flip side of the question, owning conservative stocks during periods of market strength.
Being bearish on the way up
When the Multi-market model is bearish, it will invest in the top 10 stocks and hold them unless the rank falls below 90 in which case it will be sold and the proceeds will be reinvested into a different now-qualifying stock. The ranking system I'm using is based on the following:
Company-quality factors

Returns

Return on Equity, 5-year average
Return on Equity, trailing 12 months
Return on Investment, 5-year average
Return on Investment, trailing 12 months
Difference between returns on equity and investment, 5-year average
Difference between returns on equity and investment, trailing 12 months

Earnings Quality

Accruals
Gross profit relative to free cash flow
EPS Stability

Financial strength

Long-term debt to equity
Total debt to equity
Interest coverage
Quick Ratio
Current Ratio

Long-term Growth

5-year EPS growth rate
10-year EPS growth rate

Stability

Beta
Beta relative to industry average
EPS volatility trend
Range of current-year EPS estimates
Range of projected long-term growth-rate estimates
Stability of current-year EPS estimates
Each group of factors is weighted 50 percent. All sub-groups within company quality are equally weighted as are all components of each sub-group. Each component within the stability group is also equally weighted.
On all occasions when the model is bearish, the above ranking system is run against a specialized defensive-stock universe based on the following:
Utilities

Beta must also be below the utility average.

Major Drugs

Beta must also be below the utility average. Also, trailing 12 month sales growth must exceed the industry average and the Current Year EPS estimate must have gone up in the past four weeks.

Biotech

The company must also have generated positive Free Cash Flow in the trailing 12 months, the latest fiscal year, and the fiscal year before that, and the Price-to-free Cash Flow ratio must have been below the biotech industry average.

Healthcare Facilities

Beta must also be below the industry average.

Medical Equipment

Beta must also be below the industry average.

Consumer Staples
Waste Management
Tables 1 and 2 summarize the results of a backtest (assuming weekly rebalancing and 0.05% price slippage per transaction) covering the full period (3/31/09 through 2/12/09) and a more concentrated generally-strong interval running from 12/31/02 through 12/31/06.


Tables 3 and 4 show what would have happened had I rebalanced every four weeks instead of once per week.


On the whole, the results seem acceptable. We're not seeing substantial upside excellence, but we are at least participating in an environment of rising stocks prices. Interestingly, this occurred even in table 4, which depicts the bearish model at it's worst in the sense that it wasn't so great during the down months that were sprinkled into this generally strong period.
Today's bearish choices
Table 5 humanizes the study a bit. We get a one-at-a-time sampling of what a bearish portfolio might look like, specifically, this being what would be produced if the model were bearish as of this writing.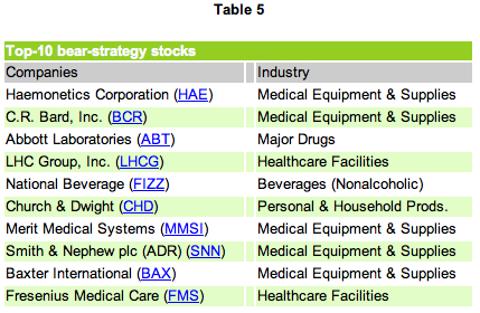 At first glance, one notices the proliferation of healthcare-related stocks. This is the result of my having used the defensive-stocks universe to limit eligibility only to those businesses that seem best able to withstand hard times.
Haemonetics (NYSE:HAE): This is the blood company; more specifically, the pioneer and leader in automated blood-collection technology. Besides the usual defensive qualities of a business like this, HAE stands to benefit from an increased move toward automation, which beats manual separation of blood components in terms of accuracy and efficiency.
C.R. Bard (NYSE:BCR): This is a leading producer of products used for surgical and diagnostic procedures, mainly in the vascular urology and oncology areas. Demand for these are not likely to boom during good times so exceptional upside bursts are not likely. Nevertheless, there is a generalized demographic angle here (the aging population), so growth is likely even if it merely coincides with, rather than is caused by, economic expansion.
Abbott Laboratories (NYSE:ABT): Major Drugs is a former Wall Street darling that now raised more concern than optimism given the onset of major patent expirations. This is why I was reluctant to simply include this industry on my eligibility list as is; instead, I added the additional filters relating to beta, sales growth, and estimate revision. ABT is the only drug firm to make it through all the extra filters (and, of course, the ranking systems itself). The reason is small exposure to near-term expiration of major patents. ABT's current drug portfolio, and its heavy pipeline, seem likely to give it the characteristics investors a decade or so ago used to cherish in big pharma as a whole.
LHC Group, Inc. (NASDAQ:LHCG): How bad could it be to find ones self in a bull market and holding a stock that hit its all-time high in late 2008? That's what we have with LHCG, a home health-care provider mainly for Medicare patients in rural areas. To be sure, this business is no bed of roses. The stock is now about 20 percent below its peak. With federal budgetary issues being what they are, one has to wonder about unfavorable regulatory changes impacting the company's revenue stream. Ironically, though, that's a bigger worry during tough times, which is what we're experiencing now. So I might wince a bit at the idea of holding this stock through times of crisis. In other word, I'm left to wonder if this was such a great implementation of the bear market strategy that put it on the list. As far as LHCG goes, I might actually be more comfortable with holding it in good times (i.e. as a result of timing errors).
National Beverage (NASDAQ:FIZZ): This company distributes lesser-known and typically value-priced soft drinks. This seems like a fine example of a troubled-times defensive investment, which is the reason it's on the list. In terms of timing errors, owning it in a bull market, it doesn't thrill me. A bullish case could be made nowadays based on consumer's increasing preference for variety (as opposed to all Coke and Pepsi all the time). Even so, there are more exciting things I could own during good times. But as a potential bull-market choice, this doesn't seem so horrible as to make me want to give up on the idea of trying to engage in thoughtful market timing.
Church & Dwight (NYSE:CHD): This is a household products company just like Procter & Gamble (NYSE:PG) and Colgate Palmolive (NYSE:CL), except that it's much, much, much smaller. Actually, CHD's main claim to fame lies in a single brand: Arm & Hammer, which is known mainly for its cleaning prowess. The good news for CHD has been its success in extending the brand to more and more new products. In recent years, it's been leveraging its capabilities with other household-products brands. Considering the two giants that dominate this industry, CHD may seem stuck in a David versus Goliath situation. But that may not be the worst thing in the world. As we remember, David was the winner in round one, and a look at CHD's long-term stock price chart suggests David is doing pretty well today too.
Merit Medical Systems (NASDAQ:MMSI): With MMSI, the list turns back to medical devices, in this case, mainly disposables used in cardiovascular and radiology procedures.
Smith & Nephew (NYSE:SNN): Here's another medical device manufacturer. This on focuses on reconstruction, trauma, endoscopy and advanced wound management.
Baxter International (NYSE:BAX): Baxter, the largest among our medical equipment companies, is the also the most diversified with products that serve the BioScience, Medication Delivery and Renal markets.
Fresenius Medical Care (NYSE:FMS): This is the leader in kidney dialysis services and as such, ought to benefit from the same overall demographic trends as underpin prospects for the other healthcare companies on this list.
On the whole, favorable demographic trends and/or new product efforts seem capable of making most of these companies at least tolerable as bull-market holdings. True there would be stronger choices available elsewhere. But it's not as if this list is a substitute for a money market fund. We would be getting reasonable, even if not optimal, exposure to rising stock prices and as far as I can see, this list seems as capable as any of performing in line with what we saw in the backtest results presented above. At the very least, I see nothing here to suggest the sort of nightmare that would scare me away from trying to engage in thoughtful market timing.