Sandstorm Gold (NYSEMKT:SAND) is a precious metal streaming company. They provide financing for gold mining companies in exchange for a long-term gold stream. As stipulated on their website 'A gold stream involves Sandstorm making an upfront payment to a mining partner that is in need of capital to build their mine, refinance their obligations, complete an acquisition or for various other reasons. In exchange for that upfront payment, Sandstorm receives a contract which stipulates the purchase of a certain percentage of the gold produced from the mine, for the life of the mine, at a fixed per unit cost.' The fixed cost per ounce of gold is typically heavily discounted in comparison with the prevailing spot price. We provided more information on Sandstorm Gold in a recent article.
On February 15 Sandstorm Gold announced to the market that they have just closed another deal. We were instantly intrigued and decided to investigate the background, which we would like to summarize in the present article.
Rio Tinto's (NYSE:RIO) world class Oyu Tolgoi Mine in Mongolia is at the heart of the story as we see it. This mine is currently under construction and production of first copper concentrate is imminent with commercial production scheduled to start before mid-year. The mine is estimated to yield 25 million economically viable tonnes of copper and is expected to last for more than 50 years. This mine will cost in excess of $10B to build and it will turn Mongolia into one of the world's leading copper producing countries.
The exploration properties immediately to the south and also to the north of the mine are not controlled by Rio Tinto directly, but by a JV entity called 'Entree - Oyu Tolgoi LLC Joint Venture'. The corporate structure of this JV is shown below. Obviously Rio Tinto controls this JV, but more to the point of the present story, a company called Entrée Gold (NYSEMKT:EGI) holds a 20% interest as well. And it is Entrée Gold that Sandstorm Gold has entered into an agreement with.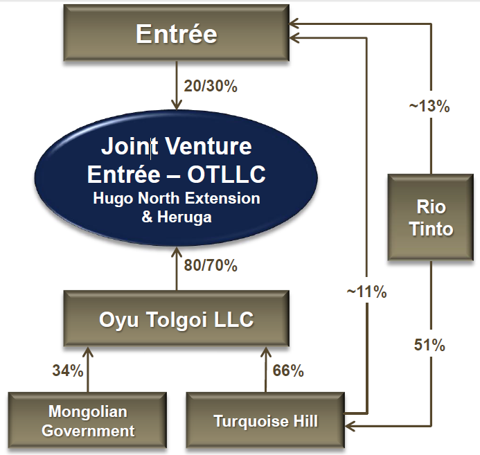 The importance and prospectivity of the land holding can hardly be underestimated, as visualized in the long section below. Phase 2 development of the Oyu Tolgoi mine will include the Hugo underground mine and the northern portion of this mine called Hugo North Extension will reach beyond Rio Tinto's direct control into the JV territory that Entrée Gold has a stake in. The southern portion of the land holding is called the Heruga deposit and also holds great future potential for a substantial underground operation.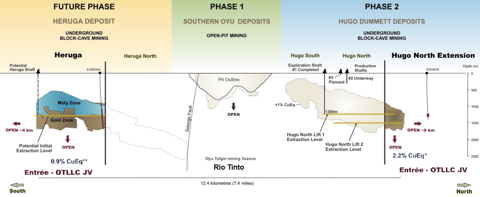 Sandstorm Gold is paying $35M for the rights to purchase 25.7% of Entrée Gold's share of the gold by-products of these deposits, and 33.8% of the silver. Sandstorm Gold will pay $220 for each ounce of gold, and $5 for each ounce of silver for an initial period switching to $500 for each ounce of gold and $10 for each ounce of silver thereafter.
A further $5M is being paid to Entrée Gold by Sandstorm Gold for the right to purchase 2.5% of the copper produced in the two deposits for an initial price of $0.50 per lb rising to $1.10 per lb. Sandstorm Gold has sold the copper component of the agreement to their sibling company Sandstorm Metals & Energy (TSX.V:SND) in exchange for shares worth $5M.
In addition to the metal credit purchase agreement described above Sandstorm Gold has also purchased Entrée Gold shares worth $10M in a private placement scheduled to close in early March. Furthermore, Sandstorm Gold have purchased a 0.4% net smelter return royalty for Entree Gold's Ann Mason project in Nevada for a $5M consideration and has reserved rights of first refusal for future streaming and royalty arrangements for this property.
The metal purchases under the present deal will function similarly to Sandstorm Gold's other metal streams where technically Sandstorm Gold buy the physical metal from their partner companies and then sell at the spot price. In a slight variation Entrée Gold will satisfy their commitments through direct cash payments to Sandstorm which is the reason for calling the transaction a 'Metal Credit Purchase' rather than a 'Metal Stream' in the respective announcements.
Phase 2 development production including the Hugo North Extension might start as early as 2015. The current gold reserve of the Hugo North extension stands at 530,000 oz, and the combined indicated and inferred gold resource is given at 3.25M oz. Sandstorm Gold's share of just the gold reserve in the Hugo North extension (27,242 oz) is already worth $37.6M assuming a gold price of $1600 per oz and accounting for the $220/oz payment that Sandstorm Gold will have to make.
The southern Heruga deposit currently has a gold resource of 14M ounces which can only be described as blue sky for Sandstorm Gold when and if it gets to production as part of mine development at some point in the future.
This deal marks the first time that Sandstorm Gold have come in close contact with a world class deposit. It is also the first deal by Sandstorm Gold in Asia.
In our view this deal has quantum leap potential for Sandstorm Gold; but it also comes with considerable risks. In order to build the Oyu Tolgoi mine Rio Tinto negotiated a tax and royalty regime with the government that was fixed for a period of 30 years in 2009. Since then governments have changed, growth has slowed and questions have been raised. In 2012 new mining legislation was introduced and partly as a result of the new laws investments in Mongolia have dropped by 44% year on year leaving a large financial hole for the government to fix.
Late in 2012 the Mongolian parliament approved a budget for 2013 calling for $319M of extra income from the Oyu Tolgoi mining project which Rio Tinto is unwilling to pay. The details of this standoff are described in this article, which also speculates on possible actions taken by Rio Tinto in response. While we believe that it would be unlikely for Rio Tinto to walk away completely, we do believe, that down-sizing the operations at the Oyu Tolgoi mine is a realistic option. And such a move would probably put into question the underground development which is essential for Entrée Gold's assets, and therefore Sandstorm Gold's future revenue.
In this sense, the latest deal comes with an unusually large dose of country risk for Sandstorm Gold.
Disclosure: I have no positions in any stocks mentioned, and no plans to initiate any positions within the next 72 hours. I wrote this article myself, and it expresses my own opinions. I am not receiving compensation for it (other than from Seeking Alpha). I have no business relationship with any company whose stock is mentioned in this article.