The only investors who shouldn't diversify are those who are right 100% of the time. -- John Templeton
A couple weeks ago, we hosted an investment forum entitled The Certainty of Uncertainty in which we looked at three different sources of uncertainty for investors: The Growth Recession, The Bankrupt Bailout, and The Cash Conundrum. This was followed with an explanation of how we build portfolios to address the "era of uncertainty." One of the key points we touched on was our portfolio construction methodology, which we've branded Diversification 2.0. The foundational principal of Diversification 2.0 is finding and investing in assets with low correlation to each other.
The phrase "diversification" is thrown around quite often when it comes to investing. Some investors or advisors might define diversification based on the number of holdings in a portfolio while others might base it on how many different, colorful pie slices (e.g. Large/Mid/Small Cap, Value/Growth, Domestic/International, etc.) can appear on a portfolio allocation chart. The fact of the matter is that neither of these metrics achieves diversification unless the holdings in the portfolio have low levels of correlation to one another. As it applies to our case, Dictionary.com defines correlation as:
the degree to which two or more attributes or measurements on the same group of elements show a tendency to vary together.
Another way to state this would be the amount of the movement in one investment that can be explained by the movement of another investment. If two investments have a correlation of 100%, it means that they are perfectly correlated and always move in the same direction. When investment one has a positive return, then investment two will also have a positive return. The magnitude of the return could be different (e.g., one goes up by 10% and the other by just 2%), but the direction will always be the same. On the flip side, two investments with a correlation of -100% are perfectly, inversely correlated and always move in opposite directions. So if investment one has a positive return, then investment two will show a negative return. Correlations can range from -100% to 100%, so anything in between these two extremes means that the returns of one investment do not completely describe the returns of another investment. In other words, there are other factors/forces influencing the returns of investment one which don't necessarily impact the returns of investment two.
Looking at some real world data, the table embedded below shows the correlation of several stock sub-classes that are commonly used to pitch portfolio diversification. These statistics were calculated using monthly return data from July 1996 to January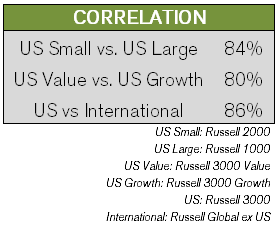 2013 for a variety of different Russell Investment Indexes. The way to interpret these numbers is that historically, international stocks (VEU, ACWX, etc.) have moved in the same direction as U.S. stocks (SPY, VTI, etc.) 86% of the time when measured on a monthly basis. What this tells us is that stock sub-classes (e.g., Value vs. Growth, Small vs. Large Cap, U.S. vs. International) are all highly correlated to each other, which makes sense since at the end of the day they are all stocks.
A portfolio consisting of a bunch (even hundreds or thousands) of different investments which are all highly correlated to each other is nothing more than a one directional bet on whatever shared macro forces are driving returns. The end result is a portfolio that will do well in one particular environment but is exposed to a great number of risks if the world doesn't unfold as expected. The only way to achieve real diversification is by investing in different asset classes with low correlation to each other.
A portfolio consisting of multiple investments with the similar return potential and low correlation to each other offers better risk adjusted returns to a portfolio of highly correlated investments with similar return potential. The second graph from Don't Put All Your Eggs In Two Baskets shows how the "efficient frontier moves up and to the left for the portfolio with two low correlated (20%) assets versus the one with two highly correlated (80%) assets. What this means is that you are getting more bang (return) for your buck (risk). This is why we include five different asset classes in our Diversification 2.0 portfolio framework: Stocks, Bonds, Commodities, Currencies and Gold, and Absolute Return Strategies. Every type of investment can be categorized into one of the first four groups. Absolute Return Strategies, on the other hand, utilize assets from these four groups to create unique return streams with low correlation to any of the four other asset classes (e.g., hedged strategies). The table below shows the historical correlation of these five asset classes.
Click to enlarge images.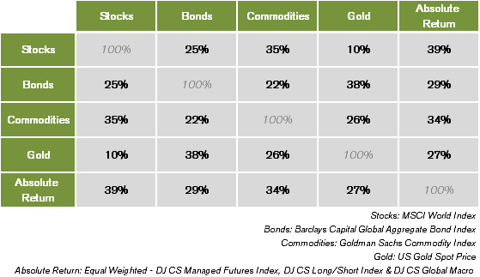 These statistics were calculated using monthly return data for representative indexes over roughly the past two decades. For those that aren't familiar with correlation matrixes, the value in each square is the correlation coefficient of the two intersecting asset classes. For example, stocks have shown a historical correlation to commodities of 35%. We find this number by locating "Stocks" on the horizontal axis and dropping down until we see "Commodities" on the vertical axis (conversely, we could have found "Commodities on the horizontal axis and "Stocks" on the vertical axis that would have given us the same value). Assets are obviously perfectly correlated with themselves, which is why the diagonal cells running across the matrix are all 100%. The correlation between these five asset classes is considerably lower than the correlations of the different stock sub-classes discussed earlier. What this means is that the macro factors driving the performance of one asset class have less influence on the performance of the other asset classes. The table below summarizes this advantage by comparing two portfolios with similar risk profiles over the past two decades using representative index data.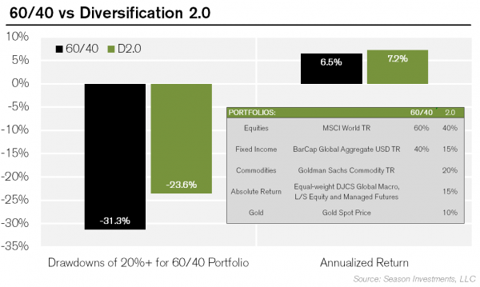 For big sell-offs, which we define as greater than 20%, the average peak to trough loss (e.g., drawdown) for the Diversification 2.0 portfolio was less than the classic 60% stock/40% bond portfolio. In addition, the Diversification 2.0 portfolio didn't give up any returns for the reduction in risk and actually would have compounded higher returns over the stated time period. Of course, there is no guarantee that the future will look anything like the past. In fact, this last year was a disappointing year for most assets except stocks. Spreading the risk and returns around to multiple asset classes means one has to be willing to lag the stock market in years like 2012. In the long run, we believe building a portfolio of low correlated assets, along with actively managing portfolio risk exposure, will win out by reducing volatility drag and compounding higher returns over full market cycles.
Original Source: Achieving Real Diversification
Disclosure: I am long SPY, GLD. I wrote this article myself, and it expresses my own opinions. I am not receiving compensation for it. I have no business relationship with any company whose stock is mentioned in this article.
Additional disclosure: Transparency is one of the defining characteristics of our firm. This information is not to be construed as an offer to sell or the solicitation of an offer to buy any securities. It represents only the opinions of Season Investments or its principals. Any views expressed are provided for informational purposes only and should not be construed as an offer, an endorsement, or inducement to invest.