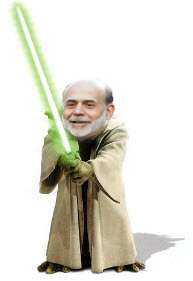 Most fundamental news on the day was mixed. In Germany, Investor Confidence rose sharply to 48.2 vs. 31.5 previously, allowing eurozone stocks to rise. China stocks fell sharply as investors worried about The People's Bank of China (PBOC) taking away the punchbowl (liquidity) as the government frets about inflation and housing speculation.
The G20, amusingly and not surprisingly, gave member countries engaged in the so-called "currency war" (a trade war, really) a pass. It's a version of "don't ask, don't tell" via currency manipulation. It's okay to manipulate your currency, just don't tell anyone that's what you're doing. The very next day, the Swiss National Bank emerged, defending publicly their intent to keep manipulating the franc to "enforce the euro/franc floor with utmost determination." And, currency manipulation and Goldman Sachs (NYSE:GS) (the vampire squid) has, per this clever expose, rigged the eurozone with its people running the show.
But U.S. stocks jumped early out of the gate, encouraged by M&A activity currently from the Office Max (NYSE:OMX) and Office Depot (NYSE:ODP) potential merger, and residual fervor for previous actions from GE (NYSE:GE) and Berkshire Hathaway (NYSE:BRK.A). Of S&P companies reporting, earnings have beaten lowered estimates by 70%, while historically, the average has been around 65%. What this may tell you about the earnings estimates game should bother you frankly, since beating estimates has been widely promoted as bullish. Things calmed down after the Housing Index fell (46 from 47) for the first time in 10 months.
Elsewhere, the Obama administration is on the campaign trail disparaging its own conceived sequester plan. Not to be outdone, the Simpson-Bowles duo released another plan to deal with deficits, which will probably go as far as its last effort. It's all quite strange, frankly.
Believe it or not, after the fiasco Friday with Wal-Mart (NYSE:WMT), today the retail sector (NYSEARCA:XRT) was one of the market leaders, up 1.81%, while WMT continued to decline 0.78%. Other market leaders were small caps (NYSEARCA:IWM), semiconductor (NASDAQ:SOXX) and transports (BATS:IYT). Underperforming market sectors were especially prominent in commodities (NYSE:DBC), which included gold (NYSEARCA:GLD), base metals (NYSE:DBB) and agriculture (NYSE:DBA).
The Fed was modestly busy Tuesday with POMO, buying the long end of the Treasury curve. Nevertheless, in the face of such activity, bond prices have fallen, meaning fighting the Fed has been a bold trade.
Volume once again was ultra-light, and is creating a new normal. Breadth per the WSJ was positive.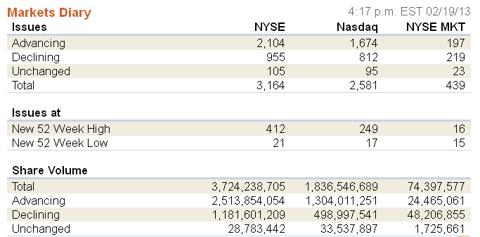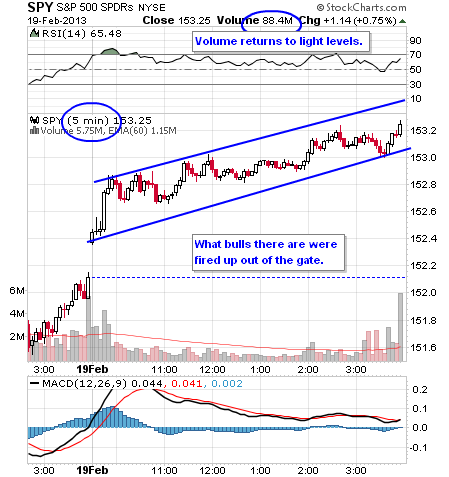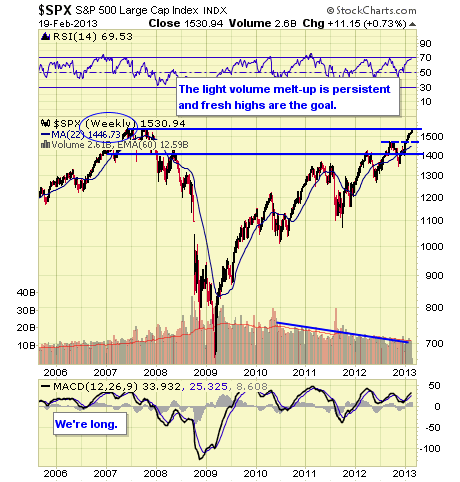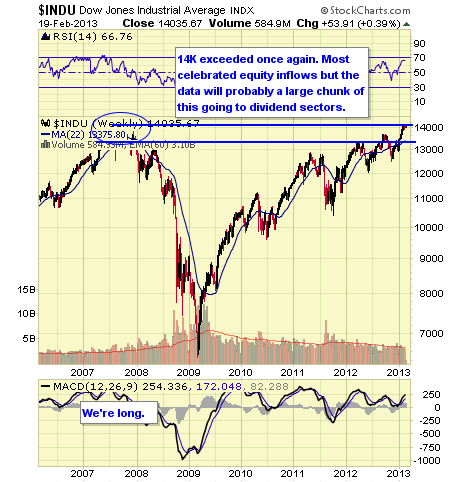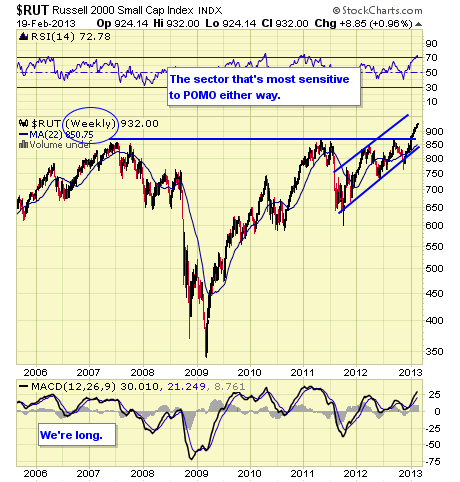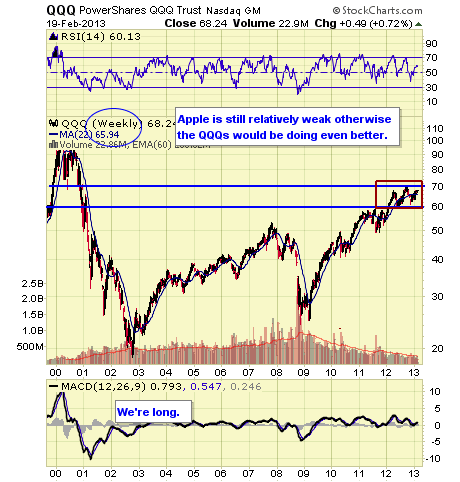 Continue to U.S. Sector, Stocks & Bond ETFs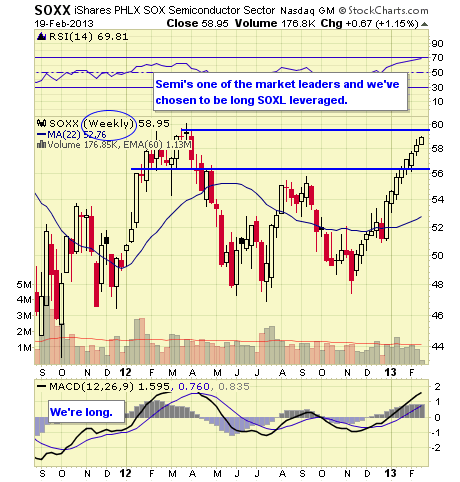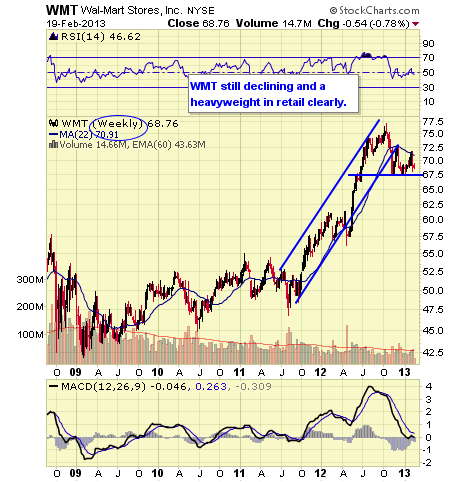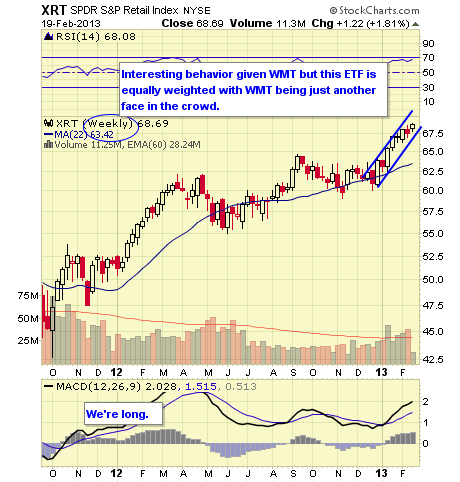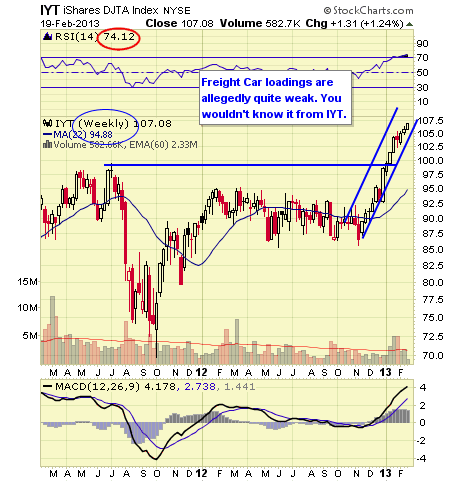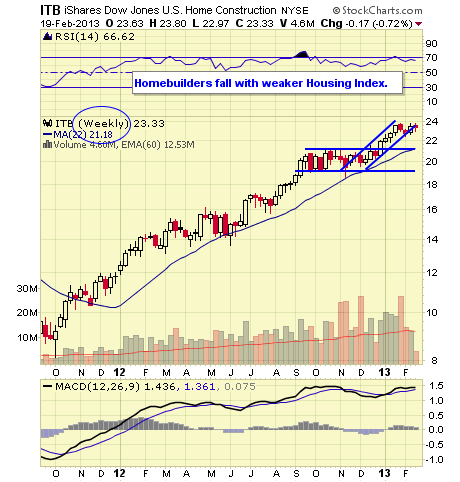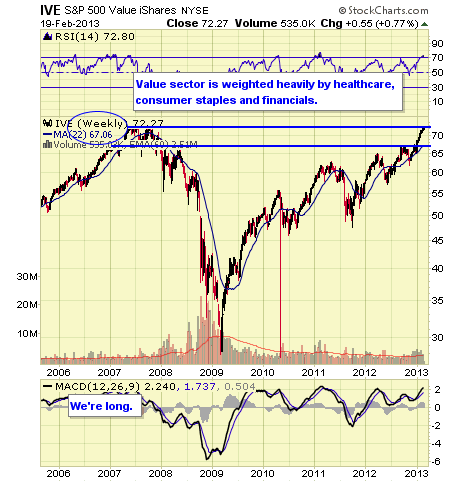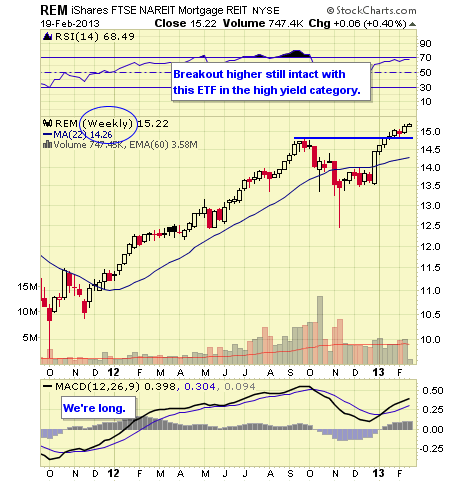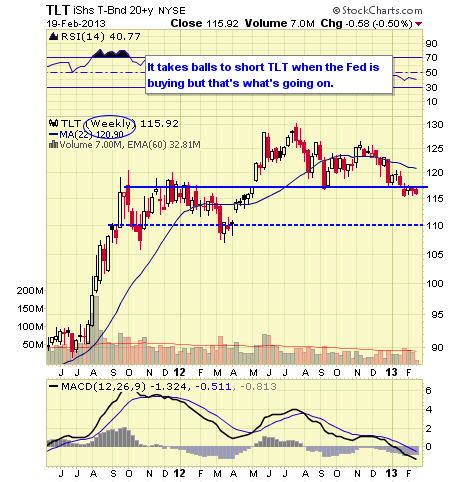 Continue to Currency & Commodity Market ETFs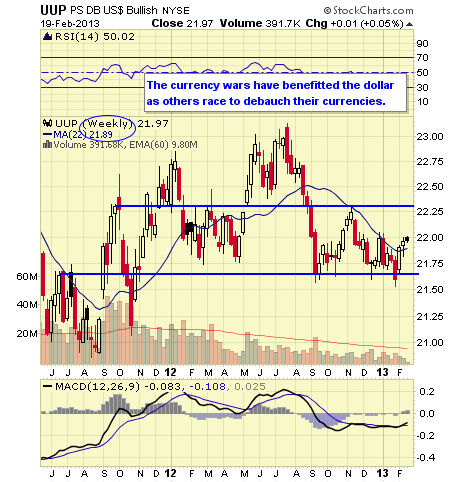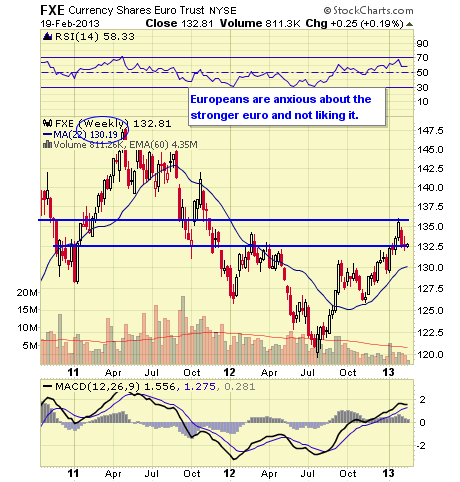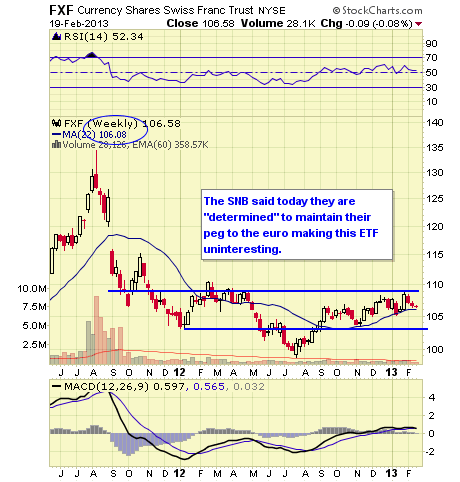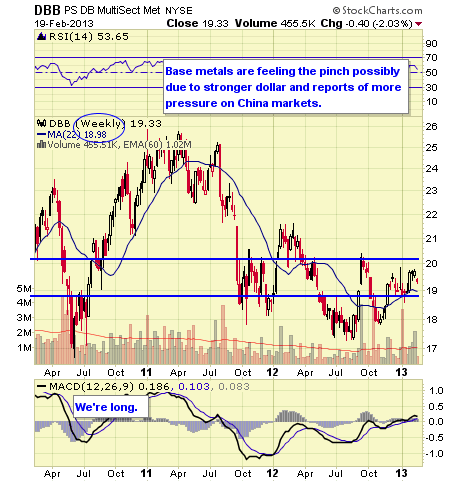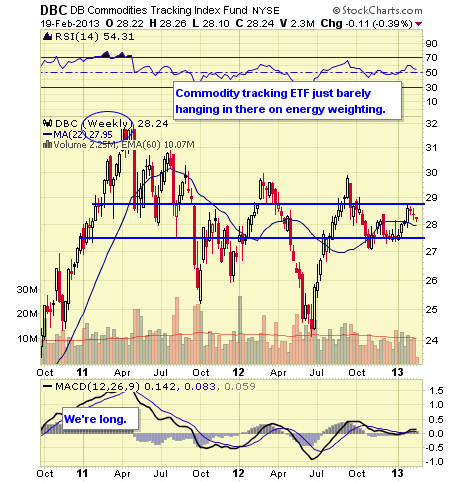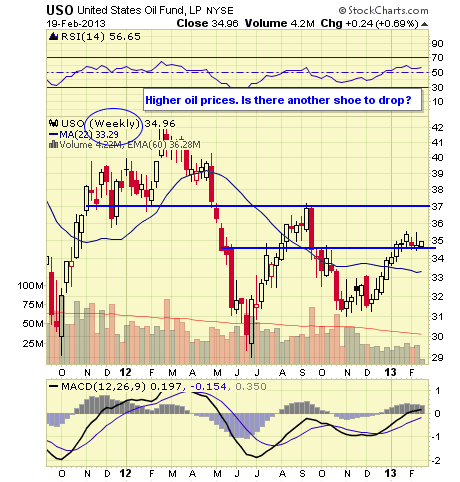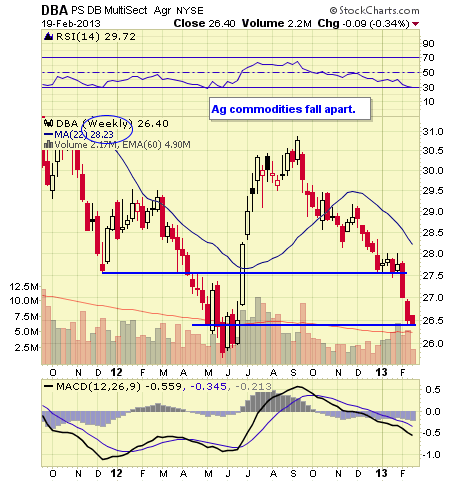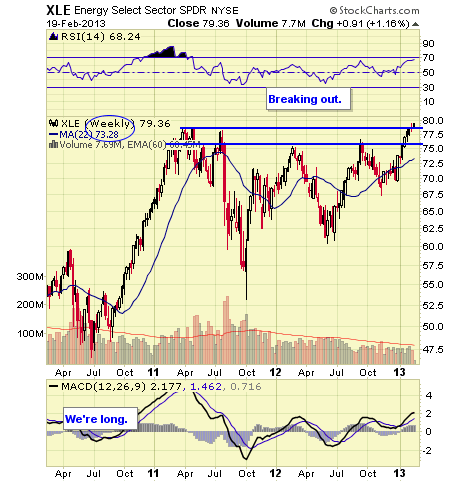 Continue to Overseas Sectors & ETFs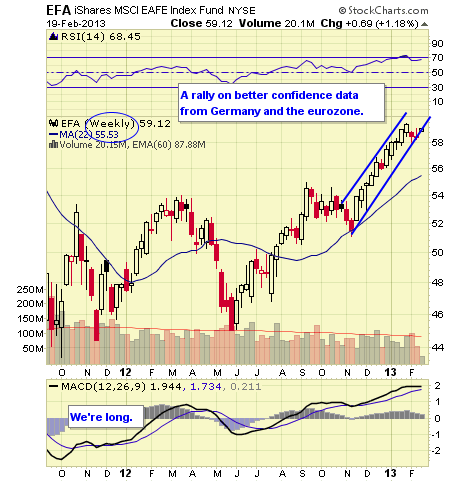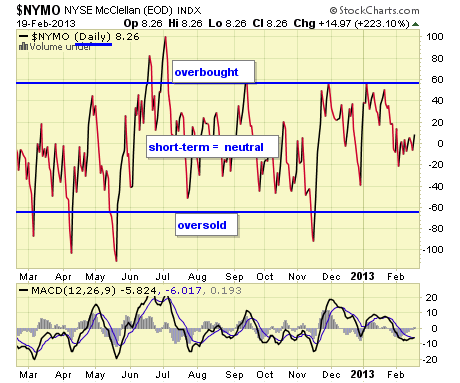 The NYMO is a market breadth indicator that is based on the difference between the number of advancing and declining issues on the NYSE. When readings are +60/-60, markets are extended short term.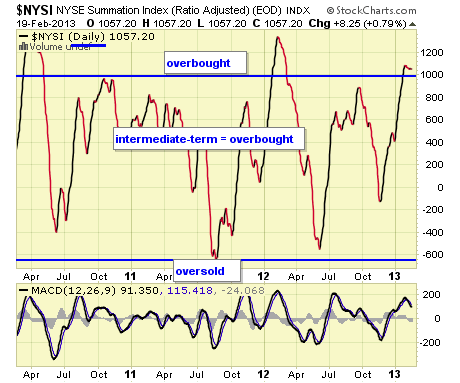 The McClellan Summation Index is a long-term version of the McClellan Oscillator. It is a market breadth indicator, and interpretation is similar to that of the McClellan Oscillator, except that it is more suited to major trends. I believe readings of +1000/-1000 reveal markets as much extended.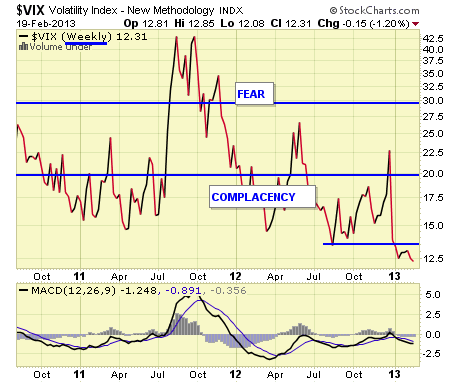 The VIX is a widely used measure of market risk, and is often referred to as the "investor fear gauge." Our own interpretation is highlighted in the chart above. The VIX measures the level of put option activity over a 30-day period. Greater buying of put options (protection) causes the index to rise.
Concluding Remarks
The impending sequester doesn't seem to be bothering bulls too much. But there isn't a tsunami of bulls based on volume. Yes, investors are adding to their equity portfolios, but most of this is going to conservative dividend sectors.
Wednesday brings more housing data and FOMC Minutes in the afternoon for traders to digest.
Disclaimer: The ETF Digest maintains an active ETF trading portfolio and a wide selection of ETFs away from portfolios in an independent listing. Current "trading" positions in active portfolios, if any, are embedded within charts: Lazy & Hedged Lazy Portfolios maintain the follow positions: VT, MGV, BND, BSV, VGT, VWO, VNO, IAU, DJCI, DJP, VMBS, VIG, ILF, EWA, IEV, EWC, EWJ, EWG, & EWU.
The charts and comments are only the author's view of market activity and aren't recommendations to buy or sell any security. Market sectors and related ETFs are selected based on his opinion as to their importance in providing the viewer a comprehensive summary of market conditions for the featured period. Chart annotations aren't predictive of any future market action rather, they only demonstrate the author's opinion as to a range of possibilities going forward.
Disclosure: I have no positions in any stocks mentioned, and no plans to initiate any positions within the next 72 hours. I wrote this article myself, and it expresses my own opinions. I am not receiving compensation for it. I have no business relationship with any company whose stock is mentioned in this article.