This past December we made a recommendation to consider a long position in H&R Block (NYSE:HRB) based upon pending tax changes and the benefit that tax software companies should see based upon those changes. Although Intuit (NASDAQ:INTU) could also benefit from the changes, we felt that H&R Block was in a better position based upon providing both software and tax preparation services. At this point, the stock has increased over 42% in less than three months.
When a stock increases a large amount in a short period of time, it is always a good idea to step back and listen to the voice of reason. There may be a good and completely justified reason for the increase, meaning that we should continue to hold the stock. However, the increase might also result in higher-than-justified price based upon demand, which would indicate that we should sell the stock and realize our gains.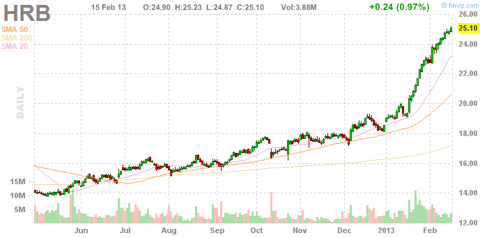 Changes In Valuation, Earnings, And Indicators

The recent price spike has pushed the TTM P/E above 20. This in itself is not an issue, but something to consider as it moves the stock out of what was clearly undervalued territory. Earnings are projected to increase for the next two years, indicating that the stock should generally increase in price. When we look at P/E from a forward-looking perspective, it returns back to a range near 15 - much more in line with what is a fair value with some room for expansion. Yet despite this, the increase seen over the past 30 days does seem to be excessive given the environment.
There are six brokers providing price targets on H&R Block. The targets range from $17 to $27 with a mean target of $23.75, a little over 5% below the current price. The average recommendation does still fall in the Buy range, but analyst recommendations are often slow to change based upon market events. In fact, the most recent analyst recommendation came on December 18, 2012 when Compass Point downgraded the stock from Buy to Neutral.
At this point the RSI for H&R Block is over 85, indicating the stock is now significantly overbought. All moving averages are trending upward very nicely, but the momentum does show indications of slowing.
Recommendations
Those who bought this stock in December should set appropriate stops to guarantee a gain in case the stock price drops. There is potential for continued upward movement, but at this point any momentum appears to be slowing and the stock may have overshot a currently fair price. It is hard to argue with locking in a significant gain in under three months.
Given the rapid rise in price, it is likely not a good time to consider establishing a long position. Although the price could continue upwards, this stock has not seen an event quite like this since the end of 2003. Likewise, with the uncertainty in price direction from this point I would not establish a short position at the current time without establishing some type of hedged position. Caution is advised from here.
Disclosure: I am long HRB. I wrote this article myself, and it expresses my own opinions. I am not receiving compensation for it (other than from Seeking Alpha). I have no business relationship with any company whose stock is mentioned in this article.
Additional disclosure: I am long this stock at the time this was written. I may have closed the position prior to publication.