Western Union (NYSE:WU) is a leading provider for money transfers and alternative payment services for both consumer-to-consumers as well as for business-to-businesses around the globe. A recent influx in the transaction volume of money transfers in combination with the overall increasing demand for money transfers following the recession will have a positive impact on Western Union's financial position. This article provides an overview of WU's business model, identifies the different types of money transactions WU provides its customers with, and then concludes with multiple reasons as to why WU is cheap in its current valuation.
Consumer-to-Consumer
In the consumer-to-consumer segment, WU provides its customer with four main ways to send and receive money.
Walk-in Money Transfer Service - This method consists of a cash collection at one location by an agent and then the payment (usually cash) is available for pick-up at another agent location in a designated region specified by the customer. This transaction is quick and capable of being completed on both sides within minutes.
Online Money Transfer Service - This method allows consumers to send funds online usually using a credit or debit card. Due to the substantial amount of other banks utilizing online banking services, this method does not entail a large amount of transaction for individuals sending money within the US;

however

, it does constitute a sufficient amount of transactions leaving the states.
Account-Based Money Transfer Service - This enables customers to access WU's services electronically, directly from their bank's internet or automated teller machine. Customers can then use their bank account to initiate a WU money transfer electronically. This prevents customers from having to visit a physical location.
Mobile Money Transfer Service - This is simply a mobile application that enables

customer

s to transfer money to a mobile wallet or bank account.
Global Business Payments
WU provides customers with diversified options for making a single or recurring payment for both consumers and businesses to other businesses. The payments in this segment range from payments to a wide array of organizations including utilities, auto finance companies, mortgage companies, financial product as well as service providers, and different government agencies. This segment is mainly composed of five key parts:
Western Union Business Solutions - This segment provides business-to-business payment solution to cross-border and cross-currency transactions. It also includes one subsidiary including Travelex Global Business Payments.
Western Union Payments - This service is also

known

as Quick Collect, which allows customers to send funds to

businesses

and government agencies across the US as well as Canada.
Pago Facil - A special service in South America that provides walk-in, cash bill payment services.
Speedpay - This service is provided primarily in the US and allows customers to make payments to a variety of businesses using credit cards, debit cards, checks, as well as ACH transfers. These transactions can be initiated over the phone or through the internet.
Equity Accelerator - This service enables customers to make mortgage payments on home equity loans through ACH transfers. Customers who enroll in the program benefit with a quicker reduction in their mortgage balance as well as interest savings through the accelerated program. The accelerated program

schedules

recurring payments that are subject to variation based upon the value of one mortgage.
Market Performance & Valuation
Currently, WU is trading right between $14 and $15 per share. With 596.58 million shares outstanding, its market capitalization is significantly large at approximately $8.59 billion. It's clear that institutional investors have made notice of this undervalued opportunity. As of the most recent reporting period, institutional investors hold 90.82% of WU's common stock outstanding.
Figure 1: WU's One-Year Price Graph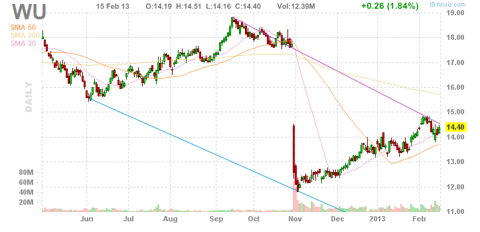 Four reasons why WU is cheap and should be bought at its current valuation:
Western Union

displays a history of generating strong levels of free cash flows. Its current price to free cash flow ratio is 12.12.

Five analysts that cover the stock have a median six month price target of $18 per share. This implies a 25% upside from its current market value per share.
The corporate valuation model suggests WU's intrinsic price per share is roughly $20. A fair value of $20 per share implies WU is trading at roughly 38% below fair value. This takes into account WU's current free cash flows, a conservative constant growth rate of 4%, and WU's weighted average cost of capital. Note that in practice many analysts prefer valuation models such as "sum-of-the-parts" using EV/EBITDA multiples;

however

, the model I used tends to be fairly accurate when valuing companies with historical patterns of strong free cash flows.
WU's operations provide investors with sufficient margins. Its operating and profit margins are roughly 24.73% and 21.87%, respectively. The margins are clear, and as you are starting to realize the key factor that will send WU's market price per share soaring is increased transaction volume.
From a different perspective, there are several risks investors should take into consideration. On the bearish side, if the economy does not fully recover as analysts are predicting, then there is fair probability we will see a decrease in the volume of money transfer transactions. This specifically concerns the transactions to foreign countries. There is a substantial amount of immigrants in today's society that work in the US to solely send money back home to their families in regions such as Latin America. A strong economic recovery will entirely eliminate this risk and fulfill the bullish case for investing in WU. In conclusion, following a strong economic recovery, we will see a substantial upside in WU's market price per share.
Disclosure: I have no positions in any stocks mentioned, but may initiate a long position in WU over the next 72 hours. I wrote this article myself, and it expresses my own opinions. I am not receiving compensation for it (other than from Seeking Alpha). I have no business relationship with any company whose stock is mentioned in this article.