Angie's List (NASDAQ:ANGI) is a website which allows service providers to advertise to website members. According to their website, the company allows members to "find detailed reviews on roofers, plumbers, house cleaners, dentists and more!" The company earns revenue both from members seeking advertisers with positive reviews and service providers advertising to paying members.
My last article argued their business model was not sustainable due to the belief that service providers would begin to ascribe less and less value in advertising to members who are paying less and less each year. I still hold this view.
The company released Q4 results, beating by 6 cents, on the eve of Valentine's day and shorts were massacred with a 30% increase in the stock price the next day, settling at +24% by the close. Clearly the company is still on an uptrend in the headline numbers. However, look a little deeper and there is trouble ahead.
This is a bearish article which looks at:
how service providers are receiving less value for money each quarter;
the company's slowing growth;
unpaid commissions and cash from operations;
forecasts for 2013 to 2015.
With an enterprise value of $0.9bn and a 2012 loss of $53m, it's my assertion that the company is grossly overvalued. I expect service provider revenues to stall quicker than analysts expect due to ever more service providers competing for a relatively smaller number of members each quarter.
The ever falling value proposition to advertisers
Service providers pay to advertise to members on the website. They perceive 'value for money' based on getting their message in front of members who pay to use the website and hence represent potential customers for their services. However there are 2 key issues for the company. More and more service providers are fighting over each other to get to the top of the search listings - there is only one Page 1. Secondly, the amount each member is paying is declining each quarter representing a decline in potential demand for the advertisers' services.
To illustrate the first point I compare revenue from each group; members and service providers. It is not correct to compare member numbers with service provider numbers since the amount paid by members is declining. We know from the company's 10-K that there are non-paying members included in the paying members number and they potentially represent no demand at all for advertisers.

*denotes my forecast.
The table above shows revenues from members and advertisers. The membership revenue as a percentage of service provider revenue can be considered as the demand for services as a multiple of the supply. This figure has moved from 72% in Q4 2010 and has decreased in every quarter to 42% in Q4 2012. Individually, service providers are receiving lessening demand and hence less value for money.
The next table bears this out. With the number of service providers growing strongly, the deferred revenue per participating service provider should increase each quarter. However, whilst service providers are growing strongly in number (49% in Q4 2012), the contribution each makes to revenue is generally flat with $650 deferred revenue in Q4 2012. Whilst there has been an increase of 13% to $650 in Q4 2012 over Q4 2011, it was actually higher in Q1 2011 at $790.

** The company defines participating service providers as those in contract at the period end. One has to assume this refers to those with deferred revenue at the period end. I use deferred revenue to avoid the complication of service providers joining and leaving during the period.
One reason why the deferred revenue per service provider may be increasing in recent quarters is that new advertisers are signing up to longer contracts. Whilst this is good for the company as it collects more cash up front, I explain later in the article that this flatters the cash position.
Now, let's look at the results and growth figures.
The company posted a quarterly profit in the last quarter with 4 cents versus an expected loss of 2 cents. Total revenues of $46m grew 68% on Q4 2011 with total expenses growing by 32%. The prior quarter growth rates (year on year) were 75% and 55% respectively.


*denotes my forecast.
You can see from the quarterly growth figures above that revenue growth peaked at 76% in Q1 2012 and has fallen to 68% in the last quarter. The company's own forecast for Q1 2013 of $51.5m for revenue is a growth rate of 66%. The growth rate in membership fees has been consistent at around 40% but service provider revenue growth is falling, from a peak of 99% in Q1 2012 to 83% in the last quarter.
Based on the consistent growth in membership revenue and the company's own forecast for total revenue in Q1 2013, I forecast service provider revenue growth to fall to 78% in Q1 2013.
Selling costs were low in the Q4 2012 at just $15.6m compared with $16.2m in the prior quarter, a rise of just 37% over the same quarter in 2011. The company has however forecast selling costs of $21m for Q1 2013, a rise of 69% over the 2012 Q1 quarter. This puts selling costs back on the declining growth trajectory of previous quarters prior to Q4 2012 and suggests the last quarter gains were a one-off not to be repeated as hinted at in management's earnings call. Perhaps the market needs to reassess their +24% share price reaction to a one-off gain for a loss making company which is forecast to continue losses.
Marketing costs which drive membership revenue grew 59% in Q4 2011, falling to just 10% growth in Q4 2012. The company actually reduces marketing costs in Q4 versus Q3. The quarter on quarter growth in Q4 2011 and Q4 2012 was a 56% fall and a 66% fall respectively. Q4 2012 marketing was held back more than it was in Q4 2011 and only grew 10% year on year. The reason for doing so was probably to try and conserve cash. Management's take on this was that it was due to efficiencies and one should therefore expect a similar benefit in the following quarter. Indeed management's forecast for Q1 2013 is just an 11% increase over Q1 2012 with $19-20m marketing spend.
The table below shows the history of membership numbers and revenue. This shows constant growth in membership revenue and declining growth in members and a falling revenue per member. It is likely that these growth rates and revenue per member will decline further if marketing costs continue to be held back.

Now clearly the company still has strong growth figures. They are a long way from contraction. However, it is also clear that growth rates in advertising revenues are falling.
The simple analogy is a car driving up a hill. Whilst the company is making losses it is trying to reach the top where it becomes self-sustainable and down the other side is earning profits. All the while it is moving up the hill, the driver has his foot on the gas pedal, using up the fuel and burning cash. The trick is to reach the top before the gas runs out.
In Angie's case, the car is gaining speed but the foot is coming off the gas as one eye is on the fuel gauge which is fast moving toward empty. So, let's now consider whether Angie will reach the hilltop, avoid a stall and subsequent crash.
Cash from operations and deferred revenues
The company's cash position from operating activity worsened by $33m in 2011 and the same amount in 2012. At the year end 2012, cash on the balance sheet plus short term investments was $53m. At Sep-12, cash and investments were $65.5m. The company's cash balance fell $12m in the last quarter despite recording a profit of $2.4m.
Further, deferred advertiser revenues on the balance sheet at the end of 2012 were $54m; that's cash taken in for services yet to be delivered. Whilst this cash is yet to be recognized in the income statement, it is included in the company's cash pile. Therefore when these revenues are earned in future years they will not add to cash.
Whilst the company is growing this is not an issue. Growing deferred revenues will add to cash. But when service providers wake up to the lack of value for money they are receiving (the decline in growth quickens) and do not renew, cash will still be depleted as sales commissions are paid out but no more cash will be taken in. In Q4 2012, selling costs were 48% of service provider revenue. Whilst not all of the 48% will be contractual, i.e. some will be discretionary, it is clear to see that the company must conserve cash to pay out commissions which have effectively been incurred but not recognized since the company still holds the cash on its balance sheet. Commissions are recognized in the same period as service revenues.
An illustration of the impact of this is to consider the company not signing any new contracts. It would recognize the income from existing contracts which has been deferred and recognize the associated sales commissions. However, whilst it has received the cash from service providers, it will still need to pay away the cash to sales staff.
2013 forecast and cash position
Analysts' 2013 EPS forecasts are for a mean loss of 48 cents and range between 26 and 65 cents loss and for 2014 a mean profit of 21 cents and range of 20 cents loss to 37 cents profit. My forecast is for a loss of 54 cents in 2013 and loss of 43 cents in 2014. I've also forecast a loss of $1.27 for 2015 as the growth in service provider revenue falls to 15% as renewals aren't made and selling costs rise to 83% of related revenues. Needless to say with just $53m cash and investments on hand at the end of 2012, sales commissions on cash held yet to pay and a combined loss of $62m for 2013 and 2014 the company will need more cash.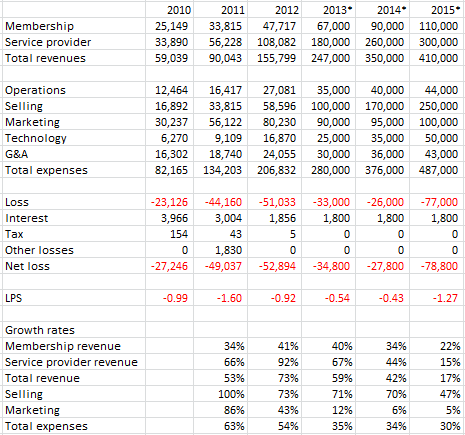 * denotes my forecast. Where the company made figures available in the last results conference call these have been used (revenue, marketing, selling costs for Q1 2013).
My basis for reducing the growth in membership revenue is the reduced growth in marketing costs. I expect as the company needs to conserve cash, the marketing budget will continue to be held back. My basis for reducing the growth rate in service provider revenue is the realization by advertisers that they are not receiving value for money. Whilst selling costs are reduced also, they represent a higher and higher proportion of revenue as the company finds it harder to generate repeat business.
Given I expect continued and growing losses and with just $5m of equity value at Dec-2012, I don't ascribe any value to this stock.
Disclosure: I am short ANGI. I wrote this article myself, and it expresses my own opinions. I am not receiving compensation for it. I have no business relationship with any company whose stock is mentioned in this article.