Today Apple (NASDAQ:AAPL) closed right around $460, about even on a day when the market averages have all performed well and Apple has had lackluster momentum lately. Apple had taken a hit after its last earnings release, but heading into February with fresh ground ahead, I covered four February catalysts that would help the stock perform; and perform it did. Since it's lows of about $440 in very early February, Apple made a 10% bee-line to the $480 region before correcting last week: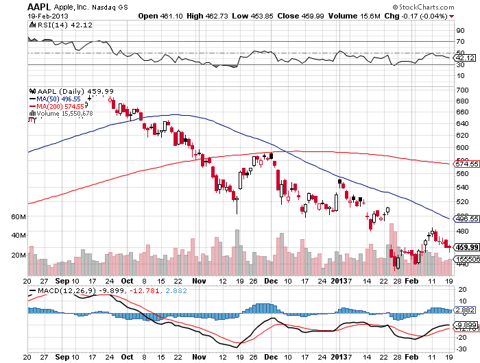 What I didn't know was going to occur this month was the recently launched David Einhorn saga, wherein David Einhorn of Greenlight Capital went after Apple for having too much cash on hand and not sharing some of its value with shareholders. In a letter to Apple shareholders, Einhorn, after disclosing being a shareholder since 2010 and still being long the company, states:
A shareholder since 2010, Greenlight believes Apple is a phenomenal company filled with talented people creating iconic products that consumers around the world love. However, like many other shareholders, Greenlight is dissatisfied with Apple's capital allocation strategy. Greenlight believes that the amendment to Apple's charter in Proposal 2 unnecessarily limits the Board's flexibility to distribute preferred stock as a means of unlocking shareholder value.
Einhorn continued,
We understand that many of our fellow shareholders share our frustration with Apple's capital allocation policies. Apple has $145 per share of cash on its balance sheet. As a shareholder, this is your money.
Apple took this into account and released a statement from the company that said :
Apple's management team and board of directors have been in active discussions about returning additional cash to shareholders," the company said in a statement. "As part of our review, we will thoroughly evaluate Greenlight Capital's current proposal to issue some form of preferred stock.
So, what did this mean for Apple stock? It means we have a good ole' fashioned February wild card on our hands. Einhorn the cowboy rides in from the wild west, puts out his letter to shareholders, and all of a sudden Apple stock starts to creep upwards on hopes of Apple listening to him and reacting. As if there isn't constantly a stir about Apple in the first place, Einhorn stuck a fork in the proverbial hornet's nest.
Last week, Apple CEO Tim Cook presented at the Goldman Sachs Technology conference and called Einhorn's lawsuit related to these issues a "silly sideshow." Cook reaffirmed that the company is not hoarding cash, but simply trying to do what's best for the company and shareholders alike. On this news, panic set in with investors and the stock fell $12.03, or 2.51% for the day. Prior to Cook's speech, the stock had hit an intraday high of $482.38.
Today, we get news of Einhorn's Greenlight fund apparently anticipating success in its lawsuit against the company. The case in question is Greenlight Capital LP, et al., v. Apple Inc., U.S. District Court, Southern District of New York, 13-900. CNBC reported after market close today:
U.S. District Judge Richard Sullivan on Tuesday reserved decision on Greenlight Capital's request to stop the February 27 vote on one of Apple's shareholder proposals. That proposal would eliminate the iPhone maker's ability to issue preferred stock without investor approval.

"Candidly I do think the likelihood of success is in favor for Greenlight," Sullivan said at a court hearing in New York.

The hedge fund sued Apple earlier this month as part of Einhorn's broader attempt to get the company to send a bigger chunk of its $137 billion in cash to shareholders.
That's a pretty big nod to try and fully ignore as a potential investor and I'm floored Apple has only run up .50 in after-hours trading Tuesday.
Buying Apple Now is a Winning Bet: Here's Why
Right off the bat, on Wednesday you're getting a price discount from Apple's February highs of about 10%.
We know the fundamentals of the company are sound going forward. As a matter of fact, when you think about it, this whole debate started because a fund long the company is claiming the balance sheet was starting to look a little too sound. How often does that happen? Apple is sitting on $130 billion in cash and reported $54.1 billion in revenues last quarter during earnings.
Upcoming earnings will, in my opinion, be significantly better than expectations due to Apple CFO Peter Oppenheimer's recent re-calibration of analysts that I wrote about (linked to above):
Apple's CFO Peter Oppenheimer obviously realized this was going to be an issue and, while accepting that it was going to lead to short-term recalibration, thought it would be better for the long term to offer guidance a bit more responsibly. As this article notes:
In the past, Apple has provided a single point, (one revenue figure, for example), the company expects to hit over the course of the upcoming quarter. Apple is notorious for releasing conservative numbers then blowing them away when it reports earnings a few months later.

Now, things will change. Instead of offering a single point, Apple will begin offering a range.

Peter Oppenheimer explained the change on the Apple's Q1 2013 earnings call, which is going on right now:

"In the past we provided a single-point estimate that was conservative. This quarter and going forward, we are going to provide a range of guidance that we're likely to report within.
What does this mean? It means that the last guidance offered was a big recalibration for not only analysts, but the market and retail shareholders. Everybody is so used to Apple's annihilating guidance as it had done in the past, analyst expectations have gone astray and needed to be roped in by Apple executives. It's been 18% year-over-year revenue growth and substantial recurring growth with impressive margins for years now - and this kind of panic sets in on a small share of a miss on earnings? Simply baffling.
This was a savvy move for Oppenheimer. He's taking the analysts from a push to a pull, essentially saying: this is our company, we're selling our product, we have the best interest of the shareholders in mind; we're going to be the authority on guidance.
Oppenheimer is going to be praised in the future for this recalibration. There's no doubt he knew this last earnings call was going to be ugly, but from this point forward his new strategy will be kept in mind, allowing analysts and retail's expectations for earnings run commensurate with the company's.
'Nuff said with regards to fundamentals.
That's all good and well for long-term investors, but what about people looking to see some value this year, or even in these coming months?
Aside from fundamentals, I'm confident to say that we know for sure Apple is going to be doing something in the near future to unlock more shareholder value. This is clear as day to this investor, using the age old method of simply reading between the lines. Whether it's a share buyback, higher dividends, preferred stock - who knows - but, something is CLEARLY on its way. Don't believe me? Check out this group of statements by analysts, bloggers, judges potential presiding over the dang case, Tim Cook and Apple made as recently as today; all in succession of one another since this debacle started (my emphasis in italics):
February 7, 2013 - source article:
The company added that it would "thoroughly evaluate" Greenlight's ideas, and was "committed to having an ongoing dialogue" with investors.
February 7, 2013 - source article:
"Apple also goes on to say that Apple's management team and board of directors have been in active discussions about returning additional cash to shareholders."
February 8, 2013 - source article:
The increased chances of Apple returning some of its $137.1 billion in cash to shareholders makes the stock attractive, Stuart Frankel's Steve Grasso said Friday on CNBC.
February 10, 2013 - source article:
Signals out of the ultra-secretive executive suite at Apple increasingly point to an announcement soon of a dividend increase, buyback or another form of capital distribution to shareholders. The latest came from an analyst report Sunday.

"We are starting to field calls from 'smart money' investors who are building positions in AAPL at current levels based on the belief that: 1) AAPL has already made the transition to a 'value play' from a growth story, and 2) a favorable capital allocation update will be the next catalyst for shares," wrote the analyst, who has a $600 price target on the stock. - Brian Marshall, after speaking with Apple CFO.
February 12, 2013 - source article:
"We do have some cash, but it's a privilege to be in this position... where we can seriously consider returning additional cash to our shareholders." - Tim Cook.
February 12, 2013 - source article:
Apple appears likely to return some of the cash on its balance sheet to shareholders, AlphaOne Capital CIO Dan Niles said Tuesday on CNBC.

"I think they told you they're going to do something with the money," he said, citing the company's response to activist investor David Einhorn's request for a preferred dividend.
February 15, 2013 - source article:
The investor, Brian Gralnick, contends Apple has not disclosed enough details about how it made its decisions in awarding restricted stock units to certain executives.
February 19, 2013 - source article :
A U.S. judge said David Einhorn's hedge fund had shown a "likelihood of success" if his legal attack against Apple goes forward.
There's a Prize on the Inside
Folks, this is no longer a question of "if" Apple is going to unlock more value from its balance sheet for investors, it's a question of "when." After investigating these media reports today, Apple doing nothing in this situation would be akin to committing shareholder suicide. While I don't think Apple is necessarily going to go Einhorn's requested route of preferreds, the company is clearly going to do something.
In turn, the stock is going to appreciate in value and people's investment in the company is going to be worth more than it would be simply reaping Apple's current 2.2% dividend yield.
Is there a risk of Apple doing nothing? Yes, there is. Apple is starting to establish a bit of a history being stingy and stubborn in court. Does it seem likely? Not at all. It's this investor's opinion that going long Apple, regardless of whether or not the company offers up a shareholder perk, is the right call. While there may be some short-term selling if Apple comes out against any action, Apple remains fundamentally sound for the long run.
Having said that, with the decline in price Tuesday, it's this investor's opinion that savvy buyers have an opportunity and a great spot to go long here and buy Apple - there's a prize on the inside.
Disclosure: I have no positions in any stocks mentioned, and no plans to initiate any positions within the next 72 hours. I wrote this article myself, and it expresses my own opinions. I am not receiving compensation for it (other than from Seeking Alpha). I have no business relationship with any company whose stock is mentioned in this article.