Fusion-io (NYSE:FIO) became a Wall Street momentum darling following its IPO in 2011. The company, whose primary business is the development of very high bandwidth/low latency PCIe flash storage acceleration solutions, seemed to be at the right place at the right time. As server microprocessors have become faster, the storage bottlenecks that traditional hard disk drives impose have simply proven to be unacceptable in the modern data-center. That's why flash solutions have become increasingly necessary.
Enter The Need For Flash
A traditional hard disk drive is composed of a set of magnetic platters and electromechanical heads. In order for a particular piece of data to be accessed, the head moves up/down to place itself on the correct "track" on the magnetic disk, and then the platter spins until the right place on the disk is found. While improvements in density and rotation speed have allowed traditional hard disk drives to make tremendous strides in transfer speeds, random access is still very challenging due to the very nature of the drives (spinning the platters and moving a head just isn't all that conducive to quick random accesses).
Flash, on the other hand, is a form of non-volatile memory. There are no moving parts, and accesses to any particular bit can happen just as quickly as accesses to any other, which essentially solves the random access issues that traditional hard disk drives have. Further, as there are no moving parts, power consumption comes down significantly, reducing TCO, particularly in the data-center where significant power savings translate into significant cost savings.
Now, the downside to flash is that it is quite expensive on a per gigabyte basis. While hard disk drive platters are dense and inexpensive to manufacture, flash requires very sophisticated NAND flash fabrication plants. The barrier to entry is high to manufacture it (very capex/R&D intensive), and as a result, the majority of fabless flash suppliers tend to have unsustainable business model.
With this background, I now introduce you to the Fusion-io story.
Caching: The Best Of Both Worlds
In computer architecture, a popular (and effective) method to gain performance in a relatively inexpensive fashion is to introduce what is called a cache. The idea is simple: instead of spending a lot of money on a very large, very fast block of storage, why not have a small but fast block of storage where the current data that's being worked on is kept, and then keep the data that isn't needed now on the larger, slower, and cheaper storage?
That's the idea behind Fusion-io's PCIe flash accelerators. Instead of trying to get every data-center to replace all of its hard-disk drives with pure flash (which would be prohibitively expensive), get them to add flash as caches. This, in essence, means that these data-centers would have most of the speed of a pure flash solution, but at a cost structure that is much more reasonable. The data-center gets faster and TCO comes down (since power consumption as a whole comes down) over time, which is the big value proposition for this company's products.
So, why is the stock trading near all-time lows?
Strong Growth Held Back By Order Delays
It is clear that the secular growth story, coupled with a strong competitive position, is there for Fusion-io. Historical growth numbers, coupled with a fairly bright multi-year view of the industry by the Street, have supported a premium valuation: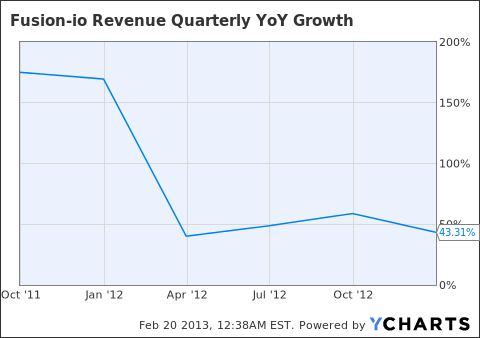 FIO Revenue Quarterly YoY Growth data by YCharts
In particular, Fusion-io had given guidance for FY2013 of $530M back in August, which represented a very strong 45% Y/Y growth. Unfortunately, Fusion-io's customer base is very highly concentrated at this time, with Facebook (NASDAQ:FB), Apple (NASDAQ:AAPL), and HP (NYSE:HPQ) comprising 69% of total revenue (34%, 16%, and 19%, respectively).
The worst fears came true for the company when Facebook and Apple chose to cut back on capex. This led to a delay in significant orders into the next fiscal year, and as a result full-year guidance was chopped from $530M to $420M - $460M (+22% Y/Y at midpoint). Gross margin guidance is still intact at 58-60%. Interestingly, after a fairly precipitous drop in revenue guide for the third quarter to about $80M, the current full year guide implies ~$110M for FQ4. The former would represent a 15% Y/Y decline, but then a rebound for FQ4 would imply flat revenues there.
Strong Execution, But Overall Business Now Viewed As Lumpy
While the Street dutifully cut price targets and ratings into the $16 - $18 range and uniformly assigned "neutral" ratings, I have to give credit to the management team for executing as effectively as possible given the circumstances. The company continues to stay competitive on the product side, and I further believe that the firm's strategy of having a strong sales force to work directly with its clients is a key strategic advantage. Unlike recent high fliers that have come down such as Mellanox (NASDAQ:MLNX) which saw execution problems further exacerbate waning demand, Fusion-io's issues seem squarely out of its control.
Gross margins remain strong and have recovered steadily over the last several quarters, despite competitive solutions announced from Intel (NASDAQ:INTC), STEC (NASDAQ:STEC), LSI (NYSE:LSI), EMC (EMC), and OCZ (NASDAQ:OCZ):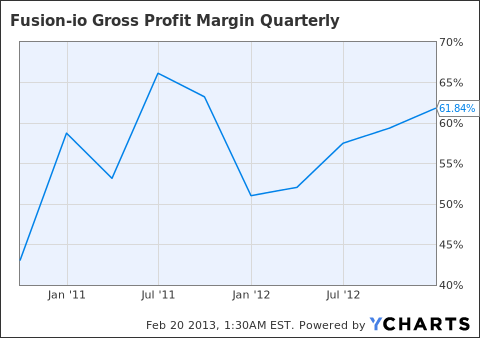 FIO Gross Profit Margin Quarterly data by YCharts
This further bolsters the thesis that Fusion-io's product strength coupled with the work that its dedicated sales teams put into customer relationships achieves a material return in market share and customer stickiness. At the recent Goldman Sachs Technology Conference, the following Q&A helped to clarify that the factors that pressured guidance weren't competitive:
Bill C. Shope - Goldman Sachs Group Inc., Research Division

Right. Sure. Yes. So to be clear though, are you convinced that none of this on either side was caused by competition?

David A. Flynn - Co-Founder, Chairman, Chief Executive Officer, President and Director

Yes. We have very good visibility into it and into the design wins, and we are very confident.
Interestingly though, aside from the Facebook/Apple business, the core business has been growing at a 50-60% rate. As these smaller customers comprise a much smaller percentage of revenues, the growth there is not yet enough to offset an unexpected drop in orders from the major players. However, over the next several years, I expect the Apple/Facebook concentration to dilute significantly as the customer base widens. This should help to narrow the risk profile of the business to the secular growth as well as the competition that eventually arises.
The Street Still Seems Cautiously Optimistic
My main problem with the stock in light of the recent growth slowdown is the valuation. While the Street is happy to assign arbitrary multiples to growth stocks as long as they continue to meet/beat expectations, it suddenly dawns on them just how much they are paying when things stop looking so rosy. In that light, Fusion-io's valuation is a bit stretched at nearly 4x sales and a forward P/E of 54. It seems that the Street is still willing to entertain the notion that growth may resume its previous trajectory after the current fiscal year, but given that the stock is trading at near all-time lows in terms of share price as well as all relevant multiples, it is very much a "wait and see".
I see this as a binary play: after slugging through the next two quarterly reports, Fusion-io will either show signs of the resumption of growth (core business growth + FB/Apple orders materializing) and then multiples begin to expand again (as ~40%+ growth commands a strong premium), or Fusion-io will end up like STEC, OCZ, and the countless other storage companies that promised big things and meteoric growth, only to be out-done by stronger/smarter competitors.
Since I think management is quite a bit smarter and more in-tune with the market than STEC, and is certainly more competent than OCZ's previous management, I don't expect the utter disasters that investors saw over at those two stocks. Further, as Fusion-io's technology is quite unique, I could see a worst-case scenario of an acquisition by the likes of EMC or HP if things start to turn ugly.
Conclusion
Fusion-io was a high flier that came down to earth when one of its biggest risks -- high concentration of sales in a few customers -- manifested itself as a negative catalyst. I do not have any fundamental problem with management, as they seem to be growing the core business nicely and have managed to maintain strong gross margins, a good competitive position, and excellent customer relationships. The valuation is a little bit stretched here, but as the company is still likely in its hyper-growth phase, "valuation" in this case is just how arbitrarily high a multiple the sell-side wants to place on the "story". I believe that should the company start showing signs of high double-digit growth again, not only would the price appreciate with multiples held constant, but multiples themselves could expand, leading to material upside from these levels.
Disclosure: I am long FIO, INTC, STEC. I wrote this article myself, and it expresses my own opinions. I am not receiving compensation for it (other than from Seeking Alpha). I have no business relationship with any company whose stock is mentioned in this article.