On Tuesday, February 12, Cullen/Frost Bankers (NYSE:CFR) issued a 5.375% fixed-rate perpetual preferred stock, Series A. The Texas-based bank raised $150 million by selling 6 million shares. The preferred is currently trading on the OTC under the ticker CFRPP and is expected to begin trading within 30 days on the NYSE with the ticker CFR-A.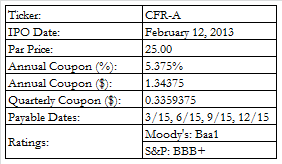 *Note: The preferred is currently trading under the temporary ticker, CFRPP
Ratings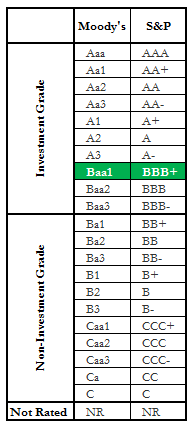 Both Moody's and S&P have given CFR-A investment grade ratings.
Capitalization Ratios

Cullen/Frost is and has been "well capitalized" by all three capitalization ratios.
Larger First Dividend
CFR-A will make its first dividend payment on June 15, 2013. Having IPOed in the middle of February, this makes the initial accrual period longer then the typical quarterly accrual period and therefore the first dividend payment will be larger then the normal distributions. This is highlighted on the first page of the prospectus:
The first dividend payment, if declared, will be made on June 15, 2013, in the expected amount of $0.45 per share of the Preferred Stock, which reflects the time period from the expected date of original issuance to but excluding June 15, 2013.
The initial dividend of $0.45 is a nice first payment bump over the normal ~$0.336 quarterly payment, especially considering CFR-A closed at $24.52 on Tuesday, February 19. Over the first year, approximately $1.46 will be paid out in dividend payments on CFR-A, which represents a 5.945% yield (without the higher first payment the current yield is 5.480%).
Other New Issues
There have been a number of new issues in recent months, though the number receiving investment grade ratings from both Moody's and S&P have been few and far between. At the end of January, JPMorgan (NYSE:JPM) issued its 5.45% fixed-rate Series P (current ticker: JPMSL), which has an investment grade rating from S&P and a non-investment grade rating from Moody's, and Zions Bancorporation (NASDAQ:ZION) issued its 6.30% fixed-to-floating rate Series G (ticker: ZB-G), which has non-investment grade ratings from both Moody's and S&P. SunTrust Banks (NYSE:STI) issued a 5.875% fixed-rate Series E preferred (ticker: STI-E) mid-December which received non-investment grade ratings. In fact, the last time a new bank preferred received investment grade ratings from both Moody's and S&P was in mid-November when it happened three times in quick succession: City National Corp (NYSE:CYN) issued its 5.50% fixed-rate Series C on Nov. 7, Wells Fargo (NYSE:WFC) issued its 5.125% fixed-rate Series O (ticker: WFC-O) on Nov. 13, and First Republic Bank (NYSE:FRC) issued its 5.625% fixed-rate Series C on Nov. 15.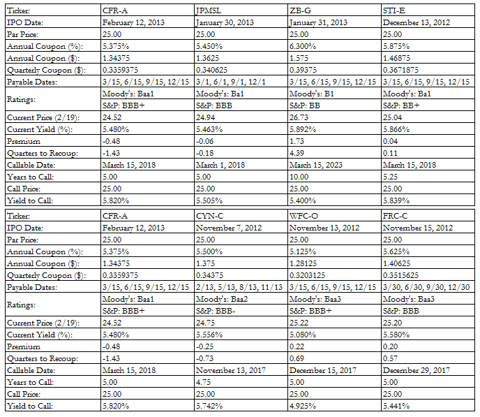 Please note that CFR-A is in both rows to help with visual comparisons.
Final Thoughts
Cullen/Frost is a fantastic Texas-based bank that has done a lot of things right over its 140+ year history. Many investors are bullish on the company and a great overview of why this is the case was put out by Alan Brochstein last week. Cullen/Frost used the proceeds from the sale of CFR-A to repurchase $144 million of common stock.
In terms of the preferred, CFR-A offers a current yield of 5.48% (5.945% if you include the larger first payment for the first year), has an investment grade ratings from both Moody's and S&P, and is trading below par (so there is no premium risk). It is not trading on the exchange yet, but in the first three days of trading it has averaged 233k shares (although only 89.7k shares on Feb. 19), which should provide some comfort around future liquidity. Picking up CFR-A below par prior to trading on the NYSE offers investors a solid dividend yield on a very conservative and proven bank.
Prospectus: A copy of the CFR-A prospectus is available on EDGAR and can by found by searching company filings or by following this link.
Risks of Preferreds: Prior to investing in any bank preferreds, it is recommended that potential investors make sure they understand the risks and nuances associated with the asset class. An overview of these risks is available in Navigating The Risks Of Buying Bank Preferred Stocks.
Ticker Reference Table: To help find preferred stocks on your trading platform, please see our Preferred Reference Table.
Disclosure: I am long CFR, JPM, FRC, WFC, CYN, ZION. I wrote this article myself, and it expresses my own opinions. I am not receiving compensation for it (other than from Seeking Alpha). I have no business relationship with any company whose stock is mentioned in this article.
Additional disclosure: This article is for informational purposes only, it is not a recommendation to buy or sell any security and is strictly the opinion of the author. Investors are strongly encouraged to do their own research and discuss potential investments with an investment professional.