By Greg Guenther
In today's market, there's plenty of pain to go around. In fact, a much-maligned retail tactic is making a comeback: layaway.
We all thought the age of easy credit killed layaway for good late last century. There simply wasn't the need to put a new television on layaway for $15 a week when you could just buy now… and pay later. But with credit markets frozen and the average consumer swamped with leftover debt, retailers have grabbed back onto their old layaway strategies.
Kmart (NASDAQ:SHLD) pushed a revamped layaway program during the Christmas shopping season. But America's retail Goliath continues to hold out — Wal-Mart (NYSE:WMT) discontinued its layaway program several years ago and is showing no signs of bringing it back.
In fact, we seriously doubt that layaway will ever again become as popular as it once was. Regardless, cheap, payment-oriented retail methods should flourish while the average and below-average income shopper retreats to survival mode.
What the consumer needs now more than ever are options — especially when it comes to the purchase of big-ticket items. That's why we're taking a close look at the rent-to-own industry.
Two small-cap names come to mind in this field. There's industry leader Rent-A-Center Inc. (NASDAQ:RCII) and close competitor Aaron Rents Inc. (RNT). Their business models are simple: Both stores rent and sell furniture, appliances and electronics
This earnings season has been downright poor across the board. But these rent-to-own firms are one of the few bright spots in today's market. Rent-A-Center posted a fourth quarter profit and finally seems to be benefiting from a recent restructuring plan that reduced its store count to 315 locations. Aaron Rents posted strong fourth quarter numbers and raised 2009 guidance.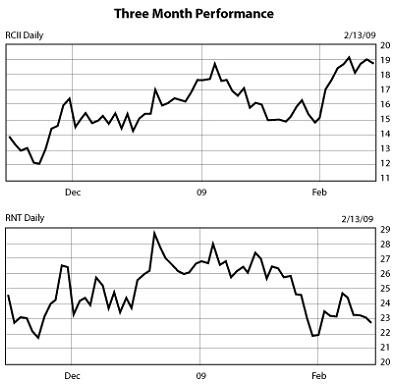 Both RCII and RNT have been solid post-crash performers. Aaron Rents is hovering near break-even since the beginning of November, while Rent-A-Center is up nearly 50%. These two firms have actually benefited from the growing ranks of unemployed workers. The connection is clear: If you have no job, you'll be hard pressed to get store credit. But you'll still need to replace a broken appliance…
According to Cowen and Co. analysts, Aaron Rents in particular is helping customers who have not been able to get credit at Best Buy (NYSE:BBY) or Sears (SHLD) but still have to replace a broken fridge or other large appliance.
Will major retailers try new layaway or rent-to-own plans in an attempt to boost slumping sales? In our opinion, the economy will have to get much worse for this scenario to unfold.