Today was a bad day for the gambling industry. Casinos with exposure to Macau suffered losses as gambling revenue for the first 17 days of February were released. Macau's gambling revenue of 15.2 billion patacas ($1.9 billion) missed HSBC's estimates, which resulted in stock price drops. HSBC argues that VIP and high-stakes gamblers avoided casinos because the huge crowds during the Lunar New Year holiday. Whatever the reason, the damage has been done. In spite of all this, MGM Resorts International (NYSE:MGM) weathered the storm relatively well compared its peers. The stock closed at $12.68, down only 1.55%. On the other hand, its competitors, Wynn Resorts (NASDAQ:WYNN), Las Vegas Sands (NYSE:LVS), and Melco Crown Entertainment (MPEL) each finished the day down 2.09%, 3.14%, and 6.35% respectively. Part of this was due to the fact that RBC upgraded MGM today from sector perform to outperform. However, there are also several other catalysts that make MGM a company worth investing in.

MGM's Return to Dirty Jersey?
In 2010, MGM decided to sell its 50% stake in the Borgata. The other 50% is owned by Boyd Gaming (NYSE:BYD). The Borgata is New Jersey's largest hotel and is one of the state's major casinos. Regulators stated that one of MGM's partners in Macau, Pansy Ho, was unsuitable because of allegations that tied her father, Stanley Ho, to organized crime. Mr. Ho has never been sued, but U.S. agencies have long suspected him of giving crime lords a foothold in the Macau gambling industry. Rather than cut off business relations with Ms. Ho, MGM ultimately decided to relinquish its holdings in the Borgata. Since then, MGM has been out of the Garden State.
Fast forward to 2013. MGM recently petitioned to have NJ regulators review its findings and hopefully reverse the decision. The company's request was approved, and the New Jersey Division of Gaming Enforcement is currently reviewing the case. Since 2010, MGM has acquired a controlling interest in MGM China Holdings, MGM Macau's parent company. It made changes to MGM China's structure, reducing Ms. Ho's stake from 50% to 27%. It also took actions to reduce Ms. Ho's influence over MGM Macau. Bottom line, MGM has taken the necessary steps to prepare its hopeful return to New Jersey.
Should the Division of Gaming Enforcement overturn the previous decision, MGM could potentially regain its 50% stake in the Borgata. More importantly, however, is the current efforts to legalize online gambling in New Jersey. At this point, it is extremely likely that the legislation required will be passed. Juniper Research estimates that by 2017, online gambling from mobile devices alone will be a $100 billion industry. It is clear that the potential for MGM to profit is there. All that is left to do is to wait for the green light.
Potential Dividend from MGM China
Expect MGM China to announce special dividend in the near future. Last year on February 22, 2012, the company declared a $400 million dividend. While it may not announce one of that enormity, it is extremely likely that MGM China will announce another special dividend sometime soon. RBC estimates MGM China will end the year with approximately $1 billion of cash and will generate free cash flow of over $700 million excluding spending on MGM Cotai. There is also a possibility that MGM China will announce a smaller dividend than last year but also implement a recurring dividend policy at the same.
Expansion and New Developments
MGM is trying to secure gaming licenses in Prince George County, MD, Springfield, MA, and Toronto, Ontario. Although it is competing with several other companies, MGM is a good position to win at least one these bids, if not two. The company is a good position to win the bids for Prince George County and Springfield, given the size and scope of the projects. The former would have an expected mid-2016 opening, and the former would have an expected early-2017 opening.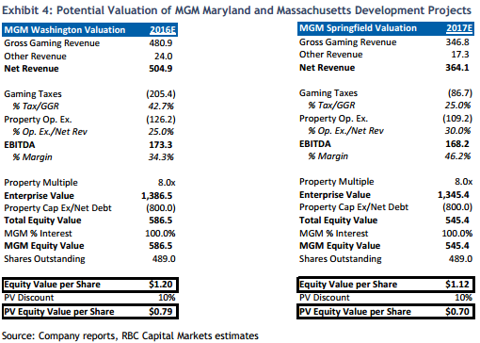 Conclusion
MGM's potential to succeed in the future is largely tied to how things play out in New Jersey, and the situation is looking pretty good right now. Being able to return and reacquire its 50% stake in the Borgata as well as the possibility of tapping into online gambling are both huge catalysts that differentiate the company from its competitors. There is also the imminent dividend from MGM China and the company's aggressive efforts to expand to take into consideration. Overall, expect MGM to have a great future, both short and long term.
Disclosure: I have no positions in any stocks mentioned, and no plans to initiate any positions within the next 72 hours.
Business relationship disclosure: Business relationship disclosure: Capital Traders Group is a team of Proprietary Trading and Equity Research Analysts. This article was written by Kevin Sun, one of our Equity Research Interns. We did not receive compensation for this article (other than from Seeking Alpha), and we have no business relationship with any company whose stock is mentioned in this article.