On Tuesday, February 19th, Coffee, which has been slated for March delivery on the ICE Futures U.S. exchange fell 0.33% to $1.3650 a pound, the lowest front-month settlement since Dec. 18.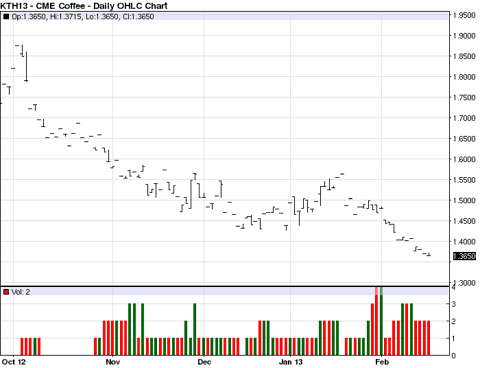 When it comes to the recent downward trend directly related to the price of Coffee, there are two catalysts potential investors need to consider before establishing a position in companies such as Starbucks (NASDAQ:SBUX), Green Mountain (NASDAQ:GMCR) and Dunkin' Brands (NASDAQ:DNKN).
In short, the two catalysts in focus are Brazil's record-setting year-over- year production resulting in a 71% increase in supply over the last 12 months and a leaf eating fungus named Hemileia Vastatrix (better known as 'Leaf Rust') threatening Costa Rica's annual coffee production to the point of where it could have crippling effects.
Known for its abundance of Arabica and Robusta coffee beans, Brazil is the world's leading producer of coffee and one of the key sources for ICE stockpiles. As of Tuesday, stockpiles of Arabica coffee located in ICE-certified warehouses totaled 2,672,045 60-kilogram bags which represented a 72% rise from the previous year's total.
According to Leslie Josephs of the Wall Street Journal, "A record crop from top grower Brazil (supplies about 33% of the world's coffee) last season and analysts' and traders' expectations for another large crop this season are pressuring prices". If Brazil continues to produce record crops and demand continues to weaken, stockpiles could increase well beyond the 71% increase they've experienced in the past 12 months. Chris Narayanan, head of agricultural research at Societe Generale, has also noted that all eyes are focused on Brazil, especially when it comes to both sugar and coffee.
Costa Rica, on the other hand, is ranked as the 13th largest producer of coffee worldwide, and its ranking could fall even further if the outbreak of a leaf fungus known as 'Hemileia Vastatrix' continues to suppress the crop production of many its small farmers. On January 22nd, Costa Rica declared a national emergency in an effort to battle back against what many experts are calling an outbreak of epidemic proportions. What exactly is 'Leaf Rust'?
According to the USDA, a fungus known as Hemileia Vastatrix causes coffee leaf rust, the most important and debilitating disease of coffee worldwide. One of the commodities' key regions, Latin America, has seen its production suffer in recent years due largely in part to a more frequent and prolonged rainy season which has created a primary environment for Leaf Rust to thrive.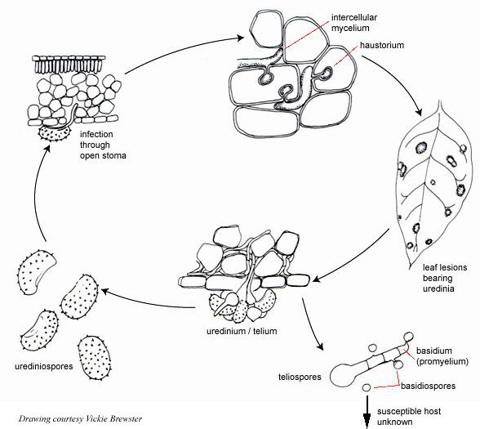 What can be done to combat the effects of so-called 'Leaf Rust'? According to a report which was authored by P.A. Arneson, "Coffee rust must be managed as a continuous epidemic on a perennial crop, and therefore, any factor that can reduce sporulation, spore dispersal, or infection, even a small amount, can mitigate the epidemic. Good cultural management is paramount, but there are no simple rules to follow. The varieties grown, the character of the soils, the amount and distribution of rainfall, and numerous other factors all interact to dictate what is required".
Should the potential investors of both Starbucks and Dunkin' Brands worry about the recent downtrend in coffee prices? Although the price drop is significant, it should have little to no effect of the prices such companies as Starbucks, Green Mountain and Dunkin' pay since most of their coffee is purchased from suppliers through fixed-price commitments. These fixed-price commitments alleviate the risk that goes hand-in-hand with any sudden rise or fall of contract-based transactions.
Disclosure: I am long DNKN, SBUX. I wrote this article myself, and it expresses my own opinions. I am not receiving compensation for it (other than from Seeking Alpha). I have no business relationship with any company whose stock is mentioned in this article.