Marc Faber, author of the "Gloom Boom and Doom" report expects a major low in interest rates for the years to come. In this article we will look at the reasons and the investment implications for his comments. Let us start by looking into Credit Suisse Global Investment Returns Yearbook 2013.
There has been a sharp fall in real yields since 2000 (typically over 4%). Real bond yields are low, but real cash returns are even lower. Treasury bill yields are currently close to zero in most developed markets, and real rates are (mostly) even lower. Over 2012, the real return on Treasury bills was −1.7% ((NYSE:USA)), −2.7% (NASDAQ:UK), and −2.0% (Germany and France); it was (just) positive at 0.4% in Switzerland and 0.3% in Japan, but only because both experienced mild deflation.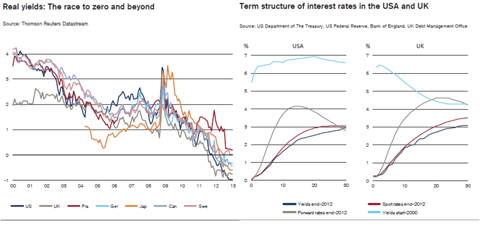 Source: Credit Suisse Global Investment Returns Yearbook 2013
The current market consensus, portrayed in the yield curve (see above chart), is that nominal interest rates will remain very low for the next few years before rising steadily, but not to the levels seen in 2000 or even pre-financial crisis. It could take another 6-8 years for short-term real interest rates to turn positive, and markets are not expecting a return to the high levels experienced since 1980 (2.7% averaged across countries). Instead, markets suggest a drift in the direction of the long-run average of 0.9% for the USA and UK.
High Debt Levels in Developing Countries Would Hurt Growth
Total debt levels in the developed countries remain at elevated levels. Consumers, banks and governments trying to deleverage, will result in headwinds for economic recovery. This mounting government debt poses a painful choice for developed countries that would lead to slower growth as record levels of borrowing curtail economic activity.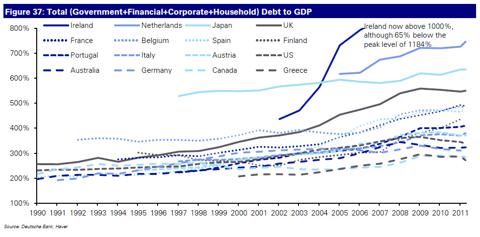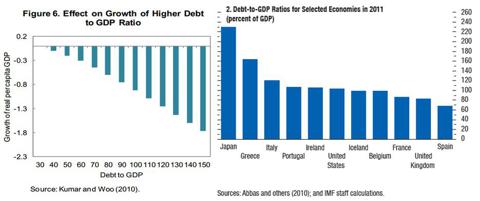 Beyond a certain threshold (about 80-90 %of GDP), higher public debt lowers potential growth. High debt is expected to result in lower growth because of crowding out effects on private investment, which would thereby lower productivity growth. However there are many options to reduce this debt.
Fiscal Consolidation (Government spending cuts and tax hikes): This is a painful quick fix option, which impacts growth negatively
Boosting economic growth (Pursing reforms like increasing the flexibility of labour markets)
Default: An event which policy makers of all countries would try to avoid by all means.
Negative Interest Rates: Financial Repression For the Next Decade
The fourth option of keeping real interest rates low is what policy makers in major developing countries like the U.S and U.K have resorted to solve the crisis. According to a recent research by Credit Suisse, every 1% fall in real rates a) reduces the required fiscal tightening to stabilise government debt-to-GDP by 1% of GDP and b) stimulates the underlying rate of GDP growth by approximately 0.5%.

Finally in order to stabilise government debt-to-GDP and unemployment real rates, real rates might have to fall to ranges below -1.5%. This implies financial repression for the next decade.
"Financial repression" generally refers to the use of government policies to induce or force domestic investors to buy government bonds at artificially low interest rates. Specifically, they sell bonds at interest rates below the rate of inflation, meaning that the real interest rate (the interest rate adjusted for inflation) is negative. All else being equal, extending loans with negative real interest rates results in falling debt-to-GDP ratios over time."
Any interest rate above this would hurt growth and lead to more unemployment. This could be followed by wage deflation that calls for more QE and the need for lower bond yields. After World War II, U.S. managed to sharply reduced its debt-to-GDP ratio, supported by a combination of high negative real interest rates, fiscal surpluses, and strong growth.
Investment Options on Negative Bond Yield
Disclosure: I have no positions in any stocks mentioned, and no plans to initiate any positions within the next 72 hours. I wrote this article myself, and it expresses my own opinions. I am not receiving compensation for it (other than from Seeking Alpha). I have no business relationship with any company whose stock is mentioned in this article.