Yesterday was an interesting day with the market pretty strong and an impressive 563 new 52-week highs being hit by stocks on the exchanges. Everything seems to be pointing to a really strong foundation being built for the next leg up, but one has to have serious doubts that Washington is going to be able to pull a deal together before the market shifts its attention over to the deadlocked negotiations on Capitol Hill. There is still plenty of time, but although negotiating at the last minute might be how D.C. likes to do things, Wall Street hates it and the uncertainty it brings.
Look for consumer product stocks to remain strong as the economy picks up yet commodity prices lag a bit.
Chart of the Day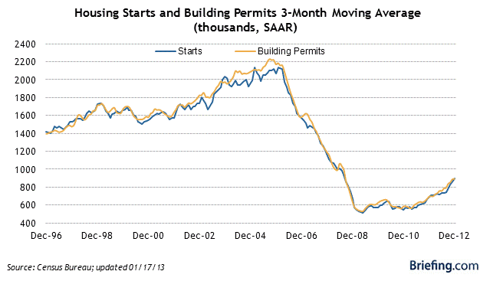 Chart courtesy of Briefing.
Housing numbers should be interesting today as yesterday's economic numbers indicated that builders were becoming less optimistic about the future. We gave you a chart yesterday which covered the housing starts, this chart today covers both housing starts and building permits. Both numbers will be important as they tend to move together, as indicated by the above chart.
We have economic news due out today, and it is as follows:
MBA Mortgage Index (7:00 AM EST): N/A
Housing Starts (8:30 AM EST): 914k
Building Permits (8:30 AM EST): 918k
PPI (8:30 AM EST): 0.3%
Core PPI (8:30 AM EST): 0.1%
FOMC Minutes (2:00 PM EST): N/A
Asian markets finished higher today:
All Ordinaries - up 0.26%
Shanghai Composite - up 0.260%
Nikkei 225 - up 0.84%
NZSE 50 - down 0.71%
Seoul Composite - up 1.95%
In Europe markets are lower this morning:
CAC 40 - down 0.15%
DAX - up 0.29%
FTSE 100 - up 0.28%
OSE - up 0.13%
Technology
Shares in Yandex (NASDAQ:YNDX) were down strongly in trading yesterday, down $2.58 (10.08%) to close at $23.01/share, after the company reported disappointing results coupled with a dimmed view on sales growth. Moving forward, the company expects sales growth in online advertising to slow in Russia and believes that for the next year a growth rate of 28-32% is appropriate, whereas analysts had expected revenue growth just above the high range. The guided growth rate is still impressive, however it is below consensus and down from the prior year's 44%, so investors were rightfully disappointed. The company is still tops in Russia's market and continues to fend off rival Google while simultaneously expanding its product offerings. Thus far the strategy is working, but shareholders must hope that management is able to stay focused and not spread themselves too thin while expanding and risk losing their core business.
Pharmaceuticals
Every day we look at the new highs and lows pages and search for stocks which may have gone undetected by us on their march to new levels and we find many ideas during this exercise. Many times we also spot trends, but rarely do we spot stocks which seem to make a permanent habit of staying on the new highs list, something which it seems that Johnson & Johnson (NYSE:JNJ) has done recently. It seems every day we look at the list Johnson & Johnson is on it. The stock has been absurdly strong as of late and it is not a situation where shares are rocketing higher, but rather one of those nice , slow and steady 'melt-ups' (as we like to call them). Sustained runs such as this one are what build bull markets, so investors would be wise to watch this new breed of generals leading the way higher for any signs of weakness.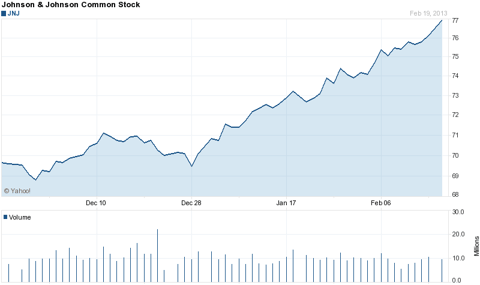 Chart courtesy of Yahoo Finance.
Consumer Goods
Speaking of new highs, Procter & Gamble (NYSE:PG) also hit another new 52-week and all-time high yesterday. This is one that readers have heard us discuss more and more lately as we named this one of our ideas for retirement accounts for friends this year. Since then the shares have risen and not looked back and although this is one of those consumer products companies which should bore you to death, and yes in this case boring is good, it has caused more worry than joy. In a discussion with one of them regarding their P&G holdings there was some anxiety about whether the shares would stay here or fall and never get back to this level. A legitimate fear, but when investing for retirement one has to take a long-term view of the situation.
The probability that any new high is going to be the high water mark forever is pretty low on a blue chip which has been around for as long as P&G has, especially when it has the earnings power and balance sheet as well. The gain is tax free if held in a retirement account, so if it helps one sleep at night by all means taking the gain is the correct thing to do, especially if one believes a pullback is coming and the shares could be repurchased at a cheaper cost.
Herbalife (NYSE:HLF) was up about 2.5% yesterday to close at $39.74/share ahead of earnings. The company reported after the close and shares rose modestly as the company reported a few key tidbits of information. First, the Securities & Exchange Commission is conducting an inquiry into the company which should come as no surprise to anyone at this point because the SEC's hand has essentially been forced with all of the whales taking opposing positions on this one. The guided higher with the caveat that this guide did not include the $10-20 million that the company will incur taking on Ackman which is a rather large some in our view, but nevertheless probably money well spent when one is trying to protect their reputation. That raised earnings forecast moves the range from $4.40-4.55/share to $4.45-4.65/share. For the quarter the company also reported a slight beat on revenue with EPS of $1.05/share. Also of note to those who follow the company is that Dan Loeb sold some shares recently and it now appears that Carl Icahn is leading the fight against Bill Ackman.
Retail
The drugstore stocks have been pretty hot as of late and in reality they have been strong, steady performers over the long run in most cases. This makes the fact that many of them, including CVS (NYSE:CVS) are trading at highs, and showing considerable strength. The business may be nearing maturity and with fewer candidates to buy or merge with much of the low hanging fruit is already gone, however there still remains opportunity for these companies to grow as they expand upon their retail offerings and utilize their storefronts to drive organic growth. Getting a hold of drug costs and shifting consumers to generics is only part of the equation, but as long as there is a continued push to become more of a retailer we like the entire industry, although our preference is of course with the two 800 pound gorillas in the industry which CVS is one of.
Disclosure: I have no positions in any stocks mentioned, and no plans to initiate any positions within the next 72 hours. I wrote this article myself, and it expresses my own opinions. I am not receiving compensation for it (other than from Seeking Alpha). I have no business relationship with any company whose stock is mentioned in this article.