By: Brendan Gilmartin
Wal-Mart Stores (NYSE:WMT) is scheduled to report 4Q 2013 earnings before the opening bell on Thursday, February 21. The release is typically available at 7:00 a.m. EST. Results from the world's largest retailer and constituent of the Dow Jones Industrial Average tend to heavily influence the direction of the equity index futures.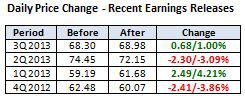 Outliers & Strategy
Key measures:
Earnings Per Share from Continuing Operations. Wal-Mart indicated back in November it expects 4Q 2013 diluted earnings per share from continuing operations to range between $1.53 and $1.58. The current Street estimate of $1.57 is at the high end of the range. (Source: Yahoo! Finance).
Earnings Per Share Guidance (1Q 2014). This is a crucial forward-looking measure for Wal-Mart. The current consensus estimate for 1Q 2014 is $1.19.
Earnings Per Share (NYSEARCA:EPS) Guidance (FY 2014). Keep a close eye on Wal-Mart's outlook for fiscal 2014. The Street estimate is $5.38, up from the estimated $4.88 to $4.93 for FY2013.
Revenues. Revenues are seen rising 4.60% Y/Y to $128.8 bln.
Comparable Store Sales. Back in November, Wal-Mart reported it expects comparable store sales to range from 1% to 3% for the quarter ended January 25.
After reaching an all-time high of near $77 in late October, Wal-Mart shares are off more than 10% and now trade at a mere 14.3x trailing earnings, just below the 5-year average and 0.5x sales, in-line with historical trends.
Recent News
02/16: According to a report on Bloomberg.com, internal emails obtained by the news agency from Wal-Mart executives suggest monthly sales for February had the slowest start in 7 years. One executive reportedly referred to the MTD sales report as a "disaster." The recent payroll tax hike was cited as a factor for the shortfall.
02/04: JPMorgan Chase cut Wal-Mart to Neutral from Overweight and slashed the price target to $75.00 from $84.00, according to a report on Benzinga.com. The firm reportedly believes that margins may have peaked, while the payroll tax hike and three years of solid growth suggest the shares could be due for a pullback.
Technical Review
Wal-Mart shares fell sharply in recent sessions, stemming from reported admissions from top executives that February sales are a "disaster." While a disappointing outlook may have been factored in ahead of Thursday's release, there is downside risk to recent lows near $67.00. Conversely, there is resistance at the 50-Day & 200-Day SMA cross-over near $70.00, followed by $72.00 in the event Wal-Mart surprises to the upside and delivers solid guidance for the remainder of fiscal year 2014. (Chart courtesy of StockCharts.com)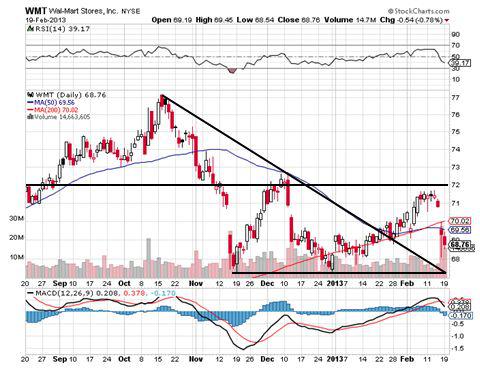 Summary
Wal-Mart shares have come under pressure in recent sessions amid concerns that sales in January and February are tracking well below forecasts, due to several factors, including higher payroll taxes and delayed returns, along with sluggish economic growth, a weak employment picture. But the company was quick to point out that internal memos that brought to light recent concerns over sales are not always completely accurate and that it would address these concerns when it posts earnings on Thursday. At 14.3x trailing earnings, the shares are also trading at a slight discount to historical norms, while the recent action suggests sluggish sales may be priced in.
DISCLAIMER: By using this report, you acknowledge that Selerity, Inc. is in no way liable for losses or gains arising out of commentary, analysis, and or data in this report. Your investment decisions and recommendations are made entirely at your discretion. Selerity does not own securities in companies that they write about, is not an investment adviser, and the content contained herein is not an endorsement to buy or sell any securities. No content published as part of this report constitutes a recommendation that any particular investment, security, portfolio of securities, transaction or investment strategy is suitable for any specific person.
Disclosure: I have no positions in any stocks mentioned, and no plans to initiate any positions within the next 72 hours. I wrote this article myself, and it expresses my own opinions. I am not receiving compensation for it (other than from Seeking Alpha). I have no business relationship with any company whose stock is mentioned in this article.