The major defense contractors have been largely out of favor in recent years with looming budget cuts by most major developed nations. Many of these companies now have very low expectations built into them. In addition, companies that operate with a substantial part of their business in Europe have the additional pressure being put on them by the macroeconomic problems many European countries are experiencing with the ongoing debt crisis. These two factors have led me to take a deeper look at Thales SA (OTCPK:THLEY), a large French based defense contractor as a potential value play.
Thales SA is a provider of onboard and ground systems for the civil aerospace market and is also one of the world's largest defense contractors. The company operates in numerous countries through its main divisions:
Aerospace: specialized in onboard equipment, electronics and systems for the civil and military markets;
Space: offering solutions combining space and terrestrial technologies;
Defense: which designs and delivers systems for all four environments: air, land, sea and space;
Security: which offer the emergence of new types of threats - from terrorism and organised crime to drug trafficking.
As of December 31, 2011, the French government held a 27% stake in the company's shareholdings and Dassault Aviation held 25,89%. In the trailing twelve months the company had an annual revenue of €13.47B ($17.99B) and a market cap of €5.5B ($7.35B). The company has about 68k employees as of 2012.
Note: Unless otherwise stated, financial figures are sourced from the latest annual report, the or the Financial Times.
Business Prospects & Competitive Advantages
The following charts from the most recent annual report of Thales show the total sales vs. the revenue. From 2010 to 2011, there was a 1% increase in bookings vs. total sales: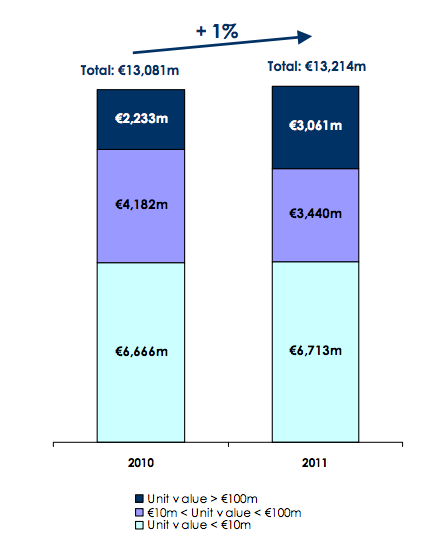 The most notable thing in this picture is that the contracts > €100m ($134m) increased by 37%. Larger contracts will often be a bit lumpy, so if a few of them happened to be signed closer together it could skew this average. Overall the growth is clearly quite slow. The following chart shows the breakdown by major business segment and developed vs. emerging markets:

On the left we have the sales in 2010 and 2011, and on the right the revenues. Note that Defense & Security is 56% of revenues, and Aerospace & Transport 44%. The biggest thing to get out of this picture is the big increase happening in emerging market spending and the large slowdown in Europe. Emerging Market sales were up a very impressive 44%, while sales dropped 13% in Europe.
One important note to realize here that you don't see in the chart, is that Defense & Security makes up just over half of the revenues but close to 75% of the operating profit. Also Defense & Security grew organically an impressive 17% recently, where as Aerospace & Transport had a strong contraction and revenues were down 13%. So overall the company's revenues and earnings have been quite flat the past few years, and the expectations were also for only 1% growth in 2012 (The full 2012 year results are to be released on Feb 28th 2013). In the first 9 months of 2012, however, the company did report a 17% yoy increase in sales for Aerospace & Transport and also positive growth (although much slower) in Defense & Security. So it appears that 2012 has been a nice rebound from 2011. The company also announced it expects €250m in additional profits between 2012-2014 combined due to improvements in the supply chain and better cost efficiency.
Defense: Radar systems
In this article I won't go in depth in all divisions of Thales. I'll focus a bit more specifically on the brighter spots for continued growth. With this in mind I've specifically looked at radar systems.
Although national governments in both the US and Western Europe are cutting back on defense spending, there are certain high technology markets within the umbrella of Defense where spending is expected to remain strong. Reading this excerpt from a full report on military radar systems, it is expected that growth will remain positive between 2011 and 2021. This is because radar systems need to be upgraded due to developments in active electronically scanned array (AESA) and multi-mission capabilities. Secondly the drive to standardize and modularize these systems is likely to offer opportunity for companies which supply such solutions. This report excerpt states that the market for Naval based radar systems is expected to reach $2.08B (about €1.5B) 10 years from now. Currently Thales and Raytheon (NYSE:RTN) are the market leaders, with the two of them having almost identical market share, combining for just over 50% of the market. The remaining noteworthy competitors are: Lockheed Martin (NYSE:LMT), ITT Exelis, EADS Cassidian (OTCPK:EADSY) , and Finmeccanica (OTCPK:FINMF). Thales delivers comprehensive radar related systems to 50 different Navies across the world. In terms of competitive advantages, in general the major players in the defense markets have solidified their market positions over many years or decades. Due to highly specialized technology, security clearances, and long running nature of contracts and defense projects the barriers to entry are quite high. I therefore like the position of Thales in this market, and I think their market share should be relatively secure in the coming decade. One of the company's main competitive advantages has been its approach to have a dual focus on defense + civil technology systems which play a pivotal role strategically and economically in today's world.
Overall, the market for Naval radars is expected to grow in the range of 2-3% CAGR over the next 10 years according to the market reports cited above. Although this is by no means stellar growth, it is quite notable considering that overall defense spending in both the US and Europe due to high debt and general government spending cuts is slated to put pressure on defense contractors in the coming few years. Many of these companies have been seeing negative single digit revenue growth and a lot of uncertainty in their government contracts, with some contracts being delayed or pushed out a few years due to spending cuts in defense budgets.
Summary: Business Prospects
With a combination of expected low single digit organic growth in the defense & security segments, combined with some share buybacks and use of leverage I expect the company can grow free cash flow and earnings roughly 5% per annum in the next 10 years. I haven't gone into much detail here in other segments of the business, but as mentioned there are several strategic pockets of defense spending, besides just radar systems particularly in the security domain which are expected to see modest growth in the next decade.
Competitively, the company is one of the largest defense contractors in the world and is well positioned in the key markets that it competes in. Profit margins are not very impressive, but generally this is the case in capital intensive industries such as this one. The ROE and ROI figures, which show how effective management is doing in financial terms do show a favorable picture for Thales compared to the general industry in recent years. Recently ROI has been about 4% better than the industry and ROE 8% better.
Shareholder Friendliness
Thales currently has a dividend yield which is close to 3%. The company has consistently paid dividends to shareholders, although in the past few years the company struggled through the great recession, and the dividend was cut almost 50% in 2009 and 2010. 2011 and 2012 have been better though, and the dividend has again been increased. Whenever free cash flow is increased on good years, the company seems to pay out a substantial portion to shareholders. This makes sense, as the company is clearly in the "slow grower" category, and should not need to retain lots of cash for expansion or high growth.
Catalysts for 2013
Looking at the past 5 years, Thales has largely underperformed the general stock market. The shares traded around $53.45/share in 2008, and today sit at $36.67/share. This is a drop in market value of more than 30%. The primary reasons for the drop are the slowdown in growth expectations going forward, in light of the fact that the company derives more than 50% of its business from government defense spending, a large part of that in France and other countries in Europe. There are a few potential near term catalysts I see that could potentially strengthen the company's position going forward:
Positive news out of Europe's politicians and governments that the debt crisis is fully under control
Changes instituted under new CEO Jean-Bernard Levy
Thales has been hurt by the ongoing debt crisis and cuts to national government budgets. Recently there has been signs that the fears of a catastrophic collapse of the Eurozone is becoming increasingly unlikely - key bond rates in troubled southern European countries have come back down a bit in the past months and some steps taken by the ECB seem to have calmed financial markets for now. The risk of serious financial trouble in the Eurozone is still very real and should not be taken lightly. However any further positive signs here in 2013 that the chance of this happening are decreasing is likely to help stock markets broadly and should be a big positive for companies like Thales which depend on government spending.
Jean-Bernard Levy took over as CEO in December 2012. He has little experience in the Defense industry - having come previously from Vivendi, a large French media conglomerate. There has been some speculation in the French Defense Industry about consolidation amongst some or all of top players EADS, Safran, and Thales. These rumors have been denied, but it will be interesting to see what vision Levy has for the company and whether he takes further initiatives than those already started by his predecessor in order to continue restructuring or ignite growth. Any fresh ideas he brings to the table could be a positive catalyst for the company in the near term. Similarly, any missteps could have a negative impact.
Investment Risk: Cyclical Businesses
Thales has several businesses which are highly cyclical. Most notably this is felt in the civil aviation market, where commercial airlines are notoriously cyclical, with the amount of passengers rising and falling with general macroeconomic trends. The company is trying to reduce this risk overtime, to keep this part of the business to 15% of revenues.
In addition to this, a large part of the business is based on government spending (defense). About 55% of revenues come directly from government spending, and 45% are civil. Particularly in Europe, restricted defense budgets in the next few years could hamper growth more than anticipated. As mentioned in the business prospects, it is likely that high tech areas in security and defense systems such as radar will continue to outperform and show positive growth. However if the debt crisis in Europe is worse than expected, or another global downturn occurs than defense budgets could be cut more than is currently expected. I think the biggest risk for Thales here is that both reduced government spending and a downturn in the aviation market occur at the same time. This could certainly cause the company to again have negative growth and earnings, as it did a few years ago.
To counter this risk, the company has tried to diversify itself geographically and across a broad array of businesses. Thales biggest concentration is in France where 27% of revenues come from. The second biggest country however is the UK down at 8%. In total Europe accounts for about 58% of revenues. So even if further government budget cuts do occur in Europe, the company has almost half of its business elsewhere and could still achieve likely flat or low single digit growth on years that the European economies are down.
Investment Risk: Control of Complex Projects
Thales operates in very technologically complex businesses, and the majority of projects are fixed price deals. In addition the company usually has a few marquee projects going at any one time which bring in substantial revenues (In 2011, about 30% of revenues came from projects over $134m). The company has at times had to take write-offs for mismanagement or unforeseen technological complexities which materially impacted results in a given year.
DCF Valuation
The 4 analysts who cover the company have a long term growth rate of about 6%. I think the realistic scenario is somewhere in the 5% range as I have stated in the business prospects section. If defense spending is cut particularly hard in the next decade, or if there is another strong global recession, then I think the growth could be hit substantially. I therefore have a 0% growth pessimistic scenario. On the optimistic side, if defense cuts are not as large as currently feared, or also if some global conflicts further spur spending in the high technology space and defense systems I could see some years of higher growth. Therefore I modeled a 7% optimistic scenario.
Optimistic Scenario

Likely Scenario

Pessimistic Scenario

Current EPS ($)

3.39

3.39

3.39

Earnings Growth Rate Next 10 years

7%

5%

0%

Terminal Growth Rate

3%

3%

0%

Years of Terminal Growth

10

10

10

Discount Rate

10%

10%

10%

Intrinsic Value

47.49

41.63

28.89

Probability of Occurrence

20%

60%

20%

Weighted Average

Intrinsic Value

$40.25/share
In my model I have estimated the company is worth just over $40 /share. With a current share price of $36.67, this would be an implied margin of safety of only about 9%. This would seem to indicate the company is trading close to fair value at the moment.
Relative Valuation
The below table shows the EV/EBITDA comparison of Thales with several major competitors.
| | | |
| --- | --- | --- |
| Company | EV/EBITDA | Discount from Average |
| Thales | 4.85 | 17% |
| Raytheon | 5.47 | 6% |
| Lockheed Martin | 5.96 | -2% |
| EADS | 7.03 | -21% |
Based on this, it would appear Thales is a bit more attractively priced compared to major competitors. However even if we take the average of this simple relative valuation comparison and the DCF model above, the margin of safety is still less than 15%, which is less than I like to see.
Conclusion
Thales is a large slow growing company. It has some well established competitive advantages with deep experience as a government contractor for defense systems. The company pays a relatively consistent dividend, and is operating in markets that should maintain good demand in the coming decade. That being said the company does not appear to be undervalued by a compelling amount, and I wouldn't recommend to buy shares in the company at this time on a pure valuation basis. However one interesting play to consider is that the company could be seen as an attractive hedge for your portfolio against wars and conflict. In a time of large scale war, this could cause governments to suddenly re-think their strategies on defense spending and reverse planned cuts. There are also other similar US based companies such as Raytheon to consider which could offer the same type of hedge. Thales however has the additional catalyst that the company operates largely in Europe, and many of these stocks are depressed due to the ongoing financial and debt crisis - I won't analyze this in detail here, but for those interested in a more contrarian play with expectations that Europe will rebound in the coming few years combined with the hedge factor against global conflict than this company could be a very interesting wild card to consider. With an EV/EBITDA below 5, it is unlikely the company will trade much lower as expectations are already quite low on the stock. In the mean time you should collect a decent dividend, and if any of the potential catalysts come true you could see a few years of higher growth rates and a nice jump in stock price.
Finally I would note that for US based investors, the only way to purchase Thales is through the OTC markets. As always with these kind of stocks one should be careful with placing proper limit orders and not trying to trade in and out due to potential liquidity challenges. For those based in Europe the company trades on the Paris Exchange and is relatively liquid.
Disclosure: I have no positions in any stocks mentioned, and no plans to initiate any positions within the next 72 hours. I wrote this article myself, and it expresses my own opinions. I am not receiving compensation for it (other than from Seeking Alpha). I have no business relationship with any company whose stock is mentioned in this article.