The Coca-Cola Company (NYSE:KO) is the world's largest non-alcoholic beverage company, which owns or licenses and markets more than 500 non-alcoholic beverage brands, including Coca-Cola, Diet Coke, Fanta, Sprite, Dasani, Powerade, and Minute Maid. The Coca-Cola Company has one of the widest moats in the consumer beverage industry with its diversified brands and extensive distribution network. Recent developments for KO will be updated in this article.
Q4, 2012 Earnings, Beating Profit and Missing Revenue
KO's net income climbed to $1.87B, or 41 cents a share, for Q4, 2012. Excluding restructuring costs and other items, profit was 45 cents a share, compared with the 44 cents average of analysts' estimates compiled by Bloomberg. KO's revenue for Q4 rose 4 percent to $11.46B, missing analysts' average estimate of $11.53B, according to Thomson Reuters I/B/E/S. Sales of non-carbonated drinks in North America such as Powerade helped counter lower demand in Europe. The global sales volume rose 3 percent, driven by international growth.
KO grew the worldwide volume by 3% in the quarter and 4% for the full year. The company met its long-term volume revenue and profit targets for the full year. KO is on the right track to doubling its systems' revenues by 2020 to $200B.
This is the third straight year KO's sparkling beverages had grown by at least 550 million incremental cases. This has added more than 13 billion new servings annually to the global business for the past three. Sparking beverages had achieved the growth rate of 3% for 2012. For still beverages, the growth was led by Powerade and Dasani, which were both up double digits.
Revenue Breakdown
North American volume sales rose 1 percent in the quarter. Sparkling beverage volume in the region declined 2 percent while still beverage volume advanced 8 percent, driven by demand for the Powerade energy drink. Below is the revenue breakdown by regions.
| | | | |
| --- | --- | --- | --- |
| Regions | Revenue | Change (over the prior-year quarter) | Highlights |
| Eurasia & Africa | $697M | +5% | The benefits from volume growth and concentrate sales were offset by price/mix and currency headwinds |
| Latin America | $1.27B | +8% | The benefits from concentrate sales, positive volume and price/mix, counteracted headwinds from currency and structural changes |
| North America | $5.29B | +6% | The gains from volume growth and structural changes were offset by an almost flat price/mix |
| Pacific | $1.35B | -1% | Decline due to lukewarm volume growth and a flat price/mix |
| Europe | $1.14B | -6% | Volumes, price/mix and currency declined |
On a country level, Russia now has achieved an all-time high market share. In Asia, China's ongoing economic transition will have a short-term impact on KO's industry and business. As a result, China volume was down 4% in the Q4, also impacted by unseasonably poor weather, the cycling of double-digit growth from last year and the timing of the Chinese New Year. For 2013, the company still expects the ongoing uncertainty in China to have a short-term impact, although the management expects to see improvements in consumer disposable income as the year progresses. In the rest of the Pacific Group, South Korea was up double digits in 2012. Thailand was up 22% for the full year. Philippines also achieved 5% growth for 2012.
Margins
The company recorded adjusted consolidated gross margin of 60.2% in Q4, 2012, down 10 basis points both year-over-year and sequentially. The gross margin result was in line with management's expectation due to the currency and mix shift headwinds. Adjusted SG&A expenses increased 1% on a currency neutral basis to $4.42B. Excluding the impact of currency, SG&A expenses remained flat due to better operating expense leverage in the quarter. Lastly, adjusted operating margin was 21.7%, up 140 basis points from the prior-year quarter.
Share Repurchases
Coca-Cola is targeting net share repurchases of $3B-$3.5B for FY13.
Analysts' Calls
UBS reiterated its rating of Neutral for KO and changed KO's price target from $39 to $41.
Competitions
On February 14, 2013, PepsiCo Inc. (NYSE:PEP) reported net income of $1.66B, or $1.06 a share, from $1.42B, or $0.89 a share, a year earlier. Excluding items, PEP earned $1.09 a share, topping analysts' estimates of $1.05 a share, according to Thomson Reuters. Net revenue fell 1 percent to $19.95B, beating analysts' expectation of $19.7B. PEP authorized a new plan to repurchase as much as $10B in stock, starting from July1, 2013 through June 2016. PEP will also boost its annualized divided by 5.6 percent to $2.27 a share starting in June, 2013. PEP plans to pay annual dividend of $3.4B and buy back $3B of its shares for 2013.
On February 13, 2013, Dr. Pepper Snapple Group Inc. (NYSE:DPS) reported a fourth-quarter net income of $170M, or 81 cents per share, from $166M, or 77 cents per share, in the same quarter a year earlier. Adjusted EPS came in at 82 cents per share and quarterly revenue increased to $1.48B. Both earnings and revenue missed the analysts' estimates of 85 cents per share and revenue of $1.49B. For 2013, DPS projects net sales growth to be around 3% with earnings per share coming in the range of $3.04 and $3.12, which are lower than analysts' projection of $3.20 per share. DPS will increase its dividend by 12%.
Key Stats and Valuation
KO has an enterprise value of $183.29B with a market cap of $168.35B. KO has a total cash of $16.55B with a total debt of $32.6B. KO generates an operating cash flow of $10.64B with a levered free cash flow of $4.47B. KO has higher revenue growth (3-year average) of 13.4, as compared to the industry average of 6.2. KO has higher operating margin of 22.1%, ttm, and net margin of 18.5%, ttm, comparing to the averages of 17.4% and 12.0%, ttm, respectively. KO's ROE of 26.5 is the same as the industry average. KO's P/E of 19.6 is lower than the industry average of 20.1 but higher than KO's 5-year average of 17.7. KO's forward P/E of 15.7 is higher than S&P 500's average of 14.0.
Technical Analysis
KO increased 0.67% and closed at $37.67 as of February 19, 2013. KO had been trading in the range of $34.25-$40.67 in the past 52 weeks. KO has a low beta of 0.5. The MACD (12, 26, 9) is showing a bearish sign, but the MACD difference has been converging slightly. The momentum indicator, RSI (14), is nearly neutral at 51.39. KO is currently trading above its 50-day MA of $37.35 and 200-day MA of $37.56, as seen from the chart below.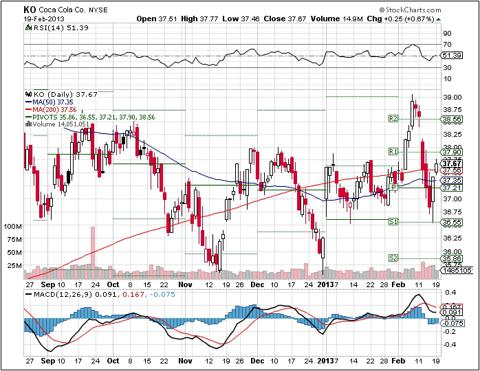 Source: StockCharts.com
Reviewing Options
The fundamentals continue to be strong for KO with solid earnings and cash flow. For long-term investors, a credit put spread options play will be reviewed, which will allow investors to gain credit premium or acquire the KO stock at a lower price.
Short 1x May 18, 2013 put at the strike price of $36.00 for the credit of $0.52
Buy 1x May 18, 2013 put at the strike price of $34.00 for the cost of $0.21
The maximum profit is $0.31, and the maximum risk/margin requirement is $1.69 ($2 loss - $0.31 credit received). If KO closes above $36.00 on May 18, 2013, 18.35% return on margin will be gained. If KO falls below $36.00 upon options expiration, KO stock will be acquired at $35.69, which is 5.26% below the current price of $37.67.
Note: All prices are quoted from the closing of February 19, 2013 and all calculations are before fees and expenses. Investors and traders are recommended to do their own due diligence and research before making any trading/investing decisions.
Disclosure: I have no positions in any stocks mentioned, but may initiate a long position in KO over the next 72 hours. I wrote this article myself, and it expresses my own opinions. I am not receiving compensation for it (other than from Seeking Alpha). I have no business relationship with any company whose stock is mentioned in this article.