WiLAN (WILN) is a Canadian intellectual property firm that offers new opportunities for both value and growth investors. WiLAN has a vast and strategic portfolio of patents that were built or acquired. WiLAN has more acquired patents than big players such as Apple, Samsung or Google. Patent monetization is booming with a lot of new cases reaching settlements. In the ITC sector, patent wars among cellphone manufacturers are widely followed by the press. The Global unlicensed communications equipment market represents a huge untapped $1.5 trillion opportunity. WiLAN's experienced management team wants to benefit from the growing communications patent wars actually evolving. Among the recent developments, the firm has started 5 new litigation claims of patent infringement, insiders have been buying the stock throughout last year, and WiLAN has signed two new licensed deals.
Business Description
WiLAN, founded in 1992, is a leading technology innovation and licensing company. WiLAN has licensed its intellectual property to over 260 companies worldwide. Inventions in their portfolio have been licensed by companies that manufacture or sell a wide range of communication and consumer electronics products including 3G and 4G handsets, Wi-Fi-enabled laptops, Wi-Fi and broadband routers, xDSL infrastructure equipment, cellular base stations and digital TV receivers. WiLAN has a large and growing portfolio of more than 3,000 issued or pending patents. WiLAN has over 1,400 patents that relate to Digital TV and Display technology.
In the past 10 years, the stock had three quick and very high run-ups. This technology stock is highly cyclical. 2013 may represent a new high run-up for WiLAN.

Source: tmx.quotemedia.com/article.php?newsid=57...;qm_symbol=WIN
Total shareholder return since 2006: +600%
Market capitalization: $555M
Cash and dividend indexes cash: $173M ($1.43/share)
Long-term debt: $5.8M
Annual dividend CDN: $0.14
Growth of the dividend in last 3 years: 68%
BPA growth since 5 years: 63%
Forward 2014 P/E ratio: 11x
PEG (5 years expected) : 0.66
Portfolio with over 600 LTE patents
Investment Highlights
Diversified high-margin recurring subscription business
Strong financial performance and well capitalized
Large, attractive market opportunities
Experienced management team with successful track record
WiLAN is a recommendation by Morningstar Canada analyst, Guri Saggu, for the potential of its total stock return, based on the following criteria: the growth of the dividend, its high yield, the low proportion of dividends payable to shareholders from its earnings, and its high cash flow in proportion of debt. Eyal Ofir from Canaccord Genuity has Buy rating because of its high cash and its total return potential. Early in December 2012, WiLAN announced it had launched five separate litigations claiming patent infringement against three companies; Apple Inc. (NASDAQ:AAPL), HTC Corp. (OTC:HTCKF) and Sierra Wireless America (NASDAQ:SWIR). Three of the suits, said the company, have been filed in the southern district of Florida against Apple, HTC and Sierra Wireless, and claim infringement of WiLAN's U.S. patent Nos. 8,315,640 and 8,311,040, which are related to long-term evolution technologies.
Just days later, WiLAN said it was "surprised and disappointed" when a judge held up a lower court ruling in its case against LG. The news was a rare misstep for the patent player, which has grown its revenue from only $2 million in fiscal 2006 to more than $100 million in fiscal 2011.
Tom Astle, Byron Capital analyst says that 2013 promises to be a better year for WiLAN because it has a very busy litigation schedule, and also because when cases settle, revenue climbs and expenses fall. The Byron Capital analyst says there could be "significant upside" to his forecast that WiLAN will increase its revenue by 20% next year. In a recent update to clients, Astle reiterated his BUY rating and $7.50 target on WiLAN. 9 analysts have also a median target price of $7.50, as reported by Yahoo Finance. At an actual $4.60 price, it represents a 63% stock return potential.
Astle finds: " it somewhat curious that the term "patent troll" gets tossed around a lot, when the fact is that most patents are filed by the little guys -inventors, universities and small companies - against large companies who are generating the vast majority of patent licensing revenues."
For this reason, Astle says the patent game is not a flash in the pan; he believes WiLAN's addressable revenue potential is still over $1 billion over the next five years. This, he says, inspires confidence in the company's goal to double revenue from the current $100 million/yr rate.
Recent developments
1-Insider buying continues

The insider buying that started earlier last year on Ottawa's WiLAN continued and diversified as the year drew to 2013.
2- WiLAN partners with British Telecom Group
WiLAN announced on January 29th, 2013 that British Telecommunications Plc (NYSE:BT) and WiLAN have entered into an agreement that will see WiLAN assist BT in licensing a portfolio of BT's patents that relate to Digital Rights Management and other technologies. Under the terms of the agreement, WiLAN and BT will share the net revenues generated. All other terms of the agreement are confidential. WiLAN's subsidiary Gladios IP ("Gladios") will have day-to-day responsibility for developing programs aimed at licensing BT's patents.
3- WiLAN Signs License with Alpha Networks Inc.
WiLAN announced on January 23rd, 2013 that Alpha Networks Inc. (3380.TW) has signed a multi-year running royalty license agreement for certain technologies in the Company's Digital TV and Display patent portfolio. The terms of the agreement are confidential. Founded in September 2003 as a spin-off from D-Link Corporation (2332.TW), Alpha Networks Inc. designs and manufactures a wide variety of enterprise and consumer networking products including LAN/MAN solutions, residential Wi-Fi client and gateway devices and digital set-top boxes.
Industry news
Patent monetization is booming
• VirnetX (NYSEMKT:VHC) soars after $368.2 Million verdict against Apple
• Jury awards Apple more than $1 Billion, finds Samsung (OTC:SSNLF) infringed
• Intel (NASDAQ:INTC) to buy InterDigital (NASDAQ:IDCC) patents for $375 Million
• AOL (NYSE:AOL) sells patents to Microsoft (NASDAQ:MSFT) for $1.1 Billion
• Ericsson (NASDAQ:ERIC) pushes for more revenue from patent portfolio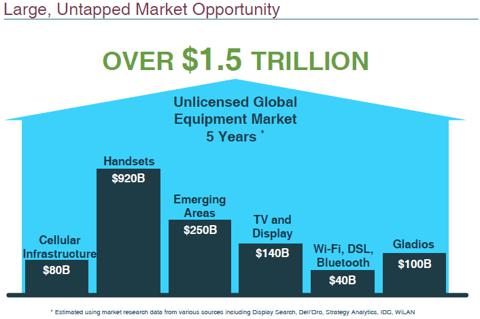 Where do their patents come from?
• R&D
• Acquisitions
• Inbound inquiries
• Brokers and investment bankers
• Proactive identification
Problems in the past
In 2011 WiLAN was involved in a failed takeover attempt with MOSAID (MSD.TO), acquired by a white knight: Sterling Partners.
The company was unable to resign Nokia (NYSE:NOK) for its licenses.
WiLAN was unable to close a significant material deal for around 2 years
Data provided by Capital IQ, except where noted. Source: Yahoo Finance

| | |
| --- | --- |
| Market Cap (intraday)5: | 554.50M |
| Enterprise Value (Feb 12, 2013)3: | 387.17M |
| Trailing P/E (ttm, intraday): | N/A |
| Forward P/E (fye Dec 31, 2013)1: | 11.15 |
| PEG Ratio (5 yr expected)1: | 0.66 |
| Price/Sales (NYSE:TTM): | 6.09 |
| Price/Book (mrq): | 1.87 |
| Enterprise Value/Revenue 3: | 4.26 |
| Enterprise Value/EBITDA 6: | 5.95 |

Fiscal Year

Fiscal Year Ends:

Dec 30

Most Recent Quarter (mrq):

Sep 30, 2012

Profitability

Profit Margin :

-19.80%

Operating Margin :

43.54%

Management Effectiveness

Return on Assets :

5.36%

Return on Equity :

-5.65%

Income Statement

Revenue :

91.00M

Revenue Per Share :

0.74

EBITDA 6:

65.10M

Balance Sheet

Total Cash (mrq):

173.17M

Total Cash Per Share (mrq):

1.43

Total Debt (mrq):

5.84M

Total Debt/Equity (mrq):

1.96

Current Ratio (mrq):

7.73

Book Value Per Share (mrq):

2.45

Cash Flow Statement

Operating Cash Flow :

30.74M

Levered Free Cash Flow :

115.14M
Recommendation Trends
| | |
| --- | --- |
| | Current Month |
| Strong Buy | 4 |
| Buy | 4 |
| Hold | 1 |
| Underperform | 0 |
| Sell | 0 |
| | |
| --- | --- |
| Mean Target: | 7.71 |
| Median Target: | 7.49 |
| High Target: | 10.99 |
| Low Target: | 5.00 |
| No. of Brokers: | 9 |
Potential
Since peer MOSAID was acquired by U.S.-based private equity firm Sterling approximately this time last year, WiLAN has represented the unprecedented run in patent values from a Canadian perspective. The Ottawa-based company, which took flight after former MOSAID exec Jim Skippen took the helm in 2006, has quietly become one of the world's top patent acquirers, on par or better than Apple, Samsung and Google (NASDAQ:GOOG).
The stock return potential is more than attractive with a consensus price target around $7.50 among analysts covering the stock (4 Strong Buy and 4 Buy, 1 Hold). The company has a low debt and a high margin recurring subscription business. With a forward P/E ratio of only 11, a PEG ratio of 0.66, a high yield of 3%, and a beta of 1.12, this stock could be at the same time a value play combined with a growth play due to very large untapped market opportunities for patent wars in the Global unlicensed equipment sector.
Disclosure: I am long WILN. I wrote this article myself, and it expresses my own opinions. I am not receiving compensation for it (other than from Seeking Alpha). I have no business relationship with any company whose stock is mentioned in this article.