Recon Technology (NASDAQ:RCON) is a China-based LLC not owned by the Chinese government. Their focus is on providing software, hardware, and on-site services related to the petroleum industry in China. They've reported some very attractive growth recently and trading has picked up since the release of their financial results on February 13.
A look at the second quarter results for RCON's 2013 fiscal year shows a company that is growing by leaps and bounds. Revenues are up to $7.3 million for the quarter, which is a growth of 49% compared to the same quarter from a year ago. Additionally, Earnings Per Share for the second quarter is up 278%, from $0.35/share to $1.34/share. Recon reports that much of this earnings growth is due to fracturing contracts, in particular a large contract with Sinopec Zhongyuan oilfield worth $4.8 million.
This growth would explain why RCON's share price is up 200% from this time last year. Recon also reported that their gross margin was up from 29% in 2Q2012 to 30% in 2Q2013 due to increase in services and software sales, which are a little more profitable than hardware sales.

(image from finance.google.com)
While the amount of short interest has doubled over the past four months, it seems unlikely to prompt any downward pressure on the price as it amounts to such a small percentage of shares outstanding. There are 4 million shares of Recon stock, with an average of 290k traded every day over the past ten days, so the amount of short interest seems unlikely to cause worry to anyone.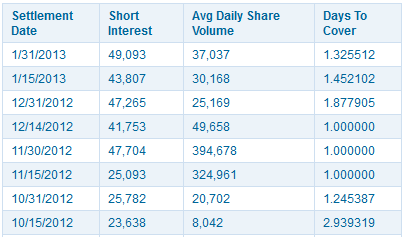 (image from nasdaq.com)
This is a China-based company with a Chinese board, so the usual caveats and cautions apply. The auditing could be sketchy or non-existent. The Chinese market could grind to a halt at a moment's notice, sharply decreasing the demand for oil and natural gas and thus Recon Technology's services. Even if their books are perfectly clean, there is the risk that they can't get any more fracturing contracts, which made the second quarter of the fiscal year look so nice.
This stock looks like it could have tremendous upside, if they can continue to get good contracts. If they cannot get those contracts, which is unlikely to be announced, then it would likely behoove an investor to stay away. This is not a slam dunk and you should definitely do your homework on this one, whether you go long or short.
Disclosure: I have no positions in any stocks mentioned, and no plans to initiate any positions within the next 72 hours. I wrote this article myself, and it expresses my own opinions. I am not receiving compensation for it (other than from Seeking Alpha). I have no business relationship with any company whose stock is mentioned in this article.