In our last article on market outlook, we highlighted some of the headwinds that could challenge the recent U.S. economic recovery. Our primary concern being the potential slowdown in consumer spending in the wake of 2% higher payroll tax and looming government spending cuts, causing a negative ripple effect throughout the economy. The Jan'13 numbers on the consumer spending were nevertheless quite reassuring.
According to Gallup, the U.S. daily consumer spending average in Jan'13 stood at $80 compared to $83 in Dec'12; and significantly better than $63 during same period last year. Some of the other related economic data is also positive; US retail and food services sales rose 0.1 percent in Jan'13 after growing 0.5 percent in Dec'12.
Given this context, it would be fair (and necessary) that we question our earlier cautious stance. However, Bloomberg recently reported that in February, despite the Super Bowl, milder weather and paycheck cycles, Wal-Mart (NYSE:WMT) probably had one of the worst starts to a month in a long time. It could possibly be due to the fatigue from holiday/new year shopping season or may be as a result of lower disposable income on account of 2% higher payroll tax. The nationwide retailer estimates the payroll tax impact to be equal to a year of car insurance for a family making $30,000 per year or a basket of groceries per month for a family making $50,000 per year.
The payroll tax is a permanent change to the disposable income (unless it is revised again) and hence it should be seen through the permanent income hypothesis, which implies that the permanent income changes can have large effects on consumer spending behavior. One must also note that the US consumer has arguably started holding up on consumption as national savings rate inDec'12 is reported to be up at 6.5% compared to only 3.3% in Sep'12. On top of that, another fiscal tightening measure is about to follow as the sequestration related negotiations come alive before March 1st. CBS News reports;
In addition to forcing reductions of 13 percent for defense programs and 9 percent for other programs, the White House Budget Office reports sequestration would also mean, among other things, reduced unemployment benefits for over 3.8 million people jobless for six months or longer; 70,000 Head Start students removed from the pre-kindergarten program; layoffs of 10,000 teachers and other school staffers; and fewer border security agents and facilities for detained illegal immigrants.
These upcoming challenges warrant a review of the investment landscape as it appears a lot riskier at the moment. It's a very simple equation, if tax cuts and higher government spending could create jobs, the reverse would have the opposite effects. As a result, these drastic fiscal tightening measures could have far reaching impact on the consumer spending in the coming few months.
Surprisingly, the 10 year treasury yield is on an uptrend (price falling) suggesting an increased risk appetite which gives a rather unnerving feeling of market underestimating the negative impact of these austerity measures.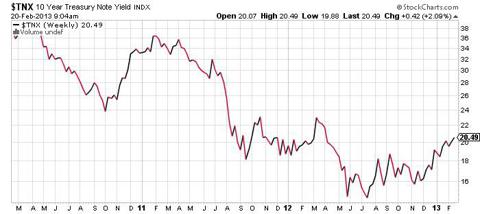 According to EPFR, dollar-denominated high yield bond funds reported an outflow of $1.55 billion in the last two weeks. Cumulative inflows-YTD 2013 have been at $2.77 billion only against $15.85 billion during the same period last year. But that could be due to the reason that money market and developed market equity funds each received inflows over $36 billion against mixed flows during the same period last year. Here is the chart for SPDR Barclays High Yield Bond ETF which also seems to be topping.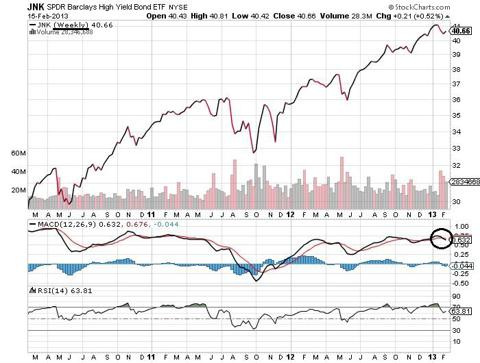 It would be very difficult to accurately predict the outcome of the negotiations over spending cuts, and as of now, we don't expect it to be a total disaster. The situation would be more clear once we have some visibility on the magnitude of the agreed spending cuts and the affected sectors. However the markets are expected to be more volatile as the political wrangling over the spending cuts might be a lot more tenacious than the earlier negotiations on tax cuts.
With all these developments in sight, it could be a good idea to play long volatility (NYSEARCA:VXX) while protecting the recent gains through buying some out of money puts on current holdings in consumer discretionary stocks.
Disclaimer: The opinion in this document is for informational purposes only and should not be considered as a recommendation to buy or sell the stocks mentioned or to solicit transactions or clients. I do not recommend that anyone act upon any investment information without first consulting an investment professional as to the suitability of such investments for his or her specific situation.
Disclosure: I have no positions in any stocks mentioned, and no plans to initiate any positions within the next 72 hours. I wrote this article myself, and it expresses my own opinions. I am not receiving compensation for it (other than from Seeking Alpha). I have no business relationship with any company whose stock is mentioned in this article.