Newsflash: we had a global financial meltdown a few years ago that sent the world economy into a downward spiral. It has since rebounded - several US stock markets are trading at or around all-time highs and others are trading at multi-year highs. Then again, if you've been awake at all during the past six years, none of this comes as much of a newsflash to you.
But this might surprise you: several of the major banks - including where you might have your checking and savings accounts, where you got your mortgage, the ATM you see every day on your way to work, or perhaps the commercial you see while watching your favorite programs - are trading at or below their liquidation values. You read that right. Despite the positive run that the financials have had for the past few years since their decimation, many stocks of the biggest brands in the world are trading at or below their liquidation value.
Let's take a look at four major industry players and why, if you have a long-term investment horizon, they are all strong buys. We'll assess four financial stocks from three different sectors: Money Center Banks, S&L/Savings Banks, and Regional Banks. The companies being evaluated are Bank of America (NYSE:BAC), Citigroup (NYSE:C), JP Morgan Chase (NYSE:JPM), and Wells Fargo (NYSE:WFC).
I use several metrics to determine whether or not a company is a solid value investment.
Trailing P/E, Forward P/E And FY Earnings Estimate
The three of these metrics can be grouped together. The difference between the first two shows the growth the company anticipates seeing year over year. While it is true that we're not investing here for growth, it is an essential indicator of a strong company that continued growth occurs. This is especially true when analyzing a company that has been decimated and lost nearly all its value from highs just a few years ago. The precipitous decline was warranted for some reasons in the eyes of the market, and current growth shows that the company is back on track and approaching or increasing profitability. There is a foreseeable amount of growth in BAC and C.
Past Consecutive Quarterly Earnings Beats
This is an odd indicator of a value investment, and one that I have not heard used very frequently. If a company can consistently beat on the street's expectations for quarterly earnings, they are in good standing. Radical beats or misses can cause some wariness, but consistent growth coupled with consistent quarterly earnings beats is a sign of strength and value. I tend to look for most recent consecutive quarterly beats, but another indicator of strong value is a consistent track record of beats (75%+).
Dividend Yield
The dividend yield is a telling sign of a value play. As a company increases its dividend yield, so often follows an increase in institutional investment and income-seekers. Both of these investors (with a heavy emphasis on the institutional investors because of their hugely deep pockets) are not trading stocks intraday. Instead, they're buying for long-term value. JPM and WFC are returning the most cash to investors.
Price/Sales Ratio
Similar to the P/E Ratio, the Price/Sales Ratio is a measure of the current stock price based on trailing revenues. Sometimes a company can experience a significant write down or expense in a given quarter that could significantly affect earnings, and thus the P/E Ratio. Price/Sales is a bit more tolerant, as it judges based on overall revenues and therefore must negotiate fewer variables. A lower Price/Sales Ratio indicates strength in value.
Return on Equity
A company's Return on Equity, or ROE, measures its profitability by showing how much profit a company generates in a given year based on the amount of shareholder's equity. Profitability is a telling sign of strength and consistency. Again, the two more fundamentally sound stocks in this study - JPM and WFC - have much higher ROE.
| | | | | |
| --- | --- | --- | --- | --- |
| Value Analysis | BAC | C | JPM | WFC |
| Trailing P/E | 48.32x | 17.59x | 9.40x | 10.45x |
| Forward P/E | 12.03x | 9.47x | 9.02x | 9.63x |
| FY EPS Estimate | $1.00 | $4.63 | $5.42 | $3.65 |
| Past Consecutive Quarterly Earnings Beats | 3 | 0 | 4 | 5 |
| Dividend Yield | 0.33% | .09% | 2.45% | 2.84% |
| Price/Sales | 1.56x | 1.89x | 1.92% | 2.15x |
| Return on Equity | 1.28% | 4.12% | 10.72% | 13.16% |
To assess the liquidation value of a financial company, the Tangible Asset Book Value can be used. The TABV is calculated by deducting total liabilities from total assets and further removing any goodwill or intangible assets. The TABV is the number that many analysts use for liquidation value; discounting goodwill and intangible assets is essential because they can't be sold in a worst-case scenario.
The following is a breakdown of the TABV of the four financial stocks in our study.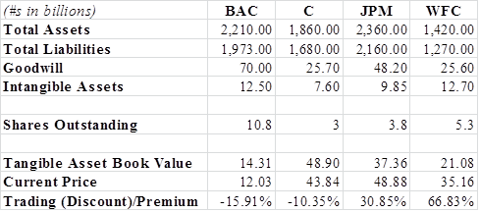 As shown in the above table, two of the stocks in our study are trading at a discount to their liquidation values and two are trading at a premium. It should be noted that the two stocks that were considered better values in the first fundamental study (earnings, dividend, P/S, ROE) are less attractive in the TABV study. Naturally, this is because the value is already built into the price of the stock for JPM and WFC. They are fundamentally stronger than BAC and C, and so the price benefit is built into the current trading price. Likewise, the two stocks that performed less well in the initial value test show to be even riper for the picking, trading at 15.9% and 10.3% discounts to their liquidation values, respectively.
It should be noted that stocks can trade far below their liquidation values in the short-term. With a short-term investment horizon, investing in any stock becomes riskier. The risk intensifies with value picks, because the investor must realize that there could be short-term downside before the value play comes to life.
Additionally, the financials have seen a pretty significant rally over the past half year. While it is impossible to fully predict future performance, it should be noted that building a full position at this level is not advisable. There is certain value in these four stocks, and in the industry as a whole. Current prices reflect a strong point for an initial buy to start building a position. If an investor builds a 30% position at these levels, she'll be able to average down if the market sees a needed correction in the coming months. Additionally, if the financials continue to surge, the investor will be able to average up and build the position given the long-term (2-3 year) perspective.
Here's one final note on how to trade the financials, especially these four stocks in our given study. By buying LEAPS (Long Term Equity Anticipation Security), or long-term call options, you'll give yourself the chance to profit significantly on any long-term gains while hedging your investment. With long-term, in-the-money call options on these stocks, especially BAC and WFC, the premium is mostly constituted of intrinsic value (in-the-money portion of the premium). There is very little extrinsic value (time value portion of the premium), so the decay will be minimal over time.
The financial sector is ripe for the picking. Stocks continue to trade at or below liquidation value, and even stocks that are trading at a premium to their TABV are attractive given their fundamentals as a value stock. Phase into long positions in equities or options here and you'll reap a pretty harvest at the end of your 2-3 year investment.
BAC 3 Year Chart

C 3 Year Chart

JPM 3 Year Chart

WFC 3 Year Chart

Disclosure: I have no positions in any stocks mentioned, and no plans to initiate any positions within the next 72 hours. I wrote this article myself, and it expresses my own opinions. I am not receiving compensation for it (other than from Seeking Alpha). I have no business relationship with any company whose stock is mentioned in this article.