With the meltdown of US banks, I'm not surprised that the smaller Canadian banks have now become (relatively) bigger. Among the top 10 North American banks (based on market cap), three of them are Canadians: #3. Royal Bank of Canada (NYSE:RY), #6. Toronto-Dominion Bank (NYSE:TD) and # 8. Bank of Nova Scotia (NYSE:BNS).
US banks suffered tens of billions in "toxic-asset" write-downs, dividend cuts, and the need for huge capital infusions. Are Canadian banks safe? I believe they might have a very good chance to survive and continue to provide secure dividends for the following reasons:
1. Canadian banks have a strong capital base. For example, according to Barron's, Bank of Nova Scotia's Tier 1 ratio (shareholders' equity plus preferred stock as a percentage of total assets) is 9.3%, while US banks are in the low single digits.
These days, balance sheets are much more important than earnings. As you can see from the last column of the chart below, Canadian banks (in red) have much smaller debt to cash ratio. I don't trust banks' book value. The only thing I look at is cash.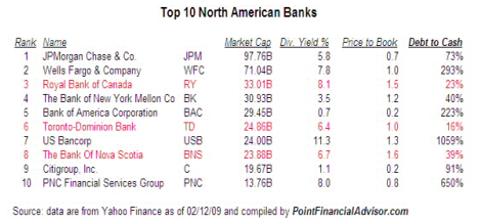 2. Canadian banks use leverage more conservatively.
When I was in a Certified Management Accountant (CMA) program, one of my instructors was a former executive of Bank of Nova Scotia. He told us the reason banks make money was because they leverage up to 25 times. According to minyanville.com, on average, Canadian banks leverage up to 18 times. No wonder in 2008, Canada's banking system was ranked the healthiest in the world by the World Economic Forum.
3. The Canadian banking industry is much more consolidated than in the U.S. In Canada there are only 6 big banks (and a few much smaller ones), while in US there are over 8,000 banks.
4. The Canadian housing market is in far better shape (so far). While the US has around 25% sub-prime mortgage, in Canada the number is in the low single digits.
Will Canadian banks go lower? They could. With global de-leverage going on (Canadian banks are not immune), it will certainly cut their earnings. Though their prices were down around 50% from their peak in mid 2007, based on future earning estimates, today's price is not necessarily a bargain basement price. This year the consensus SP500's earning is around $50, so SP could easily go down to 600 (based on a P/E of 12), and Canadian banks might go with the same directory as the market. However, as long as they are safe, and continue to pay a healthy dividend (6%- 8%), it doesn't hurt to stick with them.
Disclosure: I am long all-Canadian banks mentioned in this article.