Being an income investor in today's financial markets is not an easy thing to do. With only a finite amount of time and capital, trying to make the right choices can prove to be difficult. There are so many potential investments that one can easily feel if they are literally drowning in a sea of analysis data as they look for potential candidates. On top of this investors then have to consider the use of other possible income strategies such as using options, leverage or a dividend capture program to increase their income.
Inevitably cracks will form in one's income portfolio. These cracks are the missing pieces that help make an income portfolio truly diversified and well rounded. It is at this point where certain closed end funds can fill in those cracks and provide the missing pieces that income investors are looking for. These closed end funds will trade like equities over the major exchanges, so they are fairly liquid and easy to acquire. They also have the ability to employ strategies and tactics that the retail investor has little chance of using. Below are some great examples of closed end funds that will help income investors tap into strategies and sectors that are inaccessible to most retail investors.
Nuveen Municipal Value Fund, Inc. (NYSE:NUV)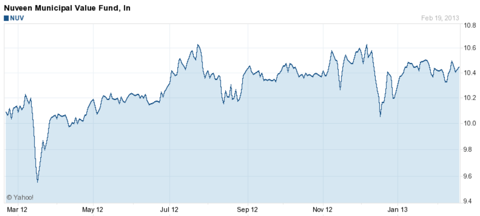 One area that attracts many income investors are municipal bond markets due to the tax advantages. The problem is that investing in individual municipal bonds can be problematic. Minimums for many bonds start in the thousands of dollars, and when it comes time to trade them they are not very liquid like equities. Trying to get a diversified portfolio of bonds will get cost prohibitive for many investors. This is where NUV comes in.
NUV is a closed end fixed income mutual fund launched by Nuveen Investments, Inc. The fund is managed by Nuveen Asset Management. It invests in the fixed income markets of the United States. The fund also invests some portion of its portfolio in derivative instruments. It invests in undervalued municipal securities and other related investments. The income is exempt from regular federal income taxes, and the holdings are rated Baa or BBB or better. It employs fundamental analysis with a bottom-up stock picking approach to create its portfolio.
NUV currently trades for $10.41 a share, which makes for a yield of 4.2%. The distribution is made on a monthly basis and has remained very consistent for years. The distributions are derived from income generated by the fund with no reported return of capital. NUV currently trades at a premium to net asset value of approximately 1%. The fund is not leveraged, so NUV is not boosting their yield rates and taking on added risks in the process.
At first glance income investors might not be impressed with NUV. Municipal bond funds are actually quite boring, and a 4.2% yield does not seem that tempting. The key to this investment is to remember that the distributions are shielded from federal taxes. So to get a better comparison, we will need to convert NUV's tax free yield into a taxable equivalent yield. For example, a federal tax rate of 25% would make the taxable equivalent yield 5.6%.
NUV gives income investors the potential to enter the municipal bond markets without having to break the bank. The fund's holdings are well diversified across many sectors and state allocations. NUV is an investment that could easily fit in most income portfolios.
Eaton Vance Tax Advantaged Global Dividend Income Fund (NYSE:ETG)
Our next idea is another closed end fund that has been rather popular with income investors. This fund is the Eaton Vance Tax Advantaged Global Dividend Income Fund. ETG's inception date is 1/30/2004, so it has been around for some time. The fund invests primarily in dividend-paying common and preferred stocks, and seeks to distribute a high level of dividend income that qualifies for favorable federal income tax treatment. ETG also seeks to invest in dividend-paying common stocks that have the potential for meaningful dividend growth. So instead of just chasing equities that are currently paying out high yield rates, management is attempting get into names that have the potential to do so at a future date. To do this, ETG invests both inside as well as outside of the United States. Here are a few current charts to give one a better idea of how the is fund is performing.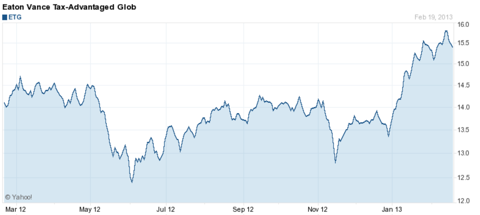 ETG trades at a 1.89% discount to net asset value. Distributions are made on a monthly basis and currently they are yielding a 7.7% return. According to company records, this yield is covered by income generated by the fund and there has been no report of return of capital being used to make any distributions. As of 12/31/2012 the fund has 179 holdings that included well know names as: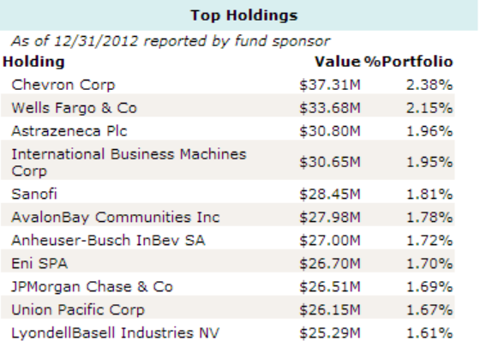 The question is how ETG fills in the cracks for income investors. The answer is that ETG uses leverage to juice the returns to its investors. Currently the fund has an effective leveraged rate of 27%. Also as shown above, the fund holds many equities that are well known for paying stable dividends. It would be very difficult for a retail investor to mimic this type of portfolio as the strategies and costs to create are prohibitive to most. The end result is that ETG could easily fit into most income portfolios and fill that niche that is lacking.
The Gabelli Global Gold, Natural Resources & Income Trust (NYSEMKT:GGN)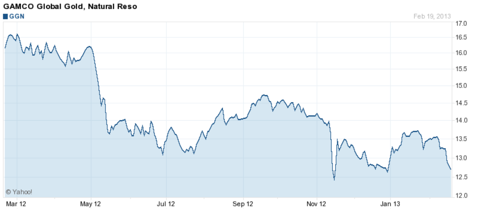 Our next closed end fund fills in a void for many income investors. Investments in gold have been very popular, but they have not been considered as part of an income strategy. A fund like GGN could change all that. GGN is a non-diversified, closed-end management investment company with $1.2 billion in total net assets. The primary investment objective of the fund is to provide a high level of current income. The fund is not an investment in physical gold or natural resources as the name might suggest. The fund makes investments in equity securities of firms operating in the gold and natural resources industries. To earn income the fund uses a strategy of writing (selling) primarily covered call options on equity securities in its portfolio. As of December 2012 GGN's portfolio was broken out at a ratio of 44.8% metals/mining and 37.3% in energy/energy services. The remainder is being held in US Treasury bills and cash.
GGN currently makes its distributions on a monthly basis and is yielding 11%. The shares of the fund trade at a slight premium to net asset value of 1.66%. Since the fund works with options, the source of the distributions can vary. For example, the last half of 2012 had the source of the distributions primary from income that the fund generated. The first half of 2013 had a large majority of the distributions originating from long capital gains, with the remainder from a return of capital ((ROC)).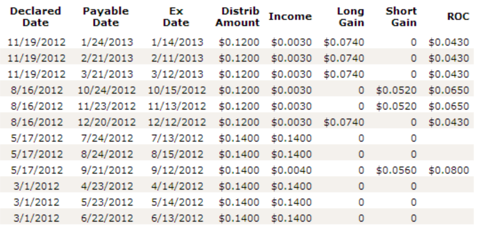 While GGN's share price does not specifically trade with gold prices, it is easy to see that there is a correlated relationship since 44% of the holdings are involved with the metal. Add to this the volatility in natural gas and oil prices, and one will be aware that GGN becomes an indirect play on commodity prices.
The end result is that GGN fills in more than a few cracks in the income investor's portfolio. On one side it generates income related to the gold and energy sectors, while also exposing the investor to the use of writing (selling) covered call options. GGN is yet another closed end fund that could be a useful for an income investor.
Kayne Anderson MLP Investment Company (NYSE:KYN)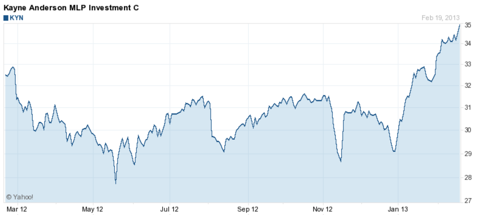 Our next closed end funds is an investment vehicle that focuses on energy-related master limited partnerships. The popularity of master limited partnerships ((NYSEARCA:MLPS)) has been on the rise, and the yields that the investment vehicles offer is very competitive. That being the case, let's focus on a well known closed end fund that goes by the ticker KYN. KYN is a closed-end fund that invests principally in equity securities of energy-related master limited partnerships. KYN's investment objective is to obtain a high after-tax total return by investing at least 85% of its total assets in energy-related MLPs.
Once again we have to ask ourselves is what is KYN offering to income investors? What cracks in an income portfolio is KYN filling? The answer to this revolves around the master limited partnerships and their unique characteristics. The first item to consider is the unique taxing requirements that surround MLPs. In place of the 1099 tax reports that most income investors are familiar with, MLP holders get a complex K-1 document. Now accumulate a basket of these MLPs with similar K-1s for each holding, and it is not hard to envision the tax headache that will soon follow.
The second problem with MLPs is that their structure can be challenging to understand. MLPs are complex investment instruments. They are not stand alone corporations, and usually are part of much larger business segments. Buried within their governance and charters are very unique bylaws and characteristics that need to be reviewed before one can truly understand what the MLP represents. Needless to say, trying to do one's due diligence on MLPs can become very involved and complex.
KYN fills the void of those investors wanting to get exposure to MLPs but have been unable to. To the relief of KYN shareholders, they will receive the easier 1099 tax document instead of the K-1. Also KYN's management has a good track record of investing in the top MLPs. No longer will investors need to get bogged down in endless financial documents trying to understand exactly how each MLP works.
KYN currently has a 7.63% distribution rate that is paid out on a quarterly basis. This distribution amount for KYN has been steadily rising since the fund's inception that is detailed on the chart below: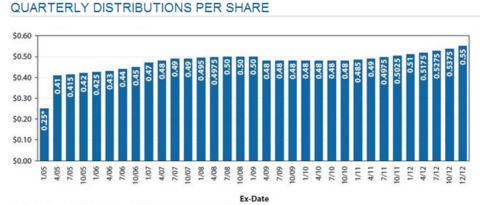 The fund has a history of its share price running at a premium to its net asset value. Currently the premium to net asset value is 8%. The fund reported 63 holdings in its portfolio and the top 10 are listed below: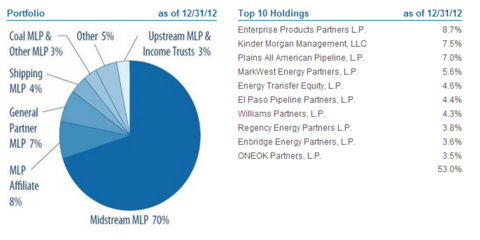 For income investors looking to fill in the MLP cracks, KYN has lots to offer. From competitive yields to easier tax reporting, KYN definitely has some advantages.
BlackRock Health Sciences Trust (NYSE:BME)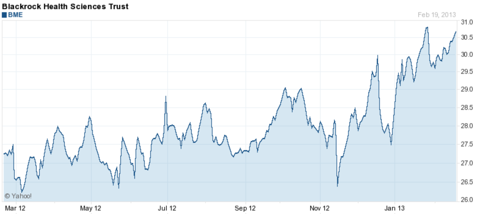 The last closed end fund turns our attention to the health sector. When investors are on the hunt for yield, the healthcare sector is not usually their first stop. Getting involved with pharmaceutical or biotechnology products can quickly get rather complex. Understanding the inner workings of the FDA and clinical trials as it relates to specific companies can become a full time job. That being the case, one closed end fund that is a top choice is BlackRock Health Sciences Trust.
The BlackRock Health Sciences Trust, BME, is a perpetual closed-end equity fund. BME commenced operations in March 2005 with the investment objective of providing total return through a combination of current income and capital appreciation. Under normal market conditions, BME will invest at least 80% of its total assets in equity securities of companies engaged in the health sciences and related industries and equity derivatives with exposure to the health sciences industry. Companies in the health sciences industry include healthcare providers as well as businesses involved in researching, developing, producing, distributing or delivering medical, dental, optical, pharmaceutical or biotechnology products, supplies, equipment or services or that provide support services to these companies. Equity securities in which the fund anticipates investing include common stocks, preferred stocks, convertible securities, warrants, depository receipts and equity interests in real estate investment trusts that own hospitals.
BME currently trades at a 1.88% premium to net asset value. Distributions are made on a quarterly basis and currently they are yielding a 16.24% return. This might seem high, but one must consider that BME's yield will often times include a special dividend that is declared in December. So for the first three quarters of 2012 the fund paid a distribution of $0.384 per share. The final distribution was $1.234 per share. According to company records, this yield is covered by a mixture of short or long term gains. There was no report of return of capital being used to make any distributions. As of 10/31/2012 the fund has 98 holdings that included well known names as: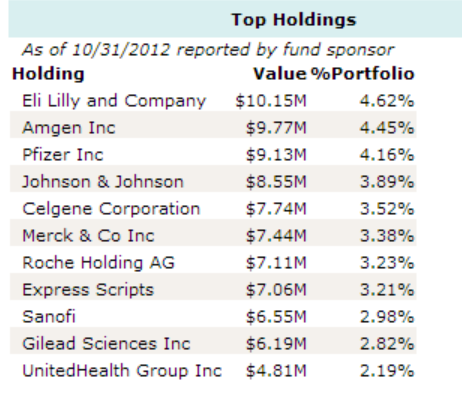 BME is a great fund to give exposure to the healthcare sector for income investors needing the diversification. BlackRock's management has a good track record of investing in top quality healthcare names and sectors. This means that income investors holding shares of BME can focus their precious time elsewhere while depending upon BME's management to oversee the healthcare side of the portfolio. By investing in BME income investors can get that much needed exposure to the healthcare sector while generating income at the same time.
In conclusion, these five closed end funds represent interesting opportunities to income investors. Each has their own niche within the income universe. They offer very unique strategies and perspectives that most retail investors have little access to. These five funds represent just a small sample of closed end funds that can be used to fill in the cracks of any investor's income portfolio.
Disclosure: I am long NUV, ETG, GGN. I wrote this article myself, and it expresses my own opinions. I am not receiving compensation for it (other than from Seeking Alpha). I have no business relationship with any company whose stock is mentioned in this article.