A lot is being made of apparent weakness in housing starts in January and December. But you may want to think twice before putting too much weight on these headline numbers.
First, housing starts are notoriously volatile with an eye-popping standard deviation. For example, in the most recent report, housing starts fell 8.5% from December to January. But the standard deviation is 11.3%. This suggests the number may actually have been positive rather than negative.
But even if the number is negative, investors are likely better served considering the longer trend.
Comparing housing starts against last year offers a clearer, and more bullish, picture. January's starts were 23.6% higher than the prior year, with a range of error of 13.4%. Even considering the lowest result, you still end up with near double digit growth.
Arguably, investors shouldn't be paying much attention to housing starts at all.
After all, the market is a forward-looking instrument, and housing permits may offer more insight into future activity than starts.
Importantly, permits are far less volatile than starts with a much lower standard deviation.
In January, housing permits climbed 1.8% from December, plus or minus 0.9%. The reading was 35.2% above January 2012, with a margin of error of just 1.5%. As the following chart suggests, there's plenty of room left to grow.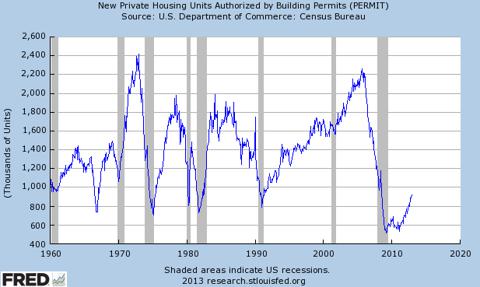 And since many investors are buying homebuilders such as Toll Brothers (NYSE:TOL), PulteGroup (NYSE:PHM) and KB Home (NYSE:KBH), it's also useful to consider home completions, which will show up in next quarter's earnings reports.
In January, completions came in 33.6% higher than a year ago -- with a 17.1% margin of error.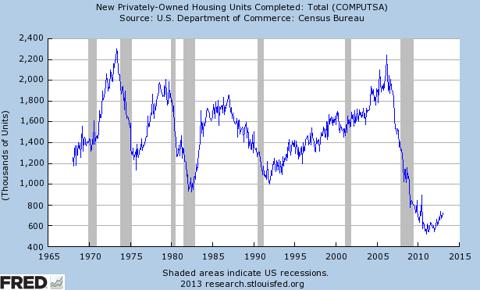 This suggests homebuilders were still very active despite weak winter seasonal sales, which I wrote about here last month.
Since inception, the S&P Homebuilders ETF (NYSEARCA:XHB) has fallen an average -1.58% in February, only to rebound sharply in March and April.
If seasonality hold true, home sales growth will prove earnings friendly for related construction stocks through Spring.
This suggests investors looking beyond month-to-month volatility in housing starts will be rewarded for buying February weakness.
Source: Seasonal Investor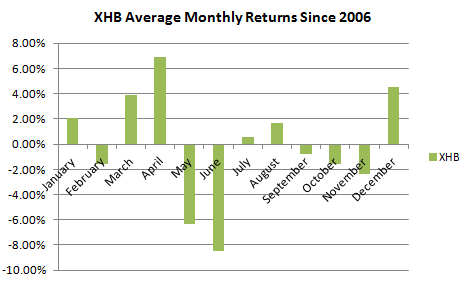 Disclosure: I have no positions in any stocks mentioned, but may initiate a long position in TOL over the next 72 hours. I wrote this article myself, and it expresses my own opinions. I am not receiving compensation for it (other than from Seeking Alpha). I have no business relationship with any company whose stock is mentioned in this article.