Grain Markets Watching Argentina, Brazil and Plain States Weather
The main weather markets presently are in the grain complex where drought easing rains in parts of the western corn belt and Plains wheat areas have been partial negative factors in wheat and corn prices. However, it will take a lot more consistent spring rains to save the wheat crop in Nebraska, Kansas and Texas from severe damage issues. On the other hand, rains have so far been a bit less than expected in the southern 50% of Argentina, helping soybean prices to rally modestly. Nevertheless, most of Brazil and at least 40-50% of Argentina is slatted to get more good late season rains, so any major crop issues in South America are unlikely at this point. Nevertheless, very tight supplies and logistical issues with getting soybean to port in Brazil has been one short term bullish factor. However, longer term, without summer weather problems new crop corn and soybeans could still fall at least 10-15% later this spring and summer. Will this happen? Much of my research is reserved for our clients, but will briefly address this at some point down the road.
Chocolate and Its Health Benefits
For years there have been dozens of claims by doctors, researchers and everyday citizens of the health benefits of cocoa (chocolate). Chocolate has been called "The nectar of the gods and the poor man's champagne." It has been found to help with depression due to its ability to boost serotonin levels. Also,antioxidant flavanols are suppose to be good for blood pressure and help people with cirrhosis.
The commodity cocoa refers to cocoa beans grown primarily in west Africa, accounting for 70% of the world's production. Cocoa trees require a warm climate to thrive. There are two different types of cocoa plants: Criollo and Forastero, with Criollo being the most sensitive to weather events. Cocoa trees take about give years to reach maturity.
What Factors influence Cocoa Prices?
Weather conditions in west Africa have been generally ideal since a brief El Nino type scare earlier last summer and have been a main reason for the downward shift in prices. The demand side of the equation has also been hurt by the recent recession in Europe.
Weather, geopolitical tensions, climatic shifts and labor issues in west Africa all have a fundamentally important impact on this market. For example, up until just a few years ago, more than 200,000 children in west Africa worked in the west African cocoa fields. This actually lowered the quality of much of the cocoa that was harvested. But we have seen a shift in the labor force the past few years in Ghana and Ivory Coast (top world producers). Today many more adults who have been looking for work are taking advantage of more active government programs. Hence, with the recent La Nina events and more care and responsibility of cocoa trees by adults, west African production has rebounded lately.
UPCOMING WEATHER AND COCOA
The past 1-2 months have been drier than normal in West African and traders are beginning to watch weather events in Ghana and Ivory Coast for possible signs of a reduction in the main crop this spring and summer. However, given incredible warming over the Arctic and near Greenland, we have a blocking pattern or what we call a negative North Atlantic Oscillation Index (-NAO). We also have cooler than normal ocean temps along the equator in the Pacific. These two features will probably result in beneficial weather for cocoa into spring and probably prevent a major rally in prices (barring an increase in demand or political tensions or weather issues this summer).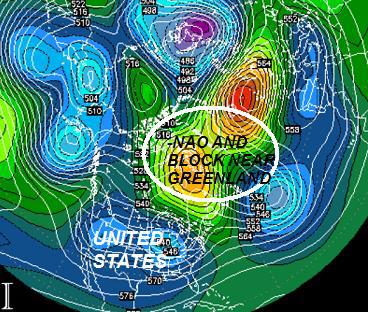 Source of weather Map above--WSI Corporation
The warm block near Greenland (-NAO) will help open the door for a stormy, cold first part of March in much of the eastern U.S. (good for many ski areas, including well south into Virginia and North Carolina). It will also help set the stage for at least some rainfall in west Africa, where cocoa crops will need rain soon to avoid some yield loss.
Source of Maps Above--- Center of Satellite Applications/Research
I labeled above a few of the dry areas in Ivory Coast and Ghana that need to be watched in coming weeks. However, this is currently their normal dry season, so it is not really until mid March and especially April-mid July that weather will have much more of an impact on West African cocoa production.
Trading Cocoa -- Opportunities?
In several previous posts last fall and winter we expressed our overall bearish sentiment in cocoa prices and for the two cocoa ETF's iPath Dow Jones-UBS Cocoa Total Return Sub-Index ETM (NYSEARCA:NIB) and Pure Beta Cocoa ETN (NYSEARCA:CHOC). It is a little risky perhaps to enter a short position in this market at this time, but without major production issues in West Africa, I have remained, for now, in the cautiously bearish camp. Cocoa prices have dropped about 20-25% the last 5 months since El Nino was forecasted early by us, not to form.
Probably the best way to take advantage of the craze people have over Chocolate is to be long Hershey Company (NYSE:HSY). The stock is up more than 30% this past year, was resilient during the stock market crash in 2008, and has a dividend of just over 2%. Hershey tries to minimize the effect of cocoa bean price fluctuations by often forward purchasing large quantities of chocolate liquor, cocoa power and cocoa butter and by hedging and using futures contracts. If cocoa prices stay relatively low during 2013, because of decent world crops, then Hershey Company stands to benefit even more.
Investing in the stock market is sometimes like a box of chocolate -- you never know exactly what you're going to get. However, Hershey's history would tell us that this stock is often sweet and resilient to stock market sell offs and a great longer term hold.
Disclosure: I have no positions in any stocks mentioned, and no plans to initiate any positions within the next 72 hours. I wrote this article myself, and it expresses my own opinions. I am not receiving compensation for it (other than from Seeking Alpha). I have no business relationship with any company whose stock is mentioned in this article.