Do you respect Warren Buffett and value his opinion? I'm sure you do. There's no reason why you wouldn't.
In my previous article I pointed out that the U.S. economy doesn't seem to be in a good shape and that the markets are underestimating the "1/4 Cliff" as well as the sequestration immediate implications on consumption.
In this article I wish to also claim that the equity markets, or the S&P500 (TICKER: SPY) for that sake, are overvalued.
At the beginning of the 21st century there was an article published in the Fortune Magazine in which Mr. Buffett had defined the "best single measure of where valuations stand at any given moment."
What was that single most important pricing-evaluating parameter?
Total Value of U.S. Corporations / Nominal Gross National Product (GNP)
Mr. Buffett, back then, used this ratio to explain why in spite of the sharp decline in equity markets (in light of the technology bubble burst) stocks valuations were still too high. He also added that investors who rush to the market too soon will benefit from a limited return, less than the 7%-8% per annum they expect to get.
Additional interesting information that was published back then relates to the criteria that Warren Buffett is using in his investment decision process: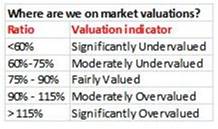 I strongly recommend using this metrics, not only because it was set by a legend but simply because it works! Later on, at the beginning of 2009 - just before the markets started their rally - Buffett's metrics pointed out that it's time to buy. One has to admit that it can't get better than this from both valuation and timing perspectives.
So where are we now? - As you can see from the graph below we just crossed the 100% mark.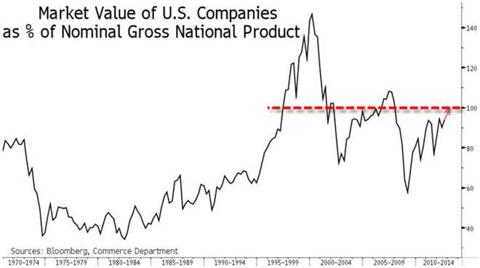 I strongly believe in tight risk management so even when the markets seem overvalued and poised to correct I would rather stick to a hedged policy and avoid an "all in" betting on one direction. Therefore, while expecting the markets to correct soon enough I wish to buy a protection.
There may be all sorts of protection but at this point of time I believe that Apple (TICKER: AAPL) offers not only a very attractive entry point but also a relative protection against a possible drop in the S&P500.
Apple is one of if not THE best stock to hold over the long run. In this article I don't wish to focus on Apple's valuation; many other SA authors write about this topic. Instead, I wish to focus on making a case for Apple as a good hedge against the S&P500.
During most of the rally that we experience in the last four years Apple and the S&P500 showed a relatively high correlation, very much in line with the average S&P500 member stock (see below).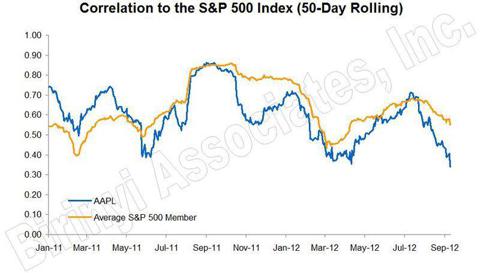 Nevertheless, in the last couple of months Apple's correlation with the S&P500 has gone down substantially and it's now at record low.
If the equity markets are headed to a correction and if you agree that Apple is a long-term BUY I suggest a LONG APPL, SHORT SPY position that may perform during bad but also good times ahead of us.
Conclusion
On one hand the market, even by Warren Buffett's standard, is already "moderately expensive," possibly on its way to be "significantly expensive." On the other hand, even Warren Buffett didn't know what QE was at the end of 2001.
Taking, at least some profits is probably a good idea right now. You may wish to sit on the sidelines for a while but if you are shorting the market (or intend to) while expecting a correction I strongly recommend to hedge this position. There are few possible ways to protect such a strategy and Apple is most probably one of the best ones, from both valuation and correlation perspectives.
Disclosure: I am long AAPL. I wrote this article myself, and it expresses my own opinions. I am not receiving compensation for it (other than from Seeking Alpha). I have no business relationship with any company whose stock is mentioned in this article.