Peter Lynch, the legendary manager of the Fidelity Magellan Fund, wrote in his book "Beating the Street":
The Dividend Achievers Handbook is one of my favorite bedside thrillers. Here's a simple way to succeed in Wall Street: Buy the stocks on Mergent's list and stick with them as long as they stay on the list.
Dividend Achievers description from Mergent:
Mergent' s Dividend Achievers, profiles approximately 300 U.S. companies that have increased their regular cash dividends annually for the past ten or more consecutive years. These are truly remarkable companies. The average total return of these Dividend Achiever companies has outperformed the S&P 500 for the last 10 years.
Since it is impractical for the common investor to build a portfolio of about 300 stocks, I have chosen eight companies from the Dividend Achievers list, to create a portfolio that yields over four and a half percent, with a good chance to maintain this yield for many years, at a low level of risk.
I searched for companies with a forward annual dividend yield greater than their five-year average dividend yield. A good time to start a long-term investment in a blue-chip company, which has a long history of steadily increasing dividend payments, is when due to temporary weakness its dividend yield is historically high.
In addition, all stocks in the portfolio have to comply with all the following demands:
Dividend yield is greater or equal 3.80%.
Annual rate of dividend growth over the past five years was positive.
Trailing P/E is less than 21.
Forward P/E is less than 19.
I discovered eight stocks that comply with all the above demands, and I used them to create the long-term strong dividend achievers portfolio. All the data for this article were taken from Yahoo Finance on February 20, before the market open. The eight stocks are: Mercury General Corporation (NYSE:MCY), Lockheed Martin Corporation (NYSE:LMT), United Bankshares Inc. (NASDAQ:UBSI), ConocoPhillips (NYSE:COP), Avista Corp. (NYSE:AVA), Northwest Natural Gas Company (NYSE:NWN), Meredith Corporation (NYSE:MDP) and Southside Bancshares Inc. (NASDAQ:SBSI).
The three tables below present some important valuation metrics and dividend information, for the eight stocks in the portfolio.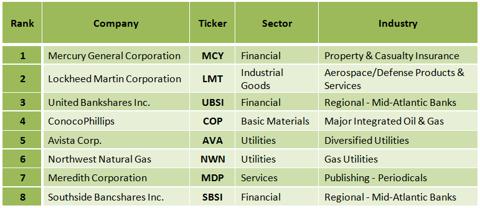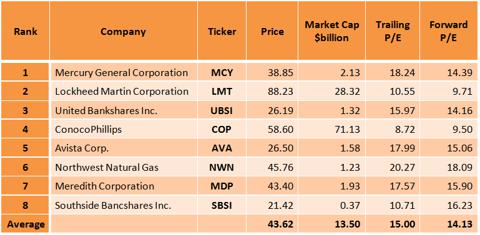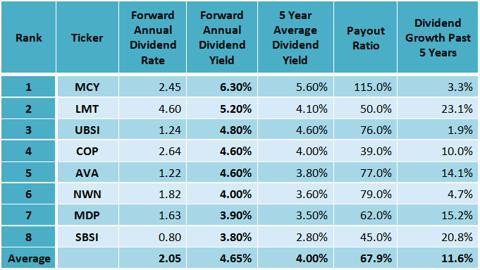 The average forward annual dividend yield of the portfolio is 4.65%, the average payout ratio is 67.9%, and the average annual rate of dividend growth over the past five years was 11.6%.
The charts below present the dividend rate and the dividend yield for the last 10 years for the eight companies.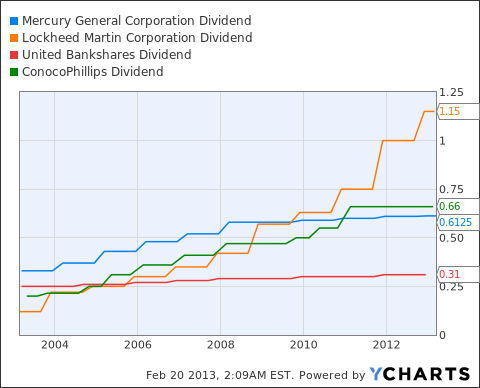 MCY Dividend data by YCharts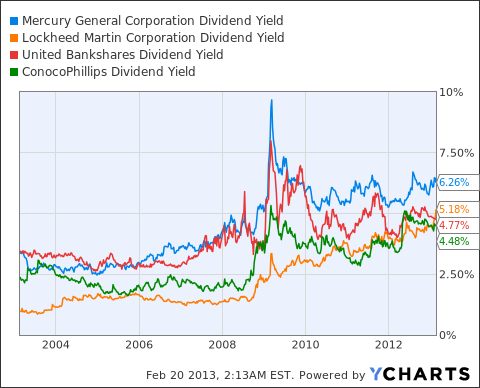 MCY Dividend Yield data by YCharts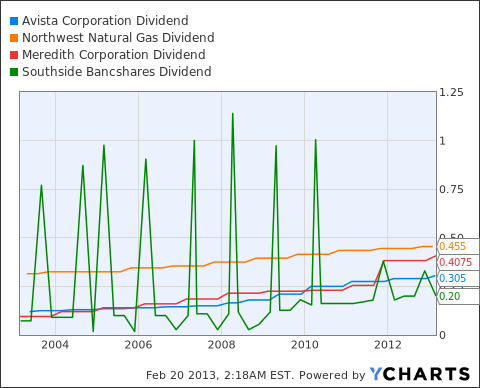 AVA Dividend data by YCharts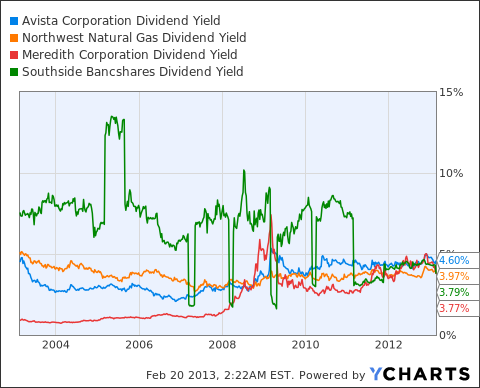 AVA Dividend Yield data by YCharts
The table below presents the total return and the compound annual growth rate (OTCPK:CAGR) of holding the portfolio for the last 10 years.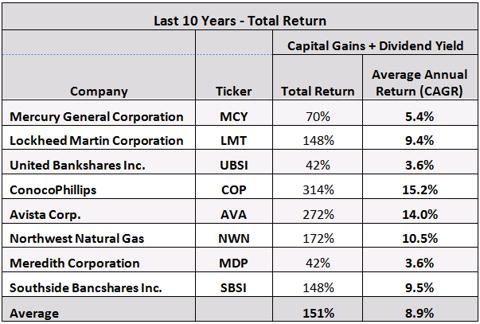 The table below presents the total return and the compound annual growth rate (OTCPK:CAGR) of holding the portfolio for the last 20 years.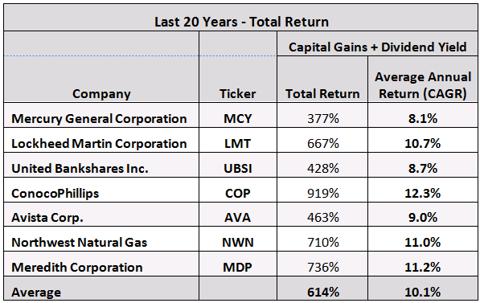 Summary
Holding the suggested portfolio during the last 10 years has given a nice average annual return of 8.9% and during the last 20 years an even better average annual return of 10.1%. Although the past guarantees nothing, it does provide insight into how these eight blue-chip stocks have performed under various economic conditions over varying time frames. In my opinion, creating a portfolio of these eight stocks now, and holding this portfolio for many years will reward an investor with a nice return.
Disclosure: I have no positions in any stocks mentioned, and no plans to initiate any positions within the next 72 hours. I wrote this article myself, and it expresses my own opinions. I am not receiving compensation for it (other than from Seeking Alpha). I have no business relationship with any company whose stock is mentioned in this article.