For those who have not been following Nuance Communications, Inc. (NASDAQ:NUAN), a leading company in voice recognition technology identified with Apple's (NASDAQ:AAPL) Siri, it just reported an awful fourth quarter. Not only did it miss estimates by $0.01, but it guided down. The stock dropped so much that it was excessive.
Yes, Nuance may have just played the part of a waiter bringing cold soup: its rebuke has been harsh. Analysts have been downgrading. Yahoo! Finance's mean recommendation is now at 2.1 in comparison to last week's 1.8. Professionals have bearing on a equity pricing, it is something that many institutions heed, in varied measures, and that retail clients use in their decisions. However, as a favorite columnist Brett Arends says, "Buying the[ir] 10 most popular stocks each year would have brought you total losses of 11% over the past five years."
Scrutiny toward the real problems that have caused the depressed price is deserved. Chairman and Chief Executive Officer, Paul A. Ricci presents an organized summary of the company's three difficulties:
Erosion of healthcare on demand transcription volumes with existing customers;
A weaker than expected environment in EMEA (Europe, Middle East, and Africa) that is expected to continue for the duration of fiscal 2013; and
A slowdown in Windows-based software sales, especially in direct consumer business within the Windows 8 replacement cycle.
There is at least one other matter not fully addressed in the Conference Call questioning that needs to be noted: the company's unimpressive-at-best financial statements. Its new 10Q shows $2,330 mln in long-term debt and $961 mln in cash (a $485.8 mln term loan is due in March, 2016). Its total assets are listed at $6,099 mln, with the largest component being goodwill worth $3,235 mln. However, the company anticipates slowing its investments in R&D and sales and also "Will realize significant savings from the consolidation of acquisitions."
Let's turn to operations. Microsoft (NASDAQ:MSFT), a key partner and listed competitor, has not been the world-beating superstar of decades past. Some of its strengths lie in office productivity software and its commercial customer base. For its FY13 Q2, Servers and Tools product revenue is up 9%; and for datacenters, its SystemCenter revenue grew 18%. There has been much attention directed at how much impact the Windows 8 product cycle can have on the company's top and bottom lines. Thus far, results have been underwhelming, and Nuance expects "That the Windows business...will remain weaker…throughout the course of the year."
The company is transitioning away from reliance on Windows. Its virtual agent software is realizing growth and offers future opportunity. Several different markets are being targeted, which is exciting. Potential end users of this technology that enables customer self-service include airline, banking, insurance and retail businesses.
With the downside of disappointing partnership results priced in, there is value here. Even though MSFT pays a nice dividend, yielding 3.3%, Nuance, as a partial derivative, may have a better risk/reward. A recent Microsoft presentation says: "We are positioned for growth across a massive addressable market from tablets to laptops and Ultrabooks to all-in-ones." Thus, if customers actually upgrade their operating systems, or Surface can gain any traction, there could easily be a substantial impact for the inexpensive NUAN.
There are other prospects. Management expects revenues from Nuance's Wintermute hybrid solution with Intel (NASDAQ:INTC) across a number of platforms in 2014. In general, there is "Confidence in a number of new deals" closing over the next year. Though overall organic growth is forecast to be slow, the tech sector appears to be more of a boon than a concern for the company's future, despite a widely-observed decline of the desktop PC.
There may be another positive, too: bottoming and stabilizing gross margins, which have declined 2.1 percentage points to 60.5%. At the end of the Q4 2012 conference call, Scott Zeller of Needham & Company asks about them in consideration of business shifting through on-demand and the cloud. Mr. Ricci's response: their 200 to 250 basis point year-over-year differential is "The right target."
Nuance's acquisitions have been watched, noted--and criticized. Though resources are easily wasted through buying, and operating synergies are only realized in many cases when nonperforming assets are spun off or sold, NUAN is a smallish mid-cap, worth roughly $6 bln. Eventually, if such a corporation keeps purchasing competitors, suppliers, and start-ups, there are fewer components. Nuance obviously has a terrific foothold in the marketplace and may easily prevail as the global leader in voice recognition software. Further, its only listed competitor in healthcare is the privately owned M*Modal.
The real, glaring problems are with the company's healthcare business and geographic EMEA results. As slight mitigation, though EMR (Electronic Medical Record) volumes will weigh on results for the next few quarters, management is actually expecting revenue streams from its newly acquired coding products later in the year. If the EMEA situation is merely macro in nature, results should not get worse and the company's products are likely to slowly penetrate a stubborn marketplace. Though there is not much cause for immediate optimism here, the stock remains attractive.
NUAN is cheap by many important measures. It trades at 9.2 x 2014 earnings while analysts project a five-year growth rate of 16.67%. MSFT itself trades at a lower multiple of 8.87x, but analysts only see it growing at 8.4%, lagging the software industry and technology sector's 19% and 18%, respectively. For comparison, the S&P 500 (NYSEARCA:SPY) trades at 13.78 x forward earnings. I do not think NUAN is going much lower and is likely to slowly move higher.
Nuance has terrific business with smartphone users, and reported results being particularly strong in Asia. Its customer base and ability to increase revenues in this market are not suspect at this time. It continues to be a key supplier for both Apple and Samsung (OTC:SSNLF), two of the largest companies in the world.
Here is a chart that visually shows the recent sell-off. Notice that the Bollinger Band width has caught up? The stock price is now within a standard deviation of its 20-day moving average. To me, it is not a reason to buy or sell; but is an interesting technical observation (a W or double bottom here may signal a move higher to some; I am likely to act before then and write a March covered call at a $20 strike price if the stock rises much over $19).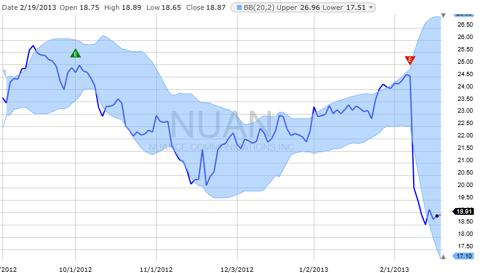 Nuance reported a disappointing quarter. Sellers made their feelings known. The stock dropped to levels that offer significant upside.
Disclosure: I am long NUAN. I wrote this article myself, and it expresses my own opinions. I am not receiving compensation for it (other than from Seeking Alpha). I have no business relationship with any company whose stock is mentioned in this article.