The Hain Celestial Group ("Hain" or the "Company") HAIN is a ~$3 billion roll-up of disparate food brands that we believe is masquerading as a healthy/organic food company. In our full report (available here) we present compelling evidence (based on independent lab tests and other due diligence) suggesting that products representing 85% of the Company's 2012 internal growth are beset by quality control issues and/or deceptive marketing practices. We believe that once the Company's exaggerated claims are exposed, Hain will revert to its historical internal growth rate of 3% and eventually trade in-line with mature packaged goods companies at a 15x forward P/E multiple. As Hain currently trades at 24x forward earnings, this implies downside of more than 35%.
THE SINKING FLAGSHIP
Management's hyper-promotional disposition, insider selling, and history of FDA warnings made us skeptical of the Company's claims regarding the health qualities of its products. To verify whether Hain's consumer products could justify the healthy image cultivated by management, we purchased a sampling of Celestial Seasonings teas from online retailers and had them shipped directly to Eurofins, an ISO/IEC 17025 accredited and independent laboratory, for testing.
1. Healthy Tea?
Celestial Seasonings tea is perhaps Hain's most recognizable brand, accounting for 8% of the Company's consolidated net sales in 2012 and an even higher percentage of net income. Our families have purchased Celestial teas for years. Like many consumers, we were enticed by the label that advertises all of Celestial teas as "100% natural" and touts the health benefits of each product on the label.
We tested eleven Celestial Seasonings teas from the brand's most popular categories (green tea, wellness tea, sleepy time/kids tea and k-cup). It is important to note that at no time did we take custody of, touch, or handle any of the tea samples. Rather, we had the products shipped directly to Eurofins from the Company's website and other online retailers. We selected Eurofins because it is an ISO/IEC 17025 accredited and independent laboratory, and it is the world leader in food, pharmacological and environmental testing.
We would also like to encourage regulators and investors with a significant stake (either long or short) in Hain to test the Celestial Seasonings teas. Such tests cost a few thousand dollars and can be completed in as little as forty-eight hours. We have included copies of the lab reports in Appendix I of the full report available here.
2. Teas Violate FDA and EPA Pesticide Standards
Independent lab tests of Celestial Seasonings teas undermine the healthy image cultivated by Hain's management. By law, the EPA is responsible for establishing 'tolerances' (i.e. maximum safe limits) for each pesticide based on the potential risk to human health posed by the chemical. The FDA enforces such tolerances to ensure that the nation's food supply is maintained safely at all times. Under Section 402, Title 342(a)(2)(B) and Section 406, Title 346(a)(1) of the FDCA, a processed food or feed is considered to be 'adulterated' and subject to FDA enforcement action if it contains pesticide residue for which there is no tolerance, tolerance exemption, or food additive regulation.
91% of the Celestial Seasonings teas tested contained residues of pesticides either in amounts exceeding federally prescribed tolerance levels or for which no regulatory limit has been established under federal law, meaning that such samples violated EPA pesticide regulation 40 CFR 180.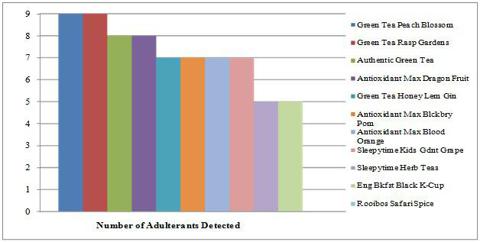 The Celestial Seasonings samples we tested contained an average of 6.5 adulterants, as detailed in the following table.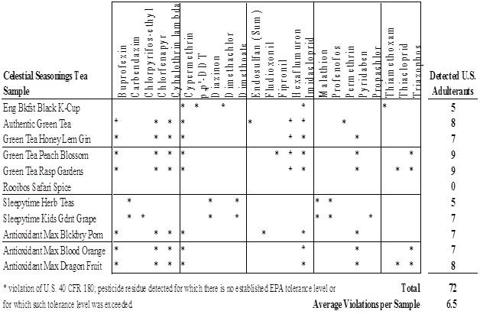 Further undermining the healthy brand image carefully cultivated by Celestial Seasonings, many of the teas we tested showed traces of pesticides classified by state and federal regulators as 'known' or 'possible' human carcinogens. We are not making any claims about the health effects of the pesticide residues in Celestial Seasonings' tea; merely that for a company leveraging its sales off of a brand it characterizes as natural and healthy, the presence of possible and known carcinogens could be significantly damaging to sales.
We have listed the results in the following chart. Note that these teas are marketed as healthy products and labeled "100% Natural."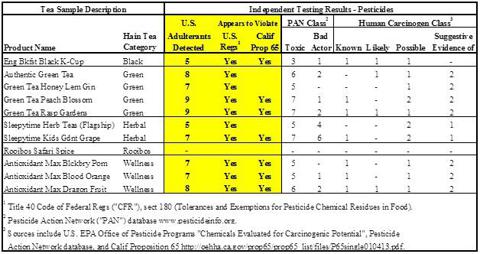 3. Traces of Known Carcinogen in Kids Tea
Most notably, our tests showed that samples of Celestial Seasonings' Sleepy Time Kids Goodnight Grape Tea contained 0.26 ppm of Propachlor, a known carcinogen.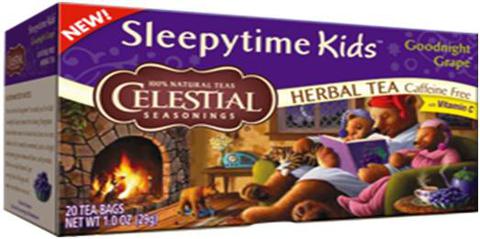 Propachlor is listed in the Pesticide Action Database as a "bad actor" chemical, a carcinogen, and a developmental or reproductive toxin.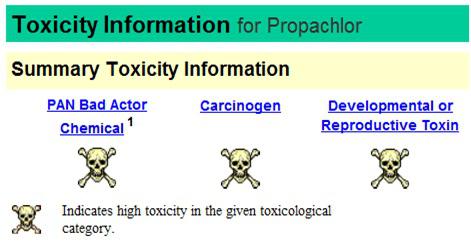 Source: PAN Database
Note: information for many chemicals is incomplete and may not be fully representative of effects on humans.
To put it in perspective, the amount of Propachlor detected in the tested sample of Sleepy Time Kids Goodnight Grape Tea was 420% higher than the limit prescribed by the EU for dried teas.

Source: EU Pesticides database
We also believe that the children's tea sample violates California's pesticide regulations, meaning that Hain may have to recall the product rather than risk regulatory censure or lawsuits from plaintiffs' attorneys.
In 1986, California voters approved an initiative to address their growing concerns about exposure to toxic chemicals. That initiative became the Safe Drinking Water and Toxic Enforcement Act of 1986, better known by its original name of Proposition 65. Proposition 65 requires the State of California to publish a list of chemicals known to cause cancer or birth defects or other reproductive harm. Businesses are required to put warning labels on products that contain listed chemicals in amounts exceeding the prescribed safe harbor limits.
According to the Proposition 65 list published by the State of California's Office of Environmental Health Hazard Assessment, there is no safe harbor limit for Propachlor, the chemical found in tested samples of Celestial Seasonings' Sleepy Time Kids Goodnight Grape Tea. We believe that it is therefore illegal for the Company to sell such tea in California without one or both of the following explicit warning labels:

Source: California Proposition 65 list
Unlike many environmental statutes, Proposition 65 provides for private enforcement. Therefore, if the California State Attorney General or local authority takes no action after 60 days' notice, private citizens (i.e., plaintiff's lawyers) may file a suit to enforce the Proposition. Predictably, a cottage industry has grown up around Proposition 65 lawsuits, which plaintiff's lawyers frequently combine with claims under the California Unfair Competition Law. Thus, firms sued under Proposition 65 are subject to the $2,500 a day penalty for Proposition 65 as well as monetary damages and attorneys' fees.
Independent testing of a sample of Celestial Seasonings' Sleepy Time Kids Goodnight Grape Tea detected traces of Propachlor, for which no safe harbor limit exists. The Company is therefore stuck between a rock and a hard place. The failure to include a product warning exposes the Company to significant litigation risk, while including the warnings may do an equal or greater amount of harm to the brand.
­Independent testing also detected traces of Propargite in six other Celestial Seasonings samples, including 100% of the teas we tested from the Wellness Tea category. According to the Proposition 65 list published by the State of California, there is no safe harbor limit for Propargite, which is classified in the database as a known carcinogen and developmental toxin. Our findings do not come as a surprise given that the FDA has issued two warning letters to Celestial Seasonings for quality control issues in the past.
Although companies are legally allowed to market food or beverages as 'natural' even though such products may contain pesticides, we believe that this is not well understood by consumers who purchase Celestial Seasonings brand based on the perception that its teas are 'healthy'.
We expect that when consumers learn the truth about Celestial Seasonings products, they will quickly migrate to readily available substitutes. Declining or even sluggish sales from Hain's most recognizable brand would be devastating to the growth story management is selling to investors.
NECTAR OF THE GODS?
Greek Gods Yogurt, which we estimate accounted for around 37% of Hain's 2012 internal revenue growth, is marketed as a traditional style Greek yogurt. We believe that this product is yet another example of the Company's habit of deceptively marketing products to consumers. Recent sales trends suggest that brand equity is rapidly eroding, as consumers learn that Greek Gods is not really Greek yogurt.

Recently, Greek-style yogurts have skyrocketed in popularity because of their perceived health benefits; they are repeatedly strained to yield 12-15 grams of protein per 150 gram serving while whittling fat down to 0-3 grams per serving. The straining process also gives Greek yogurt its trademark thickness.
Hain promotes Greek Gods Yogurt as an 'authentic' Greek-style yogurt. A closer look at the nutrition label and ingredients suggests that Greek Gods Yogurt is Greek only in name. Greek Gods contains around two-thirds less protein than authentic Greek style yogurts and 400% more fat.
Greek Gods' zero/low fat yogurt also appears to be an imposter, as it contains 66% less protein than authentic zero/low fat Greek style yogurts.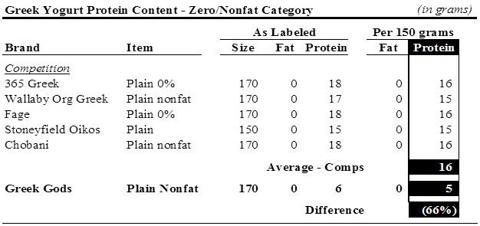 Hain's Greek Gods yogurt is high in fat and low in protein. Authentic Greek-style is low in fat and high in protein. The problems do not end there.
Nielsen data shows that Greek Gods sales growth has plummeted to 25% at the end of calendar 2012 versus 80% only twelve months prior. We expect this rapid deceleration to continue in fiscal 2013 as consumers wise up.
OTHER TROUBLED CONSUMER PRODUCTS
Sensible Portions Veggie Straws. Sensible Portions accounts for an estimated 40% of Hain's 2012 internal growth. We believe that these 'veggie straws' are another example of deceptive marketing because they are promoted as a healthy snack, yet appear to have very little vitamin content. Sales growth has imploded, we believe, due to the launch of competing products and increasing consumer awareness of this product's true nutritional value.
DeBoles Organic Pasta. Independent lab tests detected that multiple samples of DeBoles pastas, labeled 'certified USDA organic,' contained traces of MGK-264 and piperonyl butoxide, which are EPA Group C Possible Human Carcinogens associated with conventional pesticide use. We do not know if such trace amounts are sufficient to strip DeBoles pasta of its organic label, as such decisions are left to Qualified Assurance International, DeBoles' organic certifier. However, we do believe that even small amounts of pesticides may deter customers from paying a premium price for DeBoles pasta.
BUSTED GROWTH STORY
Non-'Organic' Growth Rate. Hain has masked anemic internal growth through serial acquisitions and discontinued operations. If you back out acquisitions and accounting gimmicks, we estimate Hain's sales averaged 3% internal growth between 2000 and 2011. This compares unfavorably to a 12% average internal growth rate for the U.S. natural and organic food category as a whole.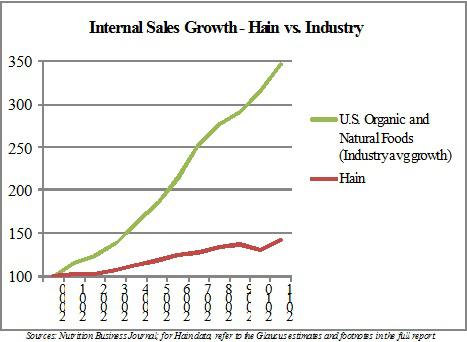 The Party is Over. Hain's estimated 7% internal growth rate in 2012 was driven primarily by Greek Gods Yogurt and Sensible Portions (Veggie Straws). Sales growth of both products appears to have rapidly decelerated in recent months. Excluding these products and the troubled Celestial Seasonings line, we estimate 2012 internal sales increased by only 1%, which is more comparable to a mature packaged goods company (3%-4% growth) than a leader in organic and natural foods (10%-20% growth).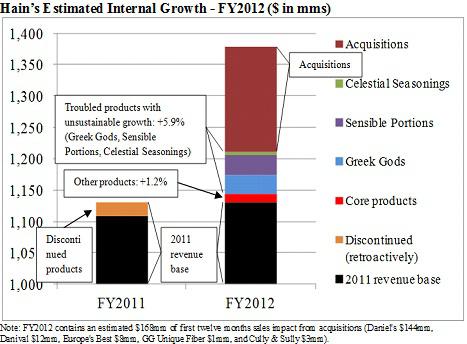 Simon Says, Simon Sells. During the last 21 months, Hain CEO Irwin Simon took advantage of a temporary boost in Hain's share price to dump almost $33 million of stock. Worse still, Simon sold his stock in eleven tranches, all of which began within hours to 28 trading days after Simon appeared on CNBC to tout the growth prospects of his Company.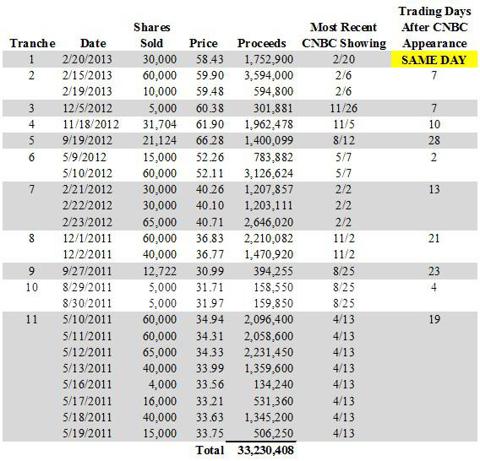 Valuation. A likely reversion to Hain's historical internal growth rate of 3% suggests that the Company's stock should trade in line with mature packaged food companies with similar growth profiles, not healthy/organic food comps. A 15x forward P/E implies a stock price of $37, more than 35% below today's stock price of ~$59 per share.
By contrast, we have identified WhiteWave Foods ("WhiteWave") WWAV as an alternative healthy foods investment. WhiteWave appears to have sustainable double-digit internal growth rates and we tested a number of its organic and GMO-free products against WhiteWave's claims, all of which came back 100% clean. Currently trading at 21x forward earnings, we expect WhiteWave to trade more in line with other healthy food comps at 30x as the market learns of the authenticity of its products.
The preceding article is merely a summary. For the details supporting our opinions (which we hereby incorporate by reference), please review our full report (available here).
Disclosure: I am short HAIN. I wrote this article myself, and it expresses my own opinions. I am not receiving compensation for it. I have no business relationship with any company whose stock is mentioned in this article.
Additional disclosure: We are short HAIN. We are long WWAV. THIS RESEARCH REPORT EXPRESSES OUR OPINIONS. Use Glaucus Research Group California, LLC's research opinions at your own risk. You should do your own research and due diligence before making any investment decision with respect to the securities covered herein. This is not investment advice nor should it be construed as such. We are short Hain and therefore stand to realize significant gains in the event that the price of stock declines. We do not express any opinion as to whether any of the food products discussed herein are safe for human consumption. Laboratory test results are presented as is, without any warranty of any kind (whether express or implied) and are not intended to form the basis for any scientific conclusions or any claims regarding the health effects of the tested products. Please refer to our full disclaimer in our report.