I feel that MetLife, Inc. has a lot to offer turnaround investors--including solid brand recognition, a growing brand franchise, management prowess and global diversification. I recommend purchasing this stock up to $45.
---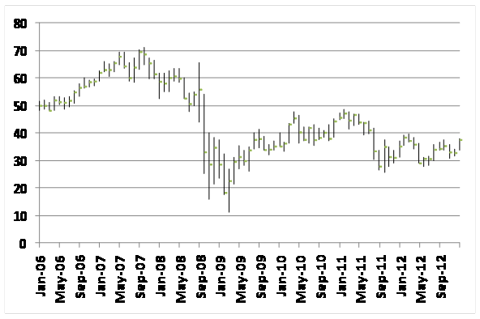 Category: Large-Cap ($40.3 Bil.)
Symbol: MET
Exchange: NYSE
Business: Life Insurance
Annual Revenue: $70.26 Bil. (12/31/11)
Earnings: $6.71 Bil.
1/30/13 Price: 37.20
12 month Range: 39.55-27.60
Max. Rec Price: 45
Est Dividend Yield: 2.0%
BACKGROUND: Founded in 1864 as the National Union Life and Limb Insurance Company, MetLife (NYSE:MET) has grown into the largest life insurance company in the U.S. It currently has about $4.2 trillion of life insurance in force.
The stock rose gradually to a high of $71 in 2007. Then, like many financial companies, MetLife saw its stock get hit hard in 2008, and it has never really recovered.
ANALYSIS: MetLife has long had one of the strongest franchises and best recognized brands in the life insurance business. The company is now shedding other business lines so that it can focus more on its core competency. For example, MetLife recently completed the sale of its banking business to GE. This not only removes the distraction of the banking business, but it also gets the company out from under the more stringent capital requirements that apply to bank holding companies.
The company is also shifting its business mix to improve its risk profile. One example of this is management's decision to move away from the capital intensive and market sensitive variable annuity business.
In addition to its strength in the U.S., MetLife has a substantial and growing presence abroad. It is particularly strong in emerging markets which are likely to offer much greater growth opportunities than the U.S. and Europe. The company greatly boosted its global and emerging market exposure when it purchased AIG's ALICO unit in 2010.
Despite the strength of the franchise, the stock looks cheap on a valuation basis as investors continue to spurn old line financial companies. The stock currently trades at just 0.62 times book value, compared to well above 1.0 where it traded for many years before 2008. Moreover, the stock has a forward price/earnings ratio of only about 7x.
While MetLife has extricated itself from bank holding company regulation, it is still subject to the non-bank Systematically Important Financial Institution rules created by the Dodd-Frank legislation. Since those rules are still evolving, the company has been cautious about buying back stock or increasing its dividend. However, I expect MetLife to take one or both of those shareholder friendly steps once the regulatory fog begins to clear.
I believe that Wall Street's current aversion to financial stocks creates an opportunity to buy this powerful and growing insurance franchise at a depressed price and recommend buying MetLife up to $45.
Disclosure: I have no positions in any stocks mentioned, and no plans to initiate any positions within the next 72 hours. I wrote this article myself, and it expresses my own opinions. I am not receiving compensation for it. I have no business relationship with any company whose stock is mentioned in this article.