CNBC's Jim Cramer is famous for many quotes, one of which is: "bulls make money, bears make money, and hogs get slaughtered." In past years, I would mostly agree with him, but recently, being a bear in this market appears to be a dying breed. 2013 has had an incredible start, posting seven consecutive weekly closing gains. The S&P closed last week up 0.1 percent to 1519.79, pulling off a slight gain for the week. This rally is the longest winning streak since January 2011, as the majority of economic numbers and jobless claims continue to be positive for the markets. If the S&P manages to finish this week higher, it will be the longest winning streak since 1967 to start a year. M&A activity, of course, has helped to support this move, as more than $140 billion in transactions has already taken place, surpassing the $99.6 billion during the first two months of 2012. Corporate balance sheets are holding more cash than at any time previously, as corporate profits continue to be strong. Supporting these profits are accommodative central banks, which appear to be willing to endlessly print money. Thus far, 2013 has been brutal for the bears out there, as even negative news is mostly taken in stride as the markets just believe it is more support for additional quantitative easing. The real question is simple: what event(s) would actually need to happen to cause the markets to go down?
As of 2012, central banks globally have printed more than $9 trillion, acting as a global economic lifeline. Over the past 3.5 years, the central banks of the United States, Britain, Japan and 17 other countries that all use the euro now have combined balancing sheets exceeding $10 trillion. The central bank of Japan has recently become even more aggressive in printing money, crushing the yen and causing a big rally in the Japanese stock market. For example, the MSCI Japan ETF (NYSEARCA:EWJ) has moved from 8.80 to north of 10.00 in 3 short months -- a 15% gain. Japan is not the only beneficiary of easy money policies, as equity prices are now at levels not seen since 2007 before the housing market crash.
As the world's central banks continue to leg into what is becoming nothing short of global currency wars, the market continues to adjust to the world being flooded with cheap money and low interest rates. Having a weak currency, of course, is extremely beneficial for multinational companies. Companies like Caterpillar (NYSE:CAT), Cummins (NYSE:CMI), and Deere (NYSE:DE) all benefit greatly in these environments, as domestic goods look more attractive when selling to foreign customers. For example, as the dollar weakens against foreign currencies, the net effect is goods are ultimately cheaper. If domestic expansion continues to be robust, as is the case with China's infrastructure growth, for example, a weak dollar means those countries can buy more goods at a lower cost to them. The companies such as CAT or CMI that are selling the goods, however, are still able to hold profit margins because the cost of goods is relatively cheap. Some domestic producers, however, can be hurt by a weak currency if the goods they sell locally originate from a foreign economy. This is simply because domestic producers would have to pay more money to acquire what is needed in terms of buying their parts or components from the economy with the stronger currency.
Of course, this begs the question why wouldn't you want weak currency. The answer is simple: if currency is weak, domestic consumers trying to purchase goods from foreign producers will have to pay more. Additionally, consumers will also need to pay more to buy goods and services locally if the producers supply their parts and components from a foreign economy as outlined above. This is because the companies producing these goods are more than likely going to pass the additional cost onto the consumer versus taking the hit on earnings margins. For example, if a customer wants to buy a BMW or car primarily built and acquired from Europe, the price may be higher than during times of a strong dollar. Other negatives come in the form of higher commodity prices hurting domestic consumers. Items such as oil, food, and services typically are higher during periods of weak currencies. Of course, the markets have roared higher on every announcement from the Fed signaling dollar weakness, but this has diverged of late and is noteworthy. See the chart below charting the U.S. Dollar index versus the S&P index. This could also be charted using the USD ETF (NYSEARCA:UUP) against the S&P ETF (NYSEARCA:SPY).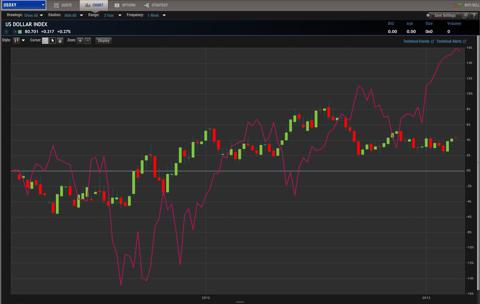 Chart courtesy of Trademonster.com
Anyone who reads my daily volatility recap articles (here) knows I'm very skeptical of the markets in general. The market, of course, continues almost daily to add to gains, which is starting to worry me. I highlighted some of the technical and fundamental cracks in an article I wrote (here) last week. When you combine the price action with what appears every hedge fund shorting volatility, the market could be set up for a violent pullback. Although this is probably a low probability, considering realized volatility is now approximately 7%. Just as in 2012, two months into trading again, we are at or near the top, according to 14 analysts who forecast SPX year-end targets back in December. Year-end estimates for the S&P for 2013 currently range between 1,390 all the way to 1,615. This puts the market dead smack in the middle of this range, with the S&P trading near 1525. This would imply the markets have 90 points left to the upside, and 135 points to the downside as of February 19th to hit these targets. Again, these estimates are 2013 year-end targets. They were by no means meant to be middle of February targets by any stretch of the imagination. Just take a look at the top 14 analysts' estimates below.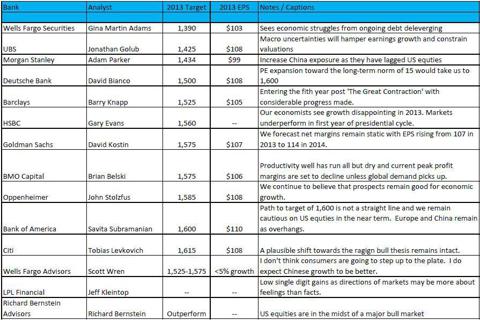 2013 year-end targets as of December 2012
Many of these analysts continue to mention headwinds in the upcoming year, yet the targets continue to remain higher. Remember, these estimates were given when the market was trading around 1,400, which would imply 10 points risk to the downside and 215 points to the upside. Interestingly enough, this is almost a mirror image of the statements given in 2012, with only 1 analyst having an estimate lower. Since these predictions, the market has rallied 125 points almost straight up as it continues to churn higher, and analyst after analyst on CNBC continues to believe we go higher. Of course, with an accommodative central bank and monetary policy, it is hard to disagree.
The real question is, how can an investor capitalize on making money in this environment? Again, bearish stances have been an extremely painful trade for a very long time. Being long equities has been the place to be, and that will more than likely continue. If you are a believer that the world is not coming to an end, the SPY and DJI ETF (NYSEARCA:DIA) are great places to put money to work. If you combine these with selective hedging strategies where you hedge longs with SPY and DIA puts as protection, it is still extremely cheap compared to relative norms. Buying volatility or VIX futures here still does not make sense, in my opinion, as realized volatility is trading at almost a 100% discount to current futures. Thus, a very large sharp sell-off would need to occur for these products to be profitable. I would prefer the 2x inverse ETF (NYSEARCA:SDS) calls to these products at this point and time.
I have actually seen comments on Twitter such as "Making money shouldn't be this easy", which has been the theme all year. The market almost feels like the movie "Groundhog Day", as every day I wake up, it feels like futures are higher across the board. The market just refuses to go down or pull back in any way, shape or form. Easy money, improving sentiment, and economic numbers are absolutely reasons for the market to go higher. Where the market goes from here is anyone's guess, as that is what makes a market. One thing is for sure. As long as the Federal Reserve and U.S. government are committed to devaluing the U.S. dollar and continuing stimulus plans, investors playing from the short side are in for a lot of pain in 2013.
Disclosure: I am long AGNC, BA, CBB, CONE, MOS, MTGE, NRG, PCLN (straddle), TUMI, VHC, and I am short DDD, EDU, LULU, PCLN (strangle), SPY. I wrote this article myself, and it expresses my own opinions. I am not receiving compensation for it (other than from Seeking Alpha). I have no business relationship with any company whose stock is mentioned in this article.
Disclaimer: The opinions in this document are for informational and educational purposes only and should not be construed as a recommendation to buy or sell the stocks mentioned or to solicit transactions or clients. Past performance of the companies discussed may not continue and the companies may not achieve the earnings growth as predicted. The information in this document is believed to be accurate, but under no circumstances should a person act upon the information contained within. I do not recommend that anyone act upon any investment information without first consulting an investment professional as to the suitability of such investments for his or her specific situation.