There's no denying that those who get a hand up in life often excel beyond what they may have been able to accomplish on their own. The same appears to be just as true on the stock market. When a wealthy benefactor becomes an integrated part of a company's investment thesis, the conventional predictive measures found solely in the stock's fundamentals often head towards the door. This is why I want to focus on two companies in particular, where consistent insider buying has set the stage for a bullish outlook. The following takes a look at the insider purchases for companies DaVita Healthcare Partners (DVA) and Opko Health (OPK).
DaVita Healthcare Partners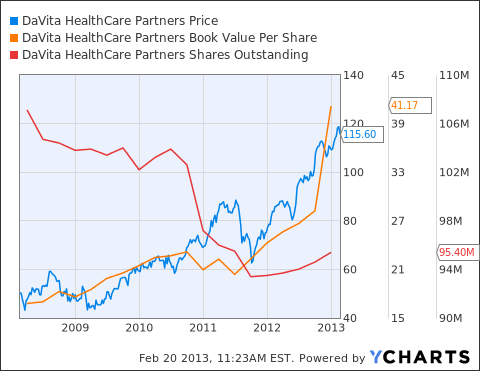 DVA data by YCharts
DaVita Healthcare Partners is one of the largest kidney care companies in the United States. The company provides dialysis services for patients suffering from chronic kidney failure or end stage renal disease. With the steady rise of diagnosed diabetes in the United States over the last several decades, the $12.2 billion company has come to be a leading service provider in a most unfortunate growing industry.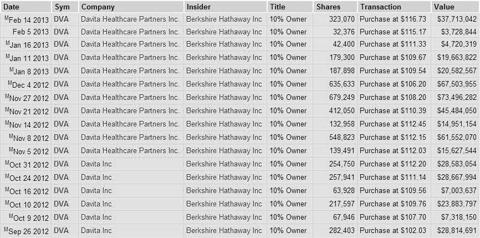 Seemingly for this steady growth trend as articulated in my other article found here, Warren Buffet's protege company Berkshire Hathaway (BRK.B) has taken a keen interest in this company as of late. The following insider purchases spread over the last few months remain indicative of the holdings company's confidence in DaVita's outlook. With a willingness to buy even as the DaVita's stock price rises, it remains a clear signal to investors that DaVita's stock may have yet to see its best days. According to the last Form 4 found here, the company now owns over 14.3 million shares of DaVita's common stock.
Opko Health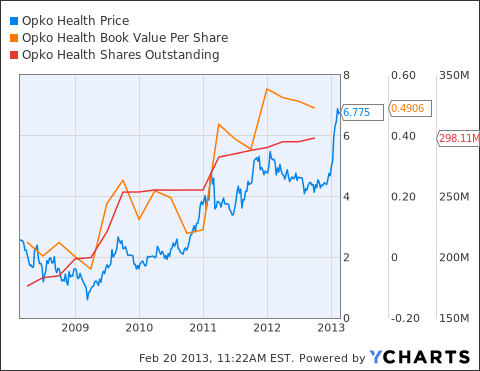 OPK data by YCharts
Opko Health is a developing multinational pharmaceutical and diagnostics company. The company leverages its global commercialization expertise to pursue acquisitions of commercial businesses that will drive growth and provide geographically diverse sales opportunities. Most recently, the company has completed a series of acquisitions to extend its sales into Latin America and to expand its drug pipeline. With the introduction of its 4KScore product, the company remains poised to make a near-term impact for prostate cancer screening as seen in this article found here.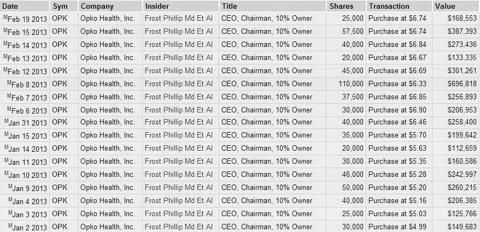 Yet what makes this company particularly unique remains the rare dedication of the CEO as he regularly purchases large tracts of shares on a near daily basis. As described in my article found here, Dr. Phillip Frost has continued to play a most decisive role in supporting the company's share price. Despite having to yet come into positive earnings or carry an asset balance north of $300 million, the company now warrants a $2 billion market capitalization. According to the last Form 4 filed here, Dr. Frost now indirectly owns 136.2 million shares of Opko's common stock.
Conclusion
In each of these cases, the strong insider buying has played an active role in supporting the company's upward trend. In the very least, it provides another reason for investors to remain confident in the futures of the respective companies. As each of these large backers have a sizable sum of money in which they're able to consistently leverage the company's prospects, investors in these companies may do well to follow their lead. On their own, these companies have also managed to raise their book values and continue to provide justification for the rising share prices. Through the support of strong backers and solid growth trends, both DaVita and Opko appear to remain convincing candidates for a long-term buy-and-hold strategy.
Disclosure: I am long OPK. I wrote this article myself, and it expresses my own opinions. I am not receiving compensation for it (other than from Seeking Alpha). I have no business relationship with any company whose stock is mentioned in this article.