Of late, currencies have increasingly become part of the global monetary policy debate. The Japanese yen (JPY) would be the most obvious case and the sharp weakening of the JPY could have broader global policy implications. The new Japanese government looks committed to propel the economy out of deflation, given the range and extent of measures employed. A weaker yen is a key strategy to revive its export oriented economy.
Japan has fired the first round of shots on this front, which could result in a major confrontation from other countries as well. The Fed, ECB and BoE (which have their own QE programs to stimulate growth), along with other emerging markets could follow with verbal interventions, capital controls and interest rate cuts. Finally if a weaker yen remains core of Japan's plans to revive its export market, risk of currency war looms higher. With anemic global growth and sluggish demand, any revival of Japan's export market would be at the loss of market share for other countries.
I have written about the risk of looming currency war in my previous article "Is Japan Prompting A 1930s-Like Currency War?"
However, Ridham Desai of Morgan Stanley (NYSE:MS) argues that the best option for a country like India where the Central Bank is already on an easing path is to ease more aggressively. In this article we will look into reasons why India looks well positioned to benefit from the currency war.
1. India runs a current account deficit ((NYSEARCA:CAD)) with ample room to absorb foreign exchange inflows: Import substitution (high inflation and domestic supply-side bottlenecks), slow growth in services sector, inelastic energy demand and anemic global demand would lead to CAD remaining above sustainable levels in 2013.

2. FX Decline Creates Room for more FX absorption: India's Import cover of foreign currency reserves has gone down below six months for the first time since 1997, which stresses the growing external vulnerability.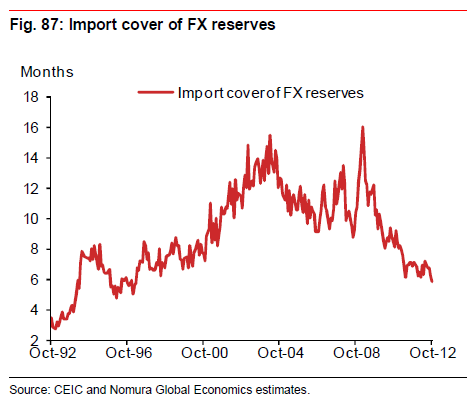 3. INR Undervalued on REER basis: In my previous article "Emerging market currencies," I have written how the Indian rupee is undervalued on a real effective basis.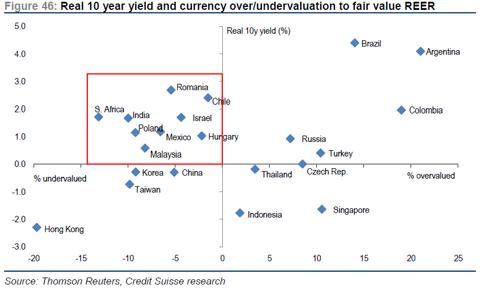 4. The starting point of nominal rates is high relative to history both on an absolute as well as relative basis. Equities also look undervalued relative to emerging markets allowing for flows without causing a bubble, at least for now.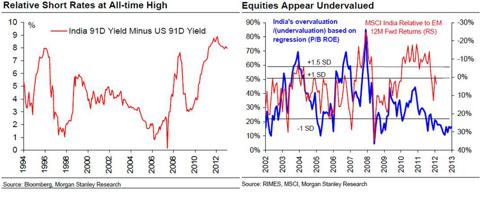 Investment Implications:
Disclosure: I have no positions in any stocks mentioned, and no plans to initiate any positions within the next 72 hours. I wrote this article myself, and it expresses my own opinions. I am not receiving compensation for it (other than from Seeking Alpha). I have no business relationship with any company whose stock is mentioned in this article.