"Successful people ask better questions, and as a result, they get better answers." Tony Robbins
Over the past three weeks I have written numerous articles here on Seeking Alpha and on many other sites outlining my case for a correction in stocks. While markets feel like they have been in a powerful uptrend for February, the gains have been relatively muted domestically, with much more weakness occurring in overseas risk assets than Dow 14,000 would indicate. Nouveaux Bulls are trying to join the party, convinced of the idea that stocks cannot correct in the face of Fed driven liquidity. I have said numerous times that I consider this to be a very dangerous mindset.
This is and always will be about intermarket trend behavior and whether that confirms absolute price movement. The cyclical trade is simply not working. Emerging markets have been quite weak lately, alongside commodities such as Copper (NYSEARCA:JJC), Silver (NYSEARCA:SLV) and Gold (NYSEARCA:GLD). The VIX has reached incredible lows despite the upcoming sequester. Bond yields seem to be at a ceiling in the near-term, unable to break definitively just yet above 2% on the 10 year. Capital appreciation is not as in vogue as most would have you think. Our ATAC models used for managing our mutual fund and separate accounts are sensing a deflation pulse may indeed be here.
Take a look below at the price ratio of the SPDR S&P Dividend Index ETF (NYSEARCA:SDY) relative to the S&P 500 (NYSEARCA:SPY). As a reminder, a rising price ratio means the numerator/SDY is outperforming (up more/down less) the denominator/SPY.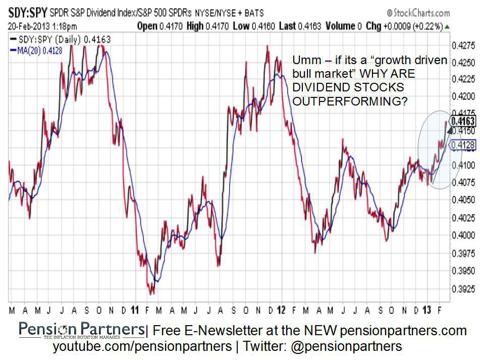 Historically, dividend stocks outperform in anticipation of a slower growth environment ahead, marked by rising volatility and a deflation scare. With the S&P 500 doing as well as it has so far, why is bullishness not being confirmed in the cyclical trade by its own outperformance? If its a growth driven bull run so far in 2013, why is it being led by defensive dividend players?
Someone is going to be wrong. I maintain that the odds favor a decline that can undo much if not all of the gains experienced in stocks so far in 2013 barring sudden improvement internally within the market. To Nouveaux Bulls - do not be so quick to ignore what is happening within the market in favor of an arbitrary Dow number.
Disclosure: I have no positions in any stocks mentioned, and no plans to initiate any positions within the next 72 hours. I wrote this article myself, and it expresses my own opinions. I am not receiving compensation for it (other than from Seeking Alpha). I have no business relationship with any company whose stock is mentioned in this article.
Additional disclosure: This writing is for informational purposes only and does not constitute an offer to sell, a solicitation to buy, or a recommendation regarding any securities transaction, or as an offer to provide advisory or other services by Pension Partners, LLC in any jurisdiction in which such offer, solicitation, purchase or sale would be unlawful under the securities laws of such jurisdiction. The information contained in this writing should not be construed as financial or investment advice on any subject matter. Pension Partners, LLC expressly disclaims all liability in respect to actions taken based on any or all of the information on this writing.