By Bevan Capital
On January 30, 2013, Research in Motion (as was known then, now it is Blackberry (BBRY)) released two brand new smartphones: Z10 and Q10. This latest addition signals the fall of the entry barriers introduced by Apple (NASDAQ:AAPL) almost seven years ago. This is the end of the Smartphone 1.0 era. Hang up now and welcome to the Smartphone 2.0 era!
During the last seven turbulent years, we witnessed the collapse of the financial system, a number of bailouts and, also, the introduction of the iPhone by Apple: a little revolutionary device that was destined to change the world, forever.
Apple, via the iPhone, has gradually created an airtight universe (or ecosystem) of service oriented offerings that encapsulate concepts such as talking, reading, listening, watching, playing and working. Before the onset of the iPhone era, the vast majority of mobile phones were able to offer talking, working and nothing else. iPhone became a game changer and not only did it lead the way to the annihilation of Nokia (NYSE:NOK) and Blackberry, but also to the creation of Google's (NASDAQ:GOOG) Android, Microsoft's (NASDAQ:MSFT) Windows Phone 8 and the emergence of Samsung (OTC:SSNLF), as the number one phone maker in the world.
Apple's success is a remarkable story, but, from a business case point of view, the turnaround of Nokia and Blackberry is even more remarkable. Nokia and Blackberry did not go bust during Apple's overarching and the chances are that they will relatively thrive in the days to come.
Nokia, in order to survive, suspended its dividend, sold its headquarters and assets, laid off more than 25k people, abandoned Symbian and partnered with Microsoft (MSFT). Its share price has tumbled by more than 95% since the introduction of iPhone and its market capitalization has been reduced by ~ $140 billion.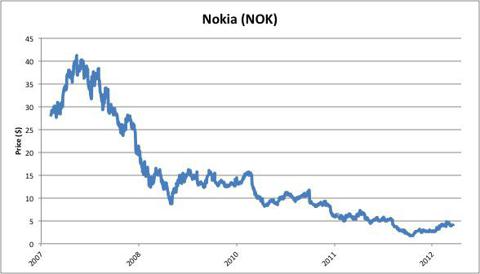 Blackberry offers a similar story. Blackberry's share price has tumbled by more than 95% and its market capitalization has been reduced by ~ $115 billion. What is remarkable about Blackberry, however, is the inertia of Blackberry's board to adapt earlier to the new business model and to revive Blackberry's fortunes.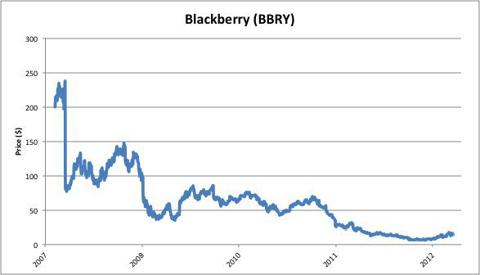 The importance of the introduction of the new 10 series by Blackberry, as well as the introduction of the Lumia series by Nokia, is unimaginable:
iOS and Android have failed to create a duopoly with devastating effects to carriers and customers alike.

Microsoft has a real chance to establish itself as a viable third ecosystem.

Similarly, Blackberry has a real chance to regain its former glory as a fourth or even third dominant player.

Other ecosystems (e.g. Linux) will continue to exist, but in the fringe.
The flip side, however, of the introduction of the 10 series is also extraordinary. The smartphone world, as we know it, has ceased to exist. Blackberry has proven that there are no barriers prohibiting a tech company to introduce a top class device, able to challenge and compete with any iPhone or Android smartphone.
Take a look at the iPhone, Galaxy, Blackberry and Lumia, first as a concept and then as a physical product. They bear no big differences. All of them satisfy, at a remarkable level, their purpose to entertain, communicate, socialize and work. Similarly, all of them have same storage capacity, processing power, high resolution screen, cameras, wireless capabilities and battery life. All of them are available to one or more major carriers and they all have a similar price tag.
There are, however, some other characteristics that make one or an other phone to stand out. For example:
iPhone is cool, it has iCloud and Siri and it has more Apps than any other store.

Galaxy spoils you with choice and it has facial-recognition abilities.

Blackberry is for pros (email, messaging).

Lumia is for the artist (better camera).
All of the above are key product differentiations, but do not represent a selection or retention barrier, whatsoever.
From this point forward and for the next three to five years, I believe that all these four ecosystems will continue making similar offerings and will compete mainly on customer retention, incremental change, price, perception and marketing. The breakthrough innovation era is probably over for now.
Moreover, it is very likely that Android phone shipments (~ 69% 2012; ~ 49% 2011) (IDC.com) will decline (percentage-wise not in volume) as Samsung and other manufacturers start offering competitive Windows phones, and as Google might give to Motorola Mobility some preferential treatment. The iOS percentage will probably remain the same or fluctuate modestly (~ 19% 2012; 19% 2011) (IDC.com). Apple has realized that this grim future is avoidable by introducing an affordable iPhone and a bigger screen iPhone. If this expectation materializes, Apple's percentage will go up.
The real growth, however, will come from Windows phones, as Microsoft has started showing muscle in a market that is unfathomably underrepresented. It would be a strategic mistake and sheer management incompetence if Microsoft fails to grasp this unique opportunity to expand in a saturated and almost mature phone market (~ 2.5% 2012; ~2% 2011) (IDC.com). I strongly believe that Microsoft will easily triple or quadruple its current percentage in the next two to four years.
Blackberry, which currently relies heavily on its messaging system and corporate subscriptions, will probably see its market share expand at the expense of Android and iOS systems (~ 5% 2012; ~ 10% 2011) (IDC.com). Blackberry's management has shown that is able to make bold and ingenious moves by installing a new CEO and by releasing the avant-garde series 10. Moreover, it should not take us by surprise if Blackberry licenses its operating system to third parties or if it releases a device that runs on another operating system. I strongly believe that Blackberry will manage to reverse its declining market share and fortunes. Most likely, it will be back to double digit market share within the next two years.
The market, at the moment, has not fully priced the Windows Phone operating system impact and the inevitable comeback of Blackberry and Nokia. This is blatantly evident from product turnover ratios shown below:
| | | |
| --- | --- | --- |
| | Price / Sales (t.t.m.) | EV / Revenue (t.t.m.) |
| AAPL | 2.62 | 2.38 |
| GOOG | 5.21 | 4.39 |
| MSFT | 3.19 | 2.48 |
| BBRY | 0.58 | 0.36 |
| NOK | 0.38 | 0.22 |
Blackberry and Nokia have the lowest ratios due to disappointing sales and on-going business model transformation. Assuming that the prognosis of growing sales comes to fruition, relevant ratios must go north and above 1.00. Moreover, the trained eye will observe that Google is the most expensive of all. There are several good reasons for that (Google retail stores, Motorola Mobility, Nexus, Chromebook, Google Glass), but, I believe that the Android mobile, at this stage, does not need to be one of them. Ratios are highly inflated and probably not sustainable. Apple is cheap by any measure. It seems that the market has discounted completely Apple's ability to continue making insanely magical products. Regarding Microsoft, some leverage has already being priced-in, in anticipation of the Windows phone system ramp up and the transition to subscriber-based, rather than outright, purchase of Microsoft products (e.g. Office).
My conviction for the next one to three years is that these four ecosystems will continue to offer a more commoditized and sophisticated smartphone service justified by high customer penetration, service similarities, margin compression and, probably, incremental (rather than breakthrough) technological advances.
But this paradigm probably will end in the next three to five years or even earlier. In approximately four years time, the iPhone will be ten years old. At that point, iPhone and, indeed, the smartphone technology, as we know it, will be completely obsolete.
Following the collapse of the initial entry barriers that Apple has created, smartphone market participants have adopted a two-tier business model, where the protagonist proposes an incrementally better offering, in order to preserve margins and to entrap other participants. At the antipodes are the antagonists, who are driven mainly by the need to keep R&D costs down, to maintain margins and to keep up with the leader. This two-tier system can work well for established mature players such as Intel (NASDAQ:INTC) and Advanced Micro Devices Inc (NASDAQ:AMD). Intel is the unquestionable leader and AMD is the conforming and emulating follower. This is great to slay competition in the short to medium term, but it is not a viable business plan in the long run, since paradigm change does not come from insiders, but from outsiders. Evidential examples are Qualcomm (NASDAQ:QCOM) and ARM Holdings Plc (NASDAQ:ARMH). These companies control the mobile processor market - a market that Intel has completely missed out - so successfully, that Intel and AMD struggle to enter.
Smartphone 2.0 necessitates the introduction of big entry barriers. It also necessitates a substantial element of surprise and a high dose of idiosyncrasy. This cannot be achieved with incremental hardware changes but only with revolutionary changes, such as substantially better battery life and capacity, massive processor power, colossal screen resolution and infinite better graphics. Also, a number of new characteristics are needed that support concepts such as transact, identify and assist.
These changes cannot happen overnight and will not happen from conventional tech companies. It will happen from an outsider in exactly the same way that Apple introduced iPhone (a company with zero presence in the phone industry), Facebook (NASDAQ:FB) social networking and LinkedIn (LNKD) professional networking.
Conclusions
Smartphone world consolidates into four distinct ecosystems. Most likely, Blackberry and Microsoft / Nokia will benefit form this consolidation, while iOS and Android will see their share erode. The introduction of the Blackberry 10 series demolished to the ground the barriers introduced by the iPhone almost seven years ago. Now all players can compete by making almost identical offerings. This is the end of smartphone 1.0. In the near future, smartphone 2.0 will emerge. The question is by whom and how it will look like.
Disclosure: I am long AAPL, BBRY, INTC. I wrote this article myself, and it expresses my own opinions. I am not receiving compensation for it (other than from Seeking Alpha). I have no business relationship with any company whose stock is mentioned in this article.