The Gist
There have been a myriad of articles written regarding BlackBerry (BBRY) stating both sides of the argument, myself included. Many have stated BBRY is an excellent short candidate while others tout the company's new product the BlackBerry Z10 as a revolutionary product that will change the game for BBRY.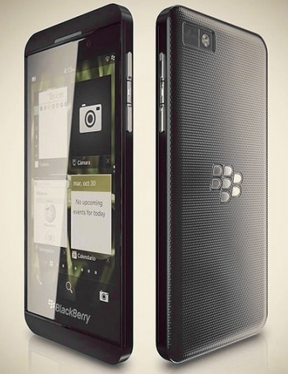 That fact of the matter is the BlackBerry Z10 is revolutionary for BlackBerry. The problem is it's not revolutionary compared to its peers. The Apple (NASDAQ:AAPL) iPhone 5, Google (NASDAQ:GOOG) android phones, the Samsung Elect Ltd. (OTC:SSNLF) Galaxy S lll and the plethora of phones put out by Nokia (NYSE:NOK) using Microsoft's (NASDAQ:MSFT) Windows 8 have comparable if not better features coupled with many times more apps. Not to mention the fact that BlackBerry has lost its cool factor.
But let's not get ahead of ourselves. As stated in the title, I believe BBRY is the perfect short, just not right now. In the following sections I will lay out my bearish case and explain why now is not the time to short.
BlackBerry Has Lost Its Cool Factor
This point may be moot...due to the fact BlackBerry might never have had a cool factor to begin with. Nevertheless, it definitely does not have a cool factor now. Changing the ticker symbol to BBRY and the name of the company from Research in Motion to BlackBerry smacks of desperation. Moreover, the hiring of Alicia Keys as Global Creative Director seems like a complete farce.
BlackBerry CEO Thorsten Heins announced Alicia Keys has now been signed up to help sell BlackBerry devices. The Grammy Award winning singer would be the company's new Global Creative Director. My question is...isn't it a little too late? Shouldn't they have hired her a few years ago to actually help create the new phone? The fact they announced she was hired after the announcement of the Z10 launch fell flat with me. Furthermore, I'm not so sure she was the best pick for the job. Rihanna would have been my choice. Nonetheless, I doubt even Rihanna in all her coolness could even save this sinking ship.
BlackBerry Z10: Too Little Too Late
BBRY is way behind the curve in my opinion. The party is over and the BlackBerry Z10 will be too little too late. We recently went through the holiday buying season where many potential buyers just purchased a new phone. Many of them most likely signed agreements and are locked into contracts. I see this as a huge opportunity lost by BBRY. The potential for signing up new subscribers has been severely diminished by not getting the product out in time for the holiday buying season.
Competition Too Strong
BBRY lost one million subscribers last quarter alone. This is not a good trend. The competition is eating BBRY alive. Google's Android smartphones have the lion's share of the market thanks to a myriad of phone makers but primarily Samsung Electronics Co. Ltd. The Apple iPhone is the next largest competitor followed by Microsoft and Nokia's seemingly smash hit lineup of phones. Nokia recently pre-announced its Q4 results. Lumia shipments were above expectations and significantly higher quarter-over-quarter. The competition is steep and fierce. I don't see BBRY regaining market share.
BBRY Has No Apps
Apps are a big draw for phone users and BBRY is way behind the competition. BBRY has approximately 100K apps while there are close to 1 million apps for Apple and Android phones. This is a huge negative for new phone buyers.
The Stock Has Run Too Far Too Fast
BBRY has ascended 90% in three months. This move is unsustainable. The current crop of shareholders may not be as committed to the stock and sitting on large gains. When the tide turns they may jump ship quickly.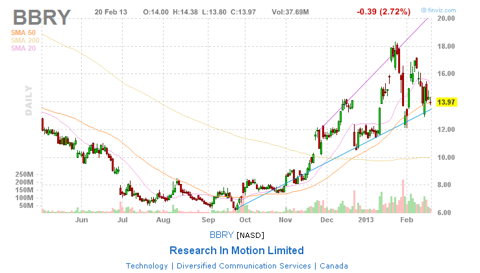 So Why Not Short Now?
Here is the kicker. Now is not the time to short this stock and here is why. BBRY has an installed base of over 70 million users still. They will certainly get an initial pop in the numbers based on current users upgrading to the Z10. With expectations and recent performance data so low, the numbers will look extremely impressive.
Jefferies analyst Peter Misek already has stated,
"Initial Z10 sales have not been as bad as many feared and recent launches in France, Saudi Arabia, UAE and Kuwait have gone well. In the UK 20%+ of Carphone Warehouse phones are out of stock based on Tuesday night checks. We note consensus estimates have decreased over the last six weeks. We continue to see software opportunities in mobile device management and BYOD to drive value."
The firm maintained a Buy rating and price target of $19.50 on BBRY. This is exactly what I am talking about. The initial numbers will look impressive in comparison to past quarters. This may drive the stock higher as investors mistake the amazing short term quarter over quarter gains and extrapolate them into a longer term growth thesis. This will be a huge mistake. The party is over for BlackBerry, they just don't know it yet. Once the entire installed base that is going to upgrades does, the numbers will fall flat and stock will take a final nose dive.
The Bottom Line
BBRY's stock has run too far too fast, the BlackBerry 10 is too little too late and the competition is fiercer than ever. Nevertheless, now is not the time to short this stock. Wait until after the numbers are released. It is essentially a win-win scenario to wait. Either the stock pops giving you an opportunity to short into the irrational exuberance or the numbers fall short and you can pile on with everyone else. The bottom line is BlackBerry's future is doomed by its past. This is why I posit BlackBerry is the perfect short, just not yet.
Use this information as a starting point for your own due diligence and research methods before determining whether or not to buy or sell a security. If you choose to start a position in any stock, I suggest layering to reduce risk. Furthermore, always maintain a well-balanced diversified portfolio.
Disclosure: I have no positions in any stocks mentioned, and no plans to initiate any positions within the next 72 hours. I wrote this article myself, and it expresses my own opinions. I am not receiving compensation for it (other than from Seeking Alpha). I have no business relationship with any company whose stock is mentioned in this article.
Additional disclosure: This is not an endorsement to buy or sell securities. Investing in securities carries with it very high risks. The information contained within this article for informational purposes only and is subject to change at any time. Do your own due diligence and consult with a licensed professional before making any investment.