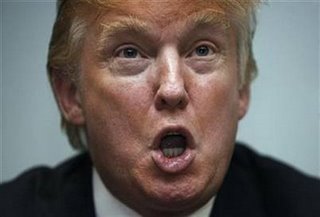 The board of Trump Entertainment (TRMP), absent the lovely Ivanka Trump, is currently meeting to prepare a bankruptcy filing early Tuesday morning according to the WSJ. This filing will be the charm for the Donald, who on Friday did the noble and brave thing by resigning from the board days ahead of bankruptcy, as TRMP has filed for bankruptcy twice before, and emerged most recently in 2005.

While the listed bondholders on Trump's 8.5% notes are predominantly mutual funds, specifically Northeast Investors, Franklin Mutual, John Hancock and Putnam, it would be criminal if there were no vulture hedge fund investors among the bondholders who got played the last two times the Donald filed, and are now just waiting to get equity control of the company and rub it in Trump's face.
Unfortunately, they will also be getting 3 casinos in Atlantic City, where monthly gaming revenues have been dropping at a rate suggesting in 5 years there will be exactly 4 retired slot machine gamblers in all of AC.