Following the financial and automotive industries problems, good corporate governance could be considered by many today to be an oxymoron. It was announced recently, however, that the fourth quarter earnings for the restaurant chain The Cheesecake Factory (NASDAQ: CAKE) might show at least some CEOs are doing things right.
MSSI statistics for the firm show that the average Geezeo user's monthly spending at the restaurant, known for large portions and a large menu selection, dropped 11% in January '09, which makes the second month of declines in the last three.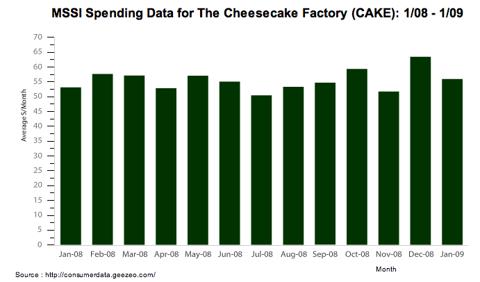 The firm's management was able to handle the decrease in sales, down 5.72% compared to October MSSI spending figures, and still earn a profit. As was discussed in a recent article, "Cheesecake Factory earnings decline less than expected", cost controlling measures and restructuring debt obligations enabled the company to stay in the black, despite total revenue falling by more than one percent.
The firm has also announced that further expansion will be based on market-viability, which shows that it is heading into the new fiscal year thinking conservatively.
These results highlight the importance of fiscal responsibility and attacking cost margins up and down the balance sheet, since cutting workforce can be more costly in the long run.
This data was compiled by the Geezeo Main Street Spending Index (MSSI).