Automaker General Motors (NYSE:GM) announced solid fourth quarter results last Thursday morning. Revenue rose 3% year-over-year to $39.3 billion, slightly exceeding consensus estimates. Earnings jumped 23% year-over-year to $0.48 (adjusted) per share, slightly below consensus expectations (Image Source: GM).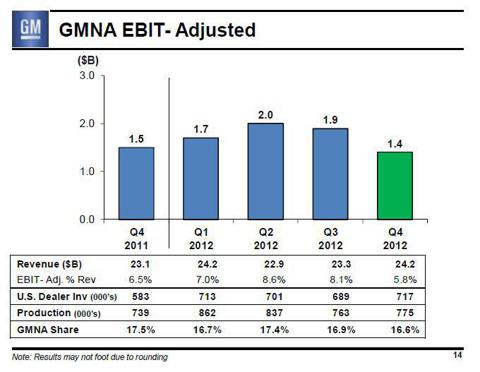 Unlike competitor Ford (NYSE:F), GM continues to struggle with respect to profitability in North America. Sales grew 5% year-over-year to $24.2 billion, but operating margins declined 70 basis points to 5.8%, resulting in lower quarterly EBIT on a year-over-year basis. We're not surprised, and we've speculated that the company might be putting too much inventory into dealer channels. GM reconciled the results (shown below), but it's important to note that in the US, GM is offering higher-than-average incentives, which hasn't even translated into much sales growth. Ford's North American operating margins are going in the opposite direction, which is one of the key reasons why we prefer Ford at this time. However, GM does have a significant amount of new product coming to market, so we think sales growth could recover in 2013 (Image Source: GM).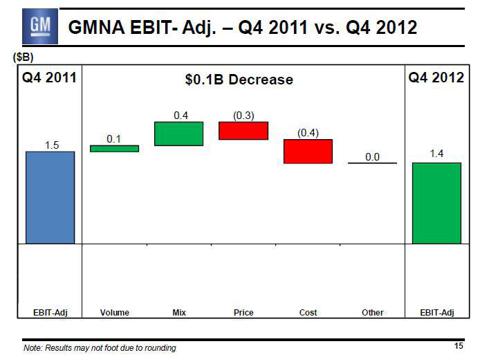 GM's European operations remain a complete disaster (to put it bluntly), with the segment losing $700 million during the fourth quarter, and $1.8 billion for the year. Such weakness is macro and industry related, as Europe has too much production capacity, and the broader economy is slumping. Although this will be a source of pain for investors in the near term, we think capacity rationalization will be a positive for the long-term profitability of the industry. GM anticipates reaching breakeven by the middle of the decade, but such a forecast excludes $600 million in depreciation. Thus, generating positive cash flow in a few years seems possible (depreciation is a non-cash item). Still, given GM's operational stumbles in the US, we aren't too confident about the profit picture in Europe.
GM's South America segment swung to a profit of $100 million compared to a loss of $225 million during the fourth quarter a year ago. The South American auto environment simply isn't that good at the moment, but GM does boast 17.7% market share in the region (down 70 basis points on a year-over-year basis). The company will see an impact of approximately $200 million due to the devaluation of the Venezuelan currency, and we see no reason why South America would be a huge profit driver in 2013 (Image Source: GM).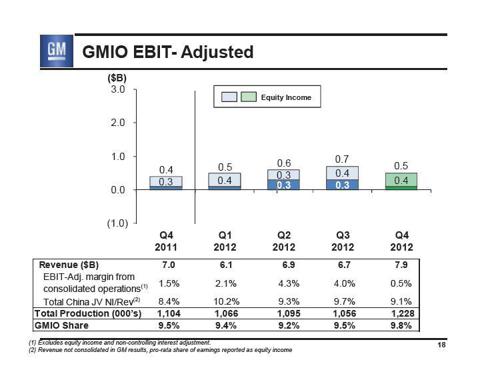 GM's International operations (GMIO), which are mostly comprised of Asian operations, saw solid results. While not a huge earnings driver at this point, the firm sees the world's largest auto market growing to over 30 million units by 2020, so continued investment absolutely remains a priority.
Overall, the fourth quarter for GM was not great, though we were happy to see the firm generate automotive free cash flow of $1.1 billion for the quarter and $4.3 billion for the year. Pension under-fundedness improved by $200 million and now sits at a deficit of $13.1 billion. Management also noted that it doesn't see any mandatory contributions on the horizon, which will be good for cash flow over the next few years. Nevertheless, we aren't interested in shares of the automaker, as we think its operations are inferior to both Ford's and Toyota's (NYSE:TM). We'd need to see a pullback to the low $20's before getting interested in shares for our Best Ideas portfolio.
Disclosure: I have no positions in any stocks mentioned, and no plans to initiate any positions within the next 72 hours. I wrote this article myself, and it expresses my own opinions. I am not receiving compensation for it (other than from Seeking Alpha). I have no business relationship with any company whose stock is mentioned in this article.
Additional disclosure: F is included in our Best Ideas Newsletter.