Brazil has the 5th largest population in the world, the 6th largest economy, and at the start of 2011 was the 9th largest user of broadband. Investors should take note of the country's new tax stimulus program to stimulate 3G/4G infrastructure investments. The new tax exemption program is designed to spur $9 billion in infrastructure investment. It is sure to bring benefits to mobile and fixed 3G/4G providers, equipment suppliers, backbone operators, and construction firms within Brazil as well as to international suppliers serving those companies. Ericsson (NASDAQ:ERIC), Cisco Systems (NASDAQ:CSCO) and Alcatel-Lucent, S.A. (ALU) stand out as some of those likely to reap benefits in this build-out of everything from backbone capacity expansion to "last-mile" technology. These companies already are established with one or more of the program's targeted elements which require a majority of the funds be spent on domestically sourced hardware production and construction services. They also have existing business ties to the major Brazilian operators in this sector, as well as to government political and regulatory bodies. The importance of these relationships in doing business in Brazil cannot be overemphasized. However, no suppliers have been named yet and many more companies also will reap substantial benefits.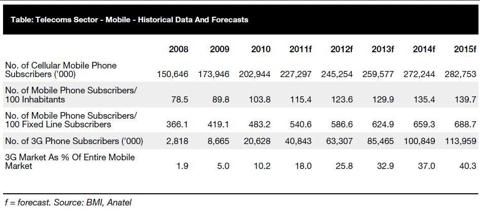 Let's start with a look at the new incentives.
The Rio Times reports this week that the federal government of Brazil has announced plans to give major tax breaks to telecoms that invest in upgrading their 3G and 4G infrastructure. In its report, The Rio Times says,
RIO DE JANEIRO, BRAZIL - The federal government of Brazil yesterday announced plans to allow telecommunications companies tax breaks provided they make additional infrastructure investments totaling R$16 billion to R$18 billion before 2016. However, in order to qualify for the waivers, the telecom firms will have to meet certain criteria.
There are two parts of the tax savings plan, each relating to a specific type of federal Brazilian tax. Tax savings available under the PIS/COFINS taxes (PIS: Social Integration Program; COFINS: Contribution for the Financing of Social Security) qualifying companies that submit plans by June 30 of this year will be eligible for a 9.25% exemption from the tax. Similarly, companies can be eligible for a 17.5% exemption under the IPI tax (Industrial Products tax). The government estimates total tax savings of between R$3.8 billion Reals ($1.94 billion US dollars) and R$6 billion Reals ($3.07 billion US dollars) by 2016.
The real beneficiaries of the tax stimulus will be the hardware suppliers. This program is for infrastructure and that translates to equipment and construction. The program requires 50% of the funds for the equipment and components used in the next generation networks are manufactured in Brazil. Another twenty percent of the items used in the installation of the network will need certification by the MCT (Ministry of Science and Technology) to prove that they are domestic technologies. Ericsson is already a favorite supplier of TEF. As such, it is a front runner to be a participant in the coming expansion.
Brazil's four largest cellular companies dominate that industry. They include Spain's Telefónica (NYSE:TEF) and its subsidiary S.A Telefonica Brazil (NYSE:VIV) Vivo brand; TIM Participacoes S.A. (NYSE:TSU) TIM brand; Mexican AméricaMóvil's (NYSE:AMX) Claro brand; and Telemar Norte Leste S.A. (NYSE:TNE) subsidiary Oi S.A. (NYSE:OIBR) Oi brand. These 4 companies control a combined 98% of Brazil's mobile subscriber base.
Details of the Brazil mobile market and the positions of these and dozens of other companies in it can be found in the BuddeComm report. Additional comments and analysis of the nation's telecommunications providers can be found in Justin Dove's excellent "Investment U.com" article where he analyzes and highlights his enthusiasm for TIM and Vivo. Also, the Broadband Case Study - Brazil is required reading for any investor who is interested in understanding the complex Brazilian telecommunications industry. This study is the blueprint for government strategic plans which guide development of that sector.
This tax policy and stimulus program will fuel growth not only for the mobile operators but also in Brazil's wire-based telecom and internet providers. Together, these companies serve a market of over 294 million people and growing, a customer base two-thirds that of the entire United States. Investors in Brazil and international telecommunications cannot afford to fall behind in absorbing this breaking news. The stimulus to build out 3G and 4G infrastructure not only concerns service providers, but also will have a follow through effect on the global telecommunications hardware industry. This includes such companies as Cisco Systems, Motorola Solutions (NYSE:MSI), Alcatel-Lucent, S.A., Qualcomm (NASDAQ:QCOM), Nokia (NYSE:NOK), Ericsson, and others.
Some investors may focus on identifying the telecommunications service providers in Brazil most likely to benefit from these new incentives. I believe such an effort is folly. There is little basis to pick individual winners and losers under this stimulus program. It is obvious that all four major providers will strengthen their positions by maximizing their access to and use of the program funding. Their greater access to capital and ability to deploy the targeted infrastructure technology will be at the expense of their more capital constrained smaller competitors. The overall result will probably be to increase competition and price pressure among all 4 of these major providers. At the same time, overall market growth and market penetration will yield net benefits to all the large providers.
Brazil has a very complex system of service providers, technologies, and fractionated consumer markets. Each of these has different needs as to types of services and technologies to best address the environments that they operate in, ranging from high density urban cities to the sparsely populated Amazon jungle.
I suggest that the simplest way to participate in the industry growth spurred by the new tax stimulus program is through investment in a sector fund such as the EGShares Brazil Infrastructure ETF (NYSEARCA:BRXX). This fund has about 14% of its money invested in the nation's telecommunications. This is far and away the largest ETF focus on the nation's telecommunications sector of all the Brazil funds. Nathaniel Matherson's excellent Seeking Alpha article on Brazil's ETFs summarizes the telecommunications holdings of each of those ETFs as follows;
This is a case where a rising tide of funding incentives will raise all boats. Other ways to focus would be major international suppliers who have a significant portion presence in Brazil's market. Ericsson is my favorite pick of international suppliers and due to its favored relationship with Brazil's leader - Spain's Telefónica and its subsidiary S.A Telefonica Brazil .
Disclaimer: I am not a licensed securities dealer or advisor. The views here are solely my own and should not be considered or used for investment advice. As always, individuals should determine the suitability for their own situation and perform their own due diligence before making any investment.
Disclosure: I have no positions in any stocks mentioned, and no plans to initiate any positions within the next 72 hours. I wrote this article myself, and it expresses my own opinions. I am not receiving compensation for it (other than from Seeking Alpha). I have no business relationship with any company whose stock is mentioned in this article.