With the merger of Progress Energy now complete, Duke Energy (NYSE:DUK) is the largest multistate holding company of regulated electric and gas utilities, with regulated utilities in the Carolinas, Indiana, Florida, Ohio, and Kentucky that deliver electricity and gas to about 7.1 million customers. Duke's competitive merchant power generation operates primarily in the Midwest, and its international energy segment owns and operates hydroelectric generation assets in Latin America.
As part of its overall debt structure, Duke Energy offers individual investors short-term demand notes with floating interest rates. PremierNotes is an investment in Duke's short-term paper that is meant to compete with money market funds, CDs and bank savings accounts. The instruments are designed to pay a minimum of 0.25% more than a money market account and adjust every Monday. Below is the current rates paid based on account balance, as of Feb. 11, 2013:
| | |
| --- | --- |
| Amount | Rate |
| Under $10,000 | 1.10% |
| $10,000 to $49,999 | 1.30% |
| $50,000 and over | 1.50% |
Source: Duke Energy website
The concept is not new and several other large companies offer short-term demand notes directly to individual investors as well. General Electric (NYSE:GE) offers a similar program called GE Interest Plus Corporate Notes and Ford (NYSE:F) has its Ford Interest Advantage. More information on GE Interest Plus is here and on Ford Interest Advantage here. Both GE and Ford offer interest rates much lower than Duke at 1.1% for balances of $50,000 and up.
However, none of these products is insured by FDIC or by any other financial institute and, like other maturities of corporate paper, is subject to the credit risk of the issuer. While the interest received is slightly better than either a CD or a money market account and attempts to rival very short-term bond ETFs such as PIMCO Short Term Enhanced Bond EFT (NYSEARCA:MINT), the single issuer credit risk outweighs the added interest return for PremierNotes. Currently, the GE and Ford product offer single issuer credit risk without any added benefit in investor returns.
More information on Duke's PremierNotes can be found on its website here.
If investors want to invest in DUK, then just buy the stock.
DUK currently yields 4.5%, but is trading only a hair below its 52-week high. DUK topped out at $140 a share in April 2001 and $99 in Dec. 2006 and bottomed at $37 in Feb. 2009. However, DUK may be entering a time of uncertainty that may offer a bit better entry point for new investors.
The North Carolina legislature is voting on a bill that will revamp the North Carolina Utility Commission, firing the current seven commissioners and replacing them with five appointed by the Governor. While some believe these new commissioners may be more "business-friendly", it will remain an uncertainty. There is the potential for the new commissioners to be as "business-friendly" as their counterparts in Ohio and attempt to revamp current electric rates to the advantage of manufacturers and the detriment of the electric utilities including Duke. The revamping of the commissioners may also delay pending rate cases, adding additional uncertainty. Duke has two rather large rate cases pending before the commissioners. The House is slated to vote on the Senate-passed bill soon.
Another uncertainty is the "guarantee" DUK made to the Carolina commissions to save customers $650 million in fuel savings from its merger with Progress. As none of these savings is to the benefit of DUK, if management falls short of its commitment, the balance will come from shareholders in the form of lower profitability.
Pre-merger, Duke's regulated businesses comprised about 75% of its business. Post-merger, that number jumps to 90%. While management has slated capital expenditures of about $18 billion between now and 2016, maintaining an adequate allowable ROE will be critical to earnings growth.
Management recently announced year-end results and they fell within expectations. Adjusted EPS were $4.32 a share for the full year versus $4.38 in 2011. This year's adjusted earnings are expected to $4.35, 2014 is estimated to be $4.61 and 2015 earnings are projected to be $4.85. Management is expected to offer its guidance during Investors Day next week.
DUK currently pays a dividend of $3.06 annualized for a 4.5% yield. The dividend represents a 70% payout ratio and dividend growth has been 3.2% annually since 2008. The average yield over the past five years is 5.1%. To generate this average yield, share prices would have to decline to $60, down about 12% from its current price. DUK has a very low beta of 0.32, lower than the industry average of 0.83. Management has generated return on invested capital over the trailing 12 months of 2.7% and has a 5-yr average of 3.9%, compared to industry averages of 2.3% and 5.0% respectively.
The latest investor presentation of 4th quarter and year-end 2012 review can be found here (pdf).
Below is a table offered by finviz.com of the most recent broker upgrades and downgrades, along with price targets:
| | | | | |
| --- | --- | --- | --- | --- |
| Date | Action | Broker | Recommendation | Price Target |
| 15-Jan-13 | Upgrade | UBS | Neutral → Buy | $65 → $70 |
| 18-Dec-12 | Upgrade | Deutsche Bank | Hold → Buy | $68 → $69 |
| 6-Dec-12 | Reiterated | FBR Capital | Mkt Perform | $63 → $66.50 |
| 3-Dec-12 | Upgrade | Barclays | Equal Weight → Overweight | $68 → $69 |
| 21-Nov-12 | Reiterated | FBR Capital | Mkt Perform | $66 → $63 |
| 1-Oct-12 | Upgrade | Argus | Hold → Buy | $72 |
Source: finviz.com
Below is a graph of DUK share price action since last May.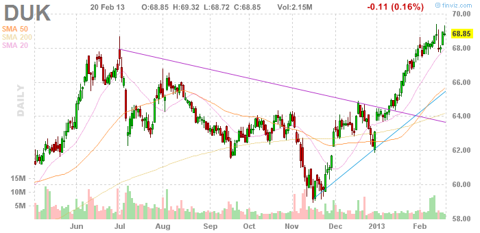 In an overall market downdraft, investors may be able to pick up DUK shares closer to its average 5-year yield. At a yield of 5.0% or better, the potential total stock returns over the next three to five years could make DUK an attractive investment.
Author's Note: Please review important disclaimer in author's profile.
Disclosure: I have no positions in any stocks mentioned, and no plans to initiate any positions within the next 72 hours. I wrote this article myself, and it expresses my own opinions. I am not receiving compensation for it (other than from Seeking Alpha). I have no business relationship with any company whose stock is mentioned in this article.