The oil reserve replacement ratio (RRR) is defined as the amount of proved reserves added to a company's proven reserve base in a given year relative to the amount of oil and gas produced during the year. Long term, a company's reserve replacement ratio must be at least 100% for the company to stay in business. Otherwise, it will eventually run out of oil.
The RRR is used by many oil analysts to get an accurate picture of how well an oil company is performing. Organic reserve replacement is generally considered better than a high reserve/replacement ratio achieved through purchasing proved reserves. Oil is generally considered a more positive addition to reserves than is dry gas.
For bigger oil companies, the law of large numbers comes into play. For example, a relatively small oil company that produces 100,000 boe/d need only add proven reserves of 36.5 million boe to achieve an RRR of 100%. On the other hand, a large oil company that produces 3 million boe/d need add proven reserves of 1.1 billion boe to achieve an RRR of 100%. That's a lot of oil. The ability to for big oil companies to achieve an RRR greater than 100% is a good indicator of the company's long-term health and its ability to grow its operations.
The "big three" American oil companies -- Exxon Mobil (NYSE:XOM), Chevron (NYSE:CVX), and Conoco Phillips (NYSE:COP) -- have announced their 2012 reserve replacements. Let's take a look at the results:
Click to enlarge images.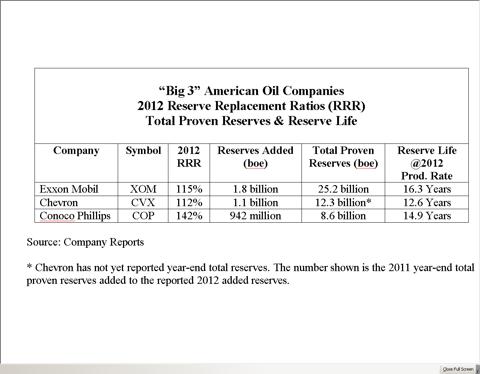 Exxon Mobil
Exxon Mobil issued a press release summarizing its 2012 reserve replacement results, which you can view here. An except from the Exxon release shows where the primary reserve additions came from:
Reserve additions in 2012 from the liquids-rich Woodford and Bakken plays in the United States totaled almost 750 million oil equivalent barrels. Proved reserves additions in Canada, including performance revisions and the Nabiye expansion project at Cold Lake, Alberta, and the Hebron project offshore Newfoundland and Labrador, added more than 600 million oil-equivalent barrels. Other additions to proved reserves were made in Australia, Angola, and Kazakhstan.
Exxon also pointed out it had a 174% replacement ratio for crude oil and other liquids. At 2012 year-end, its proven reserves were basically a 50-50 split between liquids and natural gas.
Chevron
Chevron included a RRR update in its Q4 2012 and full-year earnings release, which you can access here. Here is the RRR-related portion of the press release:
Watson (Chevron's CEO) commented that the company added approximately 1.07 billion barrels of net oil-equivalent proved reserves in 2012. These additions, which are subject to final reviews, equate to 112% of net oil-equivalent production for the year. The largest additions were for the Gorgon Project, as a result of development drilling and additional reservoir data. Also significant were additions for fields in the United States, Asia and offshore eastern Canada. The company will provide additional details relating to 2012 reserve additions in its Annual Report on Form 10-K scheduled for filing with the SEC on Feb. 22.
Conoco Phillips
ConocoPhillips also provided RRR information in its Q4 2012 earnings release. Its reserve update included a 2012 organic reserve replacement ratio of 156%. Notable organic reserves were added as follows:
500 million BOE in Canada, primarily in the oil sands, with ongoing expansion phases at Foster Creek and Christina Lake, and following Phase A sanction at Narrows Lake;
230 million BOE in Lower 48, mostly in liquids-rich shale plays, including the rapidly growing Eagle Ford and Bakken;
100 million BOE in Asia Pacific, with progress at Australia Pacific LNG and multiple projects in Malaysia, including the recently online Gumusut Field and under-construction Malikai development; and
50 million BOE across multiple developments in Europe, including the Jasmine Field where first production is expected in 2013.
Final information related to the company's 2012 oil and gas reserves will be provided in ConocoPhillips' Annual Report on Form 10-K, to be filed with the Securities and Exchange Commission in late February.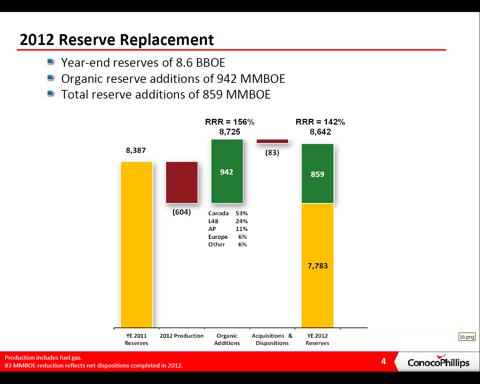 And the Winner Is: Conoco Phillips
Conoco Phillips not only had a substantially higher RRR than its peers Exxon and Chevron, but it also appears to have added a very proportion of liquids versus natural gas. A look at the additions show ~780 million BOE of predominately oil additions (oil sands, lower-48 shale, Jasmine) vs. 100 million BOE LNG related to Asia Pacific (mostly Australian LNG). I believe this is a strong indicator that Conoco Phillips strategy is on track to deliver on its promises:
3%-5% Volume Growth
3%-5% Margin Growth
A Compelling Dividend
More recent good news was China's permission for COP to bring Penglai production back to full capacity. Penglai is China's biggest offshore oil field and Conoco is the operator and has a 49% stake. In an earlier article, "ConocoPhillips: Bullish Catalysts for 2013," I identified Bohai Bay as an important 2013 catalyst for COP. While some think COP should limit its activities to the U.S., this offshore China project is very important for COP. It is a 168,000 bpd field, and these are Brent barrels. It also keeps a good relationship going with the Chinese, which could be important when it comes to Chinese shale gas projects.
The approval for full capacity came sooner than I expected. It is very bullish for COP as a lack of production from this filed hurt 2012 results and will provide easier year-over-year comparisons in 2013. The market obviously liked the news as COP jumped over 2% on Tuesday, the first trading day since the approval news broke. Conoco Phillips looks poised to have a very good 2013.
I will follow this article up with a look at some of the smaller oil producers' RRR, and will focus on the Bakken producers.
Disclosure: I am long COP, CVX, XOM. I wrote this article myself, and it expresses my own opinions. I am not receiving compensation for it (other than from Seeking Alpha). I have no business relationship with any company whose stock is mentioned in this article.
Disclaimer: I am an engineer, not a CFA. Please do your own research and contact your investment adviser. I am not responsible for investment decisions you make. Thanks for reading and good luck!