Share price of 3M Company (NYSE:MMM) has appreciated by 19.0% over the past 12 months. At $103.15, the stock is trading near its 52-week high of $104.40 just achieved recently and provides a 2.4% dividend yield. How should investors react to the recent price uptrend? In this article, I will elaborate on the stock valuation analysis which may assist you in formulating an appropriate investment decision.
From a peer-relative valuation perspective, 3M shares appear to be reasonably valued based on the company's solid financial performance relative to its peers'. Sell-side analysts on average predict 3M's revenue, EBITDA, and EPS to grow at 2-year CAGRs of 5.3%, 7.5%, and 8.6%, respectively (see chart below). The consensus estimates underperform the averages of 5.9%, 8.8%, and 15.8%, respectively, for a group consisting of 3M's primary comparables. However, the firm's long-term EPS growth rate is forecasted to be 10.4%, slightly better than the peer-average estimate at 9.7%. On the profit side, 3M demonstrates a superior margin performance as all of the company's profitability margins and capital return metrics are considerably above the par. 3M also carries a relatively low debt load as reflected by its below-average debt to capitalization and debt to EBITDA ratios. In terms of liquidity, 3M's trailing free cash flow margin is notably above the peer average. Due to the robust profitability and the lower leverage, the company was able to maintain a strong interest coverage ratio. Both 3M's current and quick ratios are much higher than the peer averages, reflecting a healthy balance sheet condition.

As such, 3M's relatively weaker near-term growth potential would likely be the primary drag on the stock valuation. However, given the firm's above-average long-term earnings growth rate, strong balance sheet position, as well as its superior profitability and free cash flow performance, I believe 3M's fair value should command a solid premium over the peer-average valuation level. The current stock valuations at 8.9x forward (next 12 months) EBITDA and 15.2x forward (next 12 months) EPS together represent an average premium of 8.8% over the same peer-average trading multiples, suggesting that 3M shares are likely trading within the fair value range. The conclusion is reaffirmed by the fact that the stock's PEG ratio at 1.46x is fairly comparable to the peer average at 1.48x (see chart above).
Taking a broader market standpoint, one would likely draw a similar conclusion. 3M's forward P/E multiple of 15.2x is currently trading at a 5.9% premium over the same multiple of the S&P 500 Index, which stands at 14.4x now (see chart below). Although 3M's P/E ratio has been trading fairly in line with the market average over the past 12 months, the current above-market valuation level is completely justified by the facts that 1) 3M's long-term estimated earnings growth rate of 10.4% is notably above the average estimate of 8.2% for the S&P 500 companies; 2) the company offers industry-leading profitability and free cash flow margins; 3) with geographically diversified revenue streams, 3M also provides investors a significant global exposure and thus an enhanced earnings stability; and 4) the stock's 2.4% dividend yield is slightly above the average yield of 2.2% for the S&P 500 Index.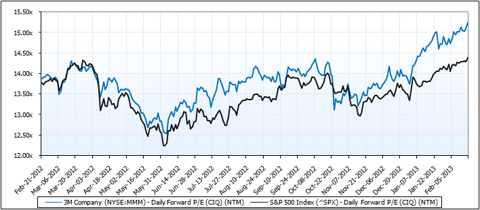 Moreover, 3M's trailing P/E ratio at 16.5x is trading modestly above its 3-year historical average at 15.3x (see chart below). This comparison again implies a reasonable valuation provided that: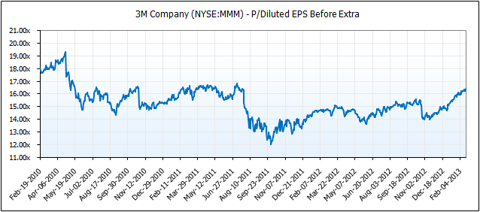 1) 3M has been able to sustain steady profitability and free cash flow margins over the past 3 years (see chart below); and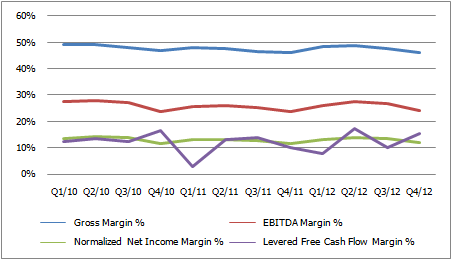 2) Despite a slowdown experienced in between 2011 and 2012, the market's consensus revenue, EBITDA, and EPS growth estimates draw a recovering trajectory over 2013 (see chart below).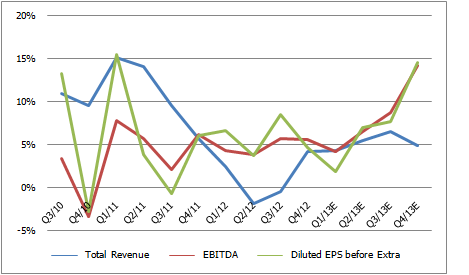 I also performed a margin of safety analysis from a dividend perspective, which suggests that 3M's dividend growth prospect and its sustainable dividend yield will likely provide a solid downside support to the share price. Since 2010, 3M has raised the dividend per share 3 times by 4.8%, 7.3%, and 7.6%, consecutively. Given the company's stable and robust free cash flow margin, it would be reasonable to expect the current pace of the dividend growth can be sustained at least in the near term. In addition, since investor demand for quality high-yield assets would likely to remain strong, a significant rise in 3M's dividend yield appears to be unlikely. As such, assuming a 1-year target dividend yield range from 2.4% to 2.8% (3M's dividend yield averaged at 2.6% in the past 3 years, see chart below), and supposing that the annualized dividend per share would be raised by 6.0% from the current level at $2.54 to $2.69 in February 2014 payment period, this base-case scenario would result in a share price range from $89.75 to $112.18, or a favorable 1-year investment return range from -4.4% to 11.1% after considering the 2.4% expected dividend income.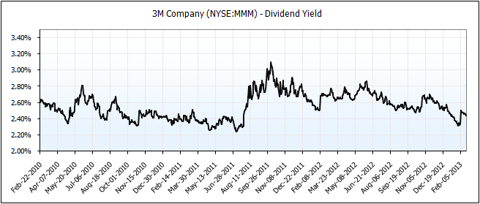 In late January, 3M announced its Q4 2012 earnings results with revenue performance exceeding market's expectation primarily driven by strong volume growth across all regions. Adam Fleck, a research analyst at Morningstar, wrote in research note dated January 24, 2012 (sourced from Thomson One, Equity Research):
"3M is one of the highest-quality industrial firms we cover, but slowing industrial production seems likely to limit the company's near-term prospects (as evidenced in recent quarters). That said, we still forecast mid- to high-single-digit, long-run organic growth and margin expansion stemming from further new-product innovation for this wide-moat firm, as we don't foresee market share losses or permanent margin degradation resulting from a temporary recessionary or slow-growth environment. The firm's percentage of sales from products introduced within the past five years now stands at about 32%, versus 21% in 2005, and should increase. R&D spending has remained mostly constant, even during the recent recession. Showing additional confidence, 3M has substantially increased its acquisition focus in areas such as biometrics and health care. As such, we still project outsized long-run economic profitability."
Bottom line, in the light of 3M's promising growth prospects, reasonable valuation level, as well as the investment's solid margin of safety, the stock thus remains a buy candidate despite the recent price appreciation.
All charts are created by the author and all financial data used in the article and the charts is sourced from Capital IQ unless otherwise noted.
Disclosure: I am long MMM. I wrote this article myself, and it expresses my own opinions. I am not receiving compensation for it (other than from Seeking Alpha). I have no business relationship with any company whose stock is mentioned in this article.