Benchmark global emerging market (GEM) ETFs hold over $115bn in total assets, representing over 60% of total US-listed emerging market ETF assets. The attractiveness of this category lays in its broad diversification, liquidity and relatively low management fees.
While investors can potentially achieve higher returns by investing more strategically in emerging market ETFs, owning a broad benchmark fund offers a low-maintenance approach to accessing the asset class. A closer look at the major funds shows that only a few material differences exist between them.
The Major Benchmark GEM ETFs

Index construction - two choices and one outlier
Among the major GEM funds, Vanguard's FTSE Emerging Market (NYSEARCA:VWO) and iShares MSCI Emerging Market (NYSEARCA:EEM) offer the two major index choices for the group - the FTSE and MSCI respectively. The main difference between them is the FTSE excludes South Korea while the MSCI has around a 15% weight for South Korea equities. The FTSE index also has the smallest IT sector exposure of the GEM funds.
Lower cost products include Schwab's FTSE Emerging Markets (NYSEARCA:SCHE) which tracks the same index as VWO is migrating to and iShares Core Emerging Markets (NYSEARCA:IEMG) which tracks the MSCI index like EEM. SPDR's S&P Emerging Markets (GMM) index also excludes South Korea like VWO and SCHE, but has a slightly higher BRIC country weight compared to the group.
Powershares' BLDRS Emerging Market (NASDAQ:ADRE) has the most unique portfolio composition of the group since it invests in US-listed ADRs only. As a result the fund over-weights Brazil and sectors like energy, telecoms and materials since those are more represented in the ADR market. For example, over 30% of ADRE's portfolio is in Brazil and over 20% is invested in energy stocks. This is around double the levels found in the FTSE and MSCI indexes.
Liquidity is an attraction
As the third and fourth largest US-listed ETFs, VWO and EEM are supremely liquid funds, making them attractive for large institutional investors looking to benchmark. EEM trades over $1.5bn/day and VWO over $500m/day on average so bid ask spreads are tight.
At the lower end of the spectrum are GMM and ADRE which trade closer to $1m/day. Not bad, but hardly an attraction. While GMM has seen slight growth in assets ADRE has been declining recently.
Returns are similar, except ADRE has lagged
In terms of returns to investors, the main outlier is ADRE which has lagged in part due to its heavy Brazil exposure which has been a weak performing market. In addition, the fund's relatively high exposure to Chinese ADRS (18% of the portfolio) has been a negative due to a dispute between the SEC and the China based auditors for failing to turn over audit papers for Chinese companies listed in the US. In short, the SEC requires certain disclosures that are being held back because Chinese laws consider information about domestic Chinese companies to be a state secret. Failure to reach a resolution could result in the de-listing of Chinese companies in the US.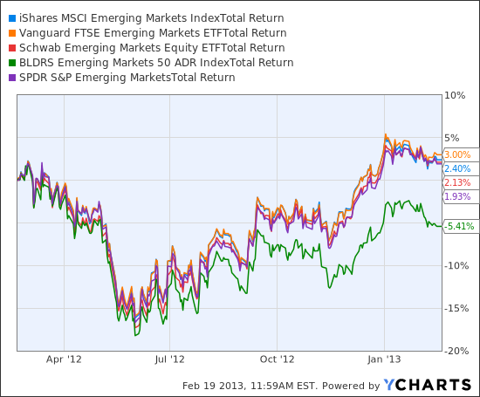 Interestingly, the other funds show similar returns regardless of whether or not South Korea is in the portfolio. This stems from the correlation most large emerging markets have with global cyclicality. South Korea is no exception since it depends heavily on demand from China and developed markets for its IT and industrial output.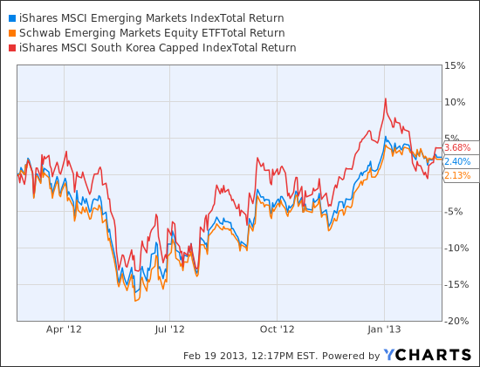 In conclusion, investors have not, and probably will not, see a great deal of return variation among the major benchmark GEM ETFs. The key consideration in this group is whether you prefer a weighting in South Korea, in which case the MSCI funds EEM and IEMG are more suitable. For an overweight position in Brazil and energy - and high hopes of warming relations between the US and China - ADRE is a potential 'catch-up play' among the funds in the group.
Disclosure: I have no positions in any stocks mentioned, and no plans to initiate any positions within the next 72 hours. I wrote this article myself, and it expresses my own opinions. I am not receiving compensation for it (other than from Seeking Alpha). I have no business relationship with any company whose stock is mentioned in this article.