The era of dominant technology platforms will fundamentally change consumer electronics retail and make Best Buy (NYSE:BBY) and big box electronics retailers increasingly less relevant. Consumer electronics retail has been one of the most competitive and rapidly evolving segments over the last 10 years. It has evolved from hardware to software and to digital. It has also evolved from strictly brick-and-mortar, to exclusive online stores, and then to omni-channels. This evolution has been particularly good for the customer because these shifts have all been increasingly focused on convenience. Customers have the ability to shop in stores, buy online or combine both by buying online and picking up in stores. Best Buy moved from physical stores to creating a web presence while Amazon (NASDAQ:AMZN) is moving in the opposite direction from strictly online to trying to create a physical proximity to customers with warehouses so they could get products on the same or next day.
Unfortunately for big box retailers the shift to platform dominance might be the change that they are unable to adjust to. This will be the change that completely de-emphasizes the big box format to the extent that platforms become the critical driver of consumer electronics purchasing decisions. In this article I will explore the erosion of the old consumer electronics retail model in what I termed "de-bestbuyification" of consumer retail.
The Platform era
The race for the underlying systems on which applications run has become critical especially with the ability of these systems to run similarly across many devices. Platforms backed by Apple (NASDAQ:AAPL), Google (NASDAQ:GOOG) and Microsoft (NASDAQ:MSFT) are frontrunners in this race. These platform providers would prefer for you to be accustomed to a platform experience regardless of the hardware as opposed to the hardware influencing your experience. Let's use Google as an example with its reach into cell phones, TV's, gaming systems, cloud services etc. In addition to approving OEM hardware for its platform, Google ensures that the platform allows for seamless transitions between hardware options. This is same with Microsoft and especially true for Apple which only opens up its ecosystems to manufacturers of accessories. The emphasis on developing complete platforms de-emphasizes the importance of hardware on which they run. The erosion of this core aspect of a traditional retail store constitutes the first threat posed by platforms.
The platform retail store
Before Best Buy became a dominant player in the consumer electronics retail space most retail outlets were specialized - CD's, speakers, TV's, speakers, computer's etc. We are starting to see a slow reversion back to this format except that this time around the specialization is on platforms. Platform owners see stores as an opportunity to enhance their brand image and build loyalty with consumers.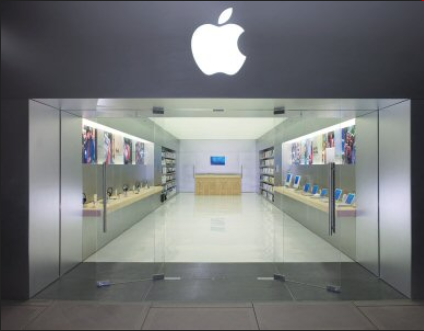 Apple recently trademarked the design of its stores to deter imitation and to further differentiate how it wants customers to feel about its brand. Microsoft also opened stores with its own design theme and feel. Recently, there are rumors of an impending Google store. If Google goes down this path it is only logical to expect Samsung (OTC:SSNLF) to follow and then maybe Sony (NYSE:SNE). As much as these stores are meant to perpetuate the uniqueness of the different platforms they ultimately impact sales and store traffic for Best Buy and other competing stores.
The impact
The new paradigm of platform stores (Apple, Microsoft or Google) is driven by the fact that platform owners realize they are able to showcase their platforms better in a smaller and more intimate setting. They also recognize that with the ability to allow customers free trials and demo of products they have the ability to complete a sale and have product picked up, delivered same day or next day. Apple opened its stores after successful product launches, Microsoft's opening was a competitive move but it had the Xbox and the Kinect. Google is about to come out with Google glass which should be a halo product to attract customers to rumored stores and also help cross sell a new batch of Chromebooks, Nexus tablets and possibly next generation Motorola phones. These standalone stores are increasingly going to pull traffic away from Best Buy and will not be for showcasing only.
Potential Consequences:
Best Buy expedites its transition to smaller and more specialized stores
Google gets more active with hardware and ties them with Google glasses
Microsoft launches more Surface products and

uses

products of partner OEM's to showcase its integrated suite of software
Apple could decide to pull from Best Buy and other retailers to exclusively sell at its retail stores - after all it has the cash to stretch out its product portfolio
Apple, Google and Microsoft all increase store count and reserve halo products for exclusive distribution in their stores
Samsung naturally feels threatened and is one of few OEM's that can actually open its own stores
New businesses open up to provide warehousing and complementary services to these smaller store formats
Google and Microsoft develop closer ties with specific OEM's
Conclusion
This brings me to the big question about Best Buy. Where is the vision? It has been long enough since the new CEO took charge and the relative quiet and operational moves make me feel like they are in for a turnaround. Turnarounds mean cost reduction in SG&A, store closures, price reductions, tougher negotiations with vendors, category strategy reviews and what have you. Best Buy needs some of that to steady the ship but ultimately its ability to become relevant again hinges on making sure that it evolves to become an important player to the different platforms. It cannot spend too much time trying to right itself because a lack of vision will leave the stock range bound for a while and then right back to decline.
Disclosure: I am long MSFT, AMZN. I wrote this article myself, and it expresses my own opinions. I am not receiving compensation for it (other than from Seeking Alpha). I have no business relationship with any company whose stock is mentioned in this article.