Introduction
There is a lot of discussion and analysis on SA that focuses on AT&T (NYSE:T) and Verizon Wireless (NYSE:VZ) and rightly so as these two companies are the largest wireless service providers in the U.S. amounting to 2/3 of the market. They also have very attractive yields and have consistently increased their dividends. In their industry, it really is a decision between these two. However, in this article, I present another wireless carrier in the great white north for those who are undecided about T and VZ to consider as part of their dividend portfolio.
What is Rogers Communications?
Rogers Communications Inc. (NYSE:RCI) "is a diversified Canadian communications and media company. We are engaged in wireless voice and data communications services through Wireless, Canada's largest wireless provider. Through Cable, we are one of Canada's leading providers of cable television services as well as high-speed Internet access and telephony services to consumers and businesses. Through Media, we are engaged in radio and television broadcasting, televised shopping, sports entertainment, and magazines and trade publications. We are publicly traded on the Toronto Stock Exchange (TSX: RCI.A and RCI.B) and on the New York Stock Exchange (NYSE: )." It is considered one of the big three telecommunications company in Canada.
On February 14, 2013, Rogers announced its fourth-quarter results had an EPS of C$0.88 (U.S. $0.86) which beat analyst's estimates by C$0.16. Revenues were C$3.26 billion with a 3.4% increase year over year, which also beat analyst's estimates by C$70 million.
From the Media Release we can read: "Revenues Growth Accelerates to 3% with Growth in All Segments; Customer Base Grows with 58,000 Postpaid Net Subscriber Additions in Wireless and 7,000 Total Service Units in Cable; Adjusted Operating Profit Grows 7% and Earnings per Share Up 33%".
Just as important as the growth announcement was Rogers further announced a 10% increase in the Annualized Dividend to $1.74 (Quarterly Dividends of $0.435 per Share) for both Class A (voting) and Class B (non-voting) shares. If that was not enough good news, the company will also repurchase up to $500 million worth of stock. Table 1 shows the increase in dividends per year since inception.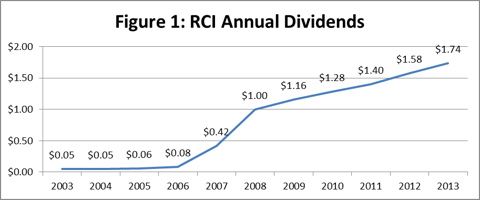 Source: Morningstar
What is most impressive about Rogers' dividend is that it increased it during the financial crisis in 2008 by 138.10% and 16.00% in 2009. Since 2010 to 2013 the dividend has increased at a more modest and consistent pace averaging 10.67%.
Following the earnings announcement, the stock increased nearly 4% the following day and is approaching its 52-week high of $47.49. According to Morningstar, the fair value price for Rogers is $60.00, which means that there is currently a 26.34% upside potential that could be realized.
Assessment
Given all these positives, is the company likely to continue the good news for shareholders? I will look at a few of the quantitative metrics of the company and compare them with the industry in an attempt to answer this question. Table 1 presents the valuation metrics.
Table 1: Valuation Metrics
| | | | | | | | |
| --- | --- | --- | --- | --- | --- | --- | --- |
| | P/E | Forward P/E | PEG | P/S | P/B | Beta | P/CF |
| RCI | 14.30 | 13.65 | 4.16 | 1.96 | 6.47 | 0.85 | 6.80 |
| Industry | 12.2 | - | - | 1.90 | 6.63 | - | 7.2 |
Source: MSN Money
Table 1 shows that Rogers is nearly equal to the industry average with the P/S and P/B. The P/E is currently 14.3x earnings, which are still below the standard P/E of 15 used to screening dividend stocks and the forward P/E is decreasing. Given this table, there is nothing that truly stands out as concerning.
Table 2: Debt Metrics
| | | | | |
| --- | --- | --- | --- | --- |
| | Debt to Equity Ratio | Current Ratio | Interest Coverage Ratio | Debt to Capital Ratio |
| RCI | 2.86 | 0.70 | 6.40 | 80.79 |
| Industry | 0.78 | 1.1 | 4.90 | - |
Source: MSN Money
Table 2 presents some concerning points such as the high debt-to-equity ratio (2.86) in comparison to the industry standard. I believe that the general consensus for this metric is to have the ratio below 1, which is why having a debt-to-equity ratio 2.86 times that is concerning. However, it also appears that Rogers may have some difficulty paying its short-term debt as the Current Ratio stands at 0.70. Generally a current ratio above 1.0 is desired and in comparison to the industry average, Rogers is behind. The company does appear to be in a better position however to meet its interest expenses with an interest coverage ratio that is above the industry average. Given that the competition is heating up in Canada to expand LTE networks and wireless coverage throughout the country this level of debt may be justified, however it should be monitored closely.
Table 3: Growth Metrics
| | | | | | | | | |
| --- | --- | --- | --- | --- | --- | --- | --- | --- |
| | Sales Growth | 5 Year Sales Growth | Income Growth | 5 Year Income Growth | EPS 1 Year Growth | EPS 5 Year Growth | Estimated 2013 EPS | Estimated 2014 EPS |
| RCI | 1.10 | 4.29 | 8.90 | 11.97 | 4.94 | 24.15 | 3.44 | 3.62 |
| Industry | - | 11.96 | - | 6.19 | - | 1.50 | - | - |
Source: MSN Money, Reuters.com
Table 3 does provide some comforting figures in that the EPS is expected to grow and has grown very well, well above the industry average. Rogers has also been able to generate a lot of income in the past 5 years to exceed that of the industry also. The company does fall behind the industry average in the 5-year sales growth. This is where I am going to presume that the industry average includes U.S. companies such as AT&T and Verizon Wireless, which have the ability to have much higher sales due to the fact they have a much larger population base to draw sales from. If this is true, then comparing Rogers to the industry average as has been done shows that it is doing well given that its operations are in Canada only. Figure 2 shows how Rogers' annual sales have grown over the last 10 years. Even the financial crisis did not appear to impact sales much, however it did begin a leveling off in sales that increased but not nearly as quickly as between 2004-2008. The one comforting thing however is the substantial increase in free cash flow from 2008 ($128 mil) to 2009 ($1,710 mil). This increase is an unbelievable 1235%. Since that time, free cash flow has remained strong, averaging $1,596 mil.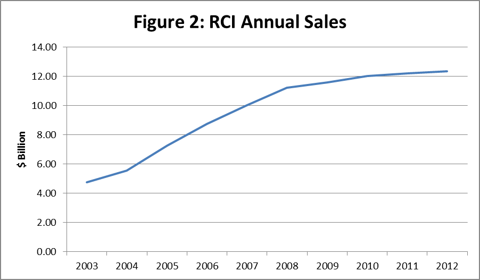 Source: MSN Money
Conclusion
Rogers Communications is one of Canada`s dominant communication service providers. Recently, Morningstar released an article in which it said it believed that Rogers was best positioned for continual growth among its competition. Given the recent earnings announcement, things do appear very positive for the company. My main concern is the level of debt that the company is carrying and the slowing annual sales. I have included Rogers in my portfolio as I feel that it can provide a decent yield and solid growth for the long term but I will monitor it carefully to ensure that it can continue to increase its dividend as it has.
Disclosure: I am long CA, COP, OTCQX:COSWF, CSCO, CSX, OTCPK:DBD, DEM, GE, INTC, JNJ, KO, LMT, MCD, OTCPK:NTIOF, OHI, RCI, STX, T, TGH, TIS, VXUS. I wrote this article myself, and it expresses my own opinions. I am not receiving compensation for it (other than from Seeking Alpha). I have no business relationship with any company whose stock is mentioned in this article.
Disclaimer: Nothing in this article should be construed as a recommendation to take positions in this company. I have presented some of the basic information that is helpful in making an informed decision. Each individual investor needs to conduct their own research and ensure that any stock meets their own plans and goals.