As the chart below shows, BP plc (NYSE:BP) shares have been in a solid uptrend since June of 2012. Along the way, there have been pullbacks that were buying opportunities and it appears that the recent pullback from over $44 in early 2013, to just about $41 today, is another solid chance for investors to get in on this high-yielding oil giant. Around the $41 level, BP shares appear to be trading near a key support level and still within a longer-term uptrend. That means this could be an ideal time to accumulate the stock and it might also mean that substantial additional downside is possibly limited from this level.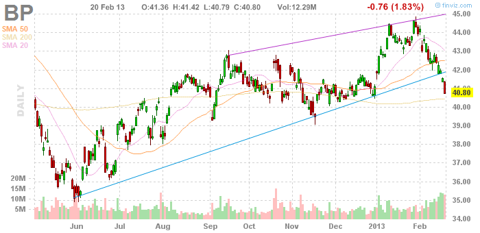 BP has made tremendous progress on moving forward from the oil spill in the Gulf of Mexico. It recently announced some good news when it won approval by a U.S. judge to not include 810,000 barrels of oil captured before it became part of the oil spill. This is a significant ruling since it reduces the potential fine under the Clean Water Act by $3.4 billion. A civil case against BP is continuing and it appears that the markets would have preferred to see a settlement, and that is one reason why the stock might be under pressure in recent days. However, it is not unusual for cases to proceed to trial and be settled well before any verdicts. A settlement in the civil case could create a solid rally in BP shares, not unlike the one recently seen in Transocean (NYSE:RIG) shares after it announced good news regarding the legal claims against it, which were also from the oil spill.
BP shares still appear to trade at a discount to other leading integrated oil stocks, and that discount is likely to fade over time, especially as BP resolves the legal claims. BP trades for just about 8 times earnings and it offers a yield of about 5%. By comparison, the average stock in the S&P 500 Index (NYSEARCA:SPY) trades at about 15 times earnings and yields just around 2%. Meanwhile Exxon Mobil (NYSE:XOM) trades for about 11.5 times earnings and yields 2.6%, (or about half of the yield BP offers). Comparisons to Chevron also make BP shares look undervalued as it trades for about 10 times earnings and yields 3.1%.
As BP works through the legal challenges, it is also focused on exploration and production and in time, investors will also likely turn their focus to the future earnings and dividend growth potential that BP shares offer. Analysts expect BP earnings to jump from about $5.14 per share in 2013, to around $5.72 in 2014. As earnings growth kicks in, that should drive the share price higher which is one more reason why buying the pullbacks in this stock makes sense.
Here are some key points for BP:
Current share price: $41
The 52 week range is $36.25 to $48.34
Earnings estimates for 2013: $5.14 per share
Earnings estimates for 2014: $5.72 per share
Annual dividend: $2.16 per share which yields 5.1%
Data is sourced from Yahoo Finance. No guarantees or representations are made. Hawkinvest is not a registered investment advisor and does not provide specific investment advice. The information is for informational purposes only. You should always consult a financial
advisor.
Disclosure: I am long BP. I wrote this article myself, and it expresses my own opinions. I am not receiving compensation for it (other than from Seeking Alpha). I have no business relationship with any company whose stock is mentioned in this article.